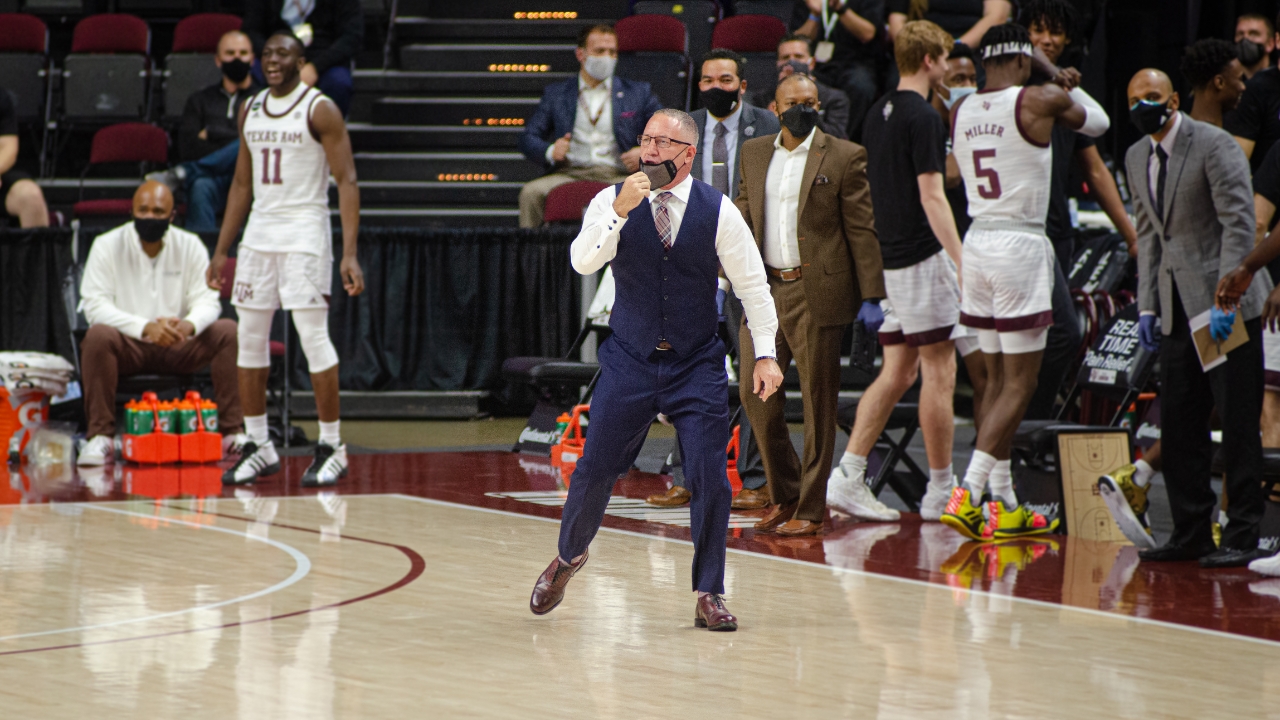 Buzz Williams
Flagg and Jackson
Texas A&M Basketball
Texas A&M basketball runs out of steam, falls to Mississippi State, 63-57
---
There is a temptation to blame a 32-day "pause" for Texas A&M's 63-57 Southeastern Conference basketball loss to Mississippi State on Wednesday night at Reed Arena.
Rust accumulated after eight straight games were canceled or postponed by COVID-19 and a historic winter storm. Protocols or inclement weather certainly had to be a factor.
Yet, the main issue for the loss was the shooting problems that had plagued the Aggies (8-8, 2-7) before their season was interrupted.
A&M shot just 31.9 percent from the floor and hit just one of their last 12 field goal attempts. Overall, the Aggies missed 11 of 19 layup attempts.
"I did think there were some layups that we typically make that we didn't make tonight," said Texas A&M coach Buzz Williams. "I think there were some shots that we typically shoot — and I know we're not a great shooting team — but that we would typically make.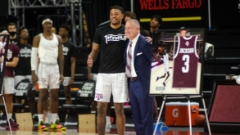 Lia Musgrave, TexAgs
"I do think there were some bunnies that we normally make, and I do think there were some uncontested shots that in a normal rhythm we would make a higher percentage of."
That inaccuracy rendered meaningless the fact that the Aggies committed a season-low four turnovers, took a season-high 69 shots and had 16 offensive rebounds — their highest of the season in an SEC game.
Mississippi State (14-12, 8-9) capitalized — or perhaps just benefitted — to hold off a late A&M challenge.
"I don't know that anyone could predict what would happen tonight," Williams said. "Strategically, execution-wise, energy-wise, conditioning-wise. I thought our guys gave literally everything they had in their tank."
The Aggies appeared to be running out of gas when Mississippi State's seven-foot forward Quinten Post scored a layup to stake the Bulldogs to a 58-48 lead with 6:39 remaining.
However, the Aggies fought back and pulled within four, 61-57, on a pair of Emanuel Miller free throws with 1:24 to play.
A&M later had a chance to cut the margin to one or two points, but Andre Gordon and Miller missed layups, and Jay Jay Chandler misfired on a three-pointer as the Aggies were scoreless in the final three minutes.
"Every shot that each one of my teammates took in the last three minutes, I felt like was going in," said senior guard Savion Flagg. "We didn't get any offensive rebounds in the last three minutes. Unfortunately, time just ran out."
"I thought our guys gave literally everything they had in their tank."
Despite the shooting issues, Miller turned in a double-double with 24 points and 13 rebounds.
And on Senior Night, seniors Quenton Jackson and Flagg both scored in double figures. Jackson had 13, and Flagg, who reached 1,000 points in his career, had 12.
Mississippi State was led by guard Iverson Molinar with 18 points and D.J. Stewart with 14. Stewart had nine in the second half via a trio of treys.
Having been idle for more than a month, it might have been predictable the Aggies would falter in the second half. They shot just 29.4 percent after intermission. That included just one of 14 (7.1 percent) from three-point range.
To their credit, they would not use the long layoff as an excuse.
"We never came out here with the intentions to lose," Jackson said. "I would say we fought as hard as we could. Not playing a game in a month, anticipation was high. I think everybody was really ready to come out here and play. I think it showed out on the floor."
Never miss the latest news from TexAgs!
Join our free email list