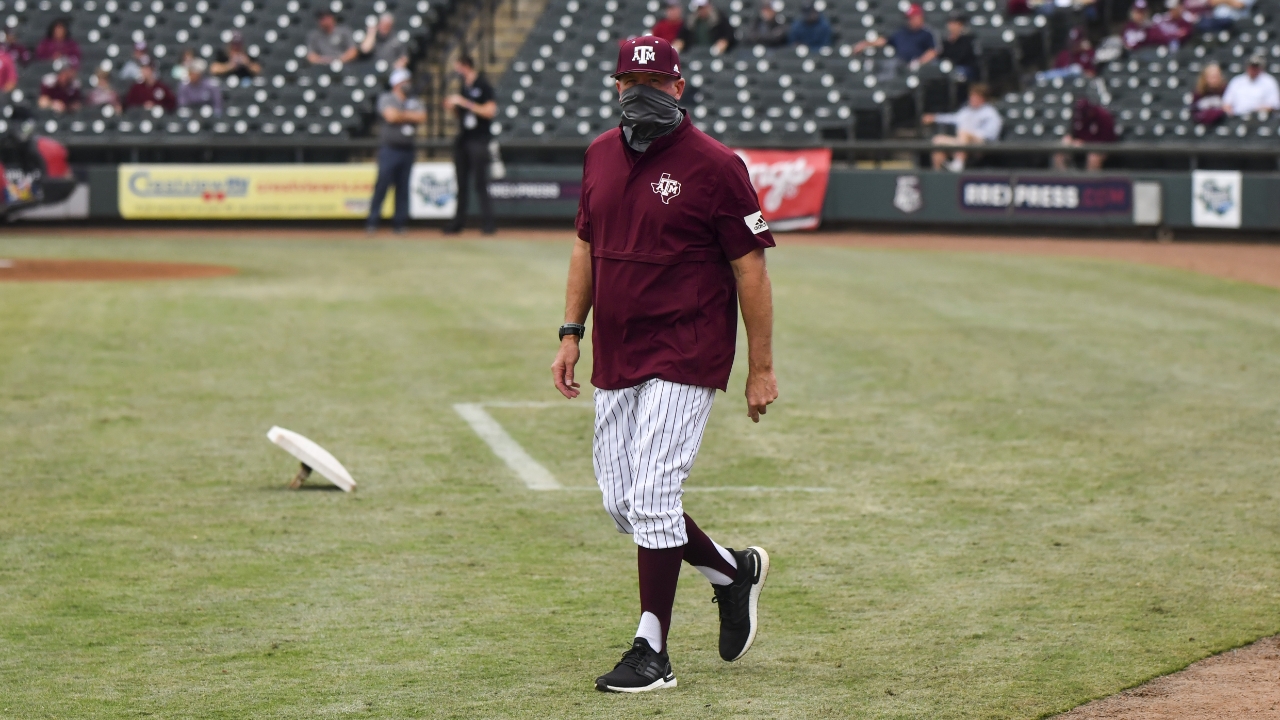 Photo by Jamie Maury, TexAgs
Texas A&M Baseball
Rob Childress encouraged by performance in Round Rock Classic
---
Key notes from Rob Childress interview
Anytime you go 2-1 on the weekend, you feel good about it. But less so when you lose on Sunday. It leaves a dirty taste in your mouth and feels like we left something out there, especially after we got a terrific start from Jonathan Childress. Our bullpen just didn't hold up their end of the bargain.

From about the fifth inning on against Tarleton State, you could see that our guys had committed to doing their job and setting up innings. We got that in the second half of Wednesday's game, and that carried into the weekend. We played with a looseness and freedom early in the weekend.

Dustin Saenz and Chandler Jozwiak were electric and on the attack from the word go. Mikey Hoehner jumped on Baylor pitching early and gave us some momentum on Friday night, and we avoided the big inning on the mound. We did a great job and were able to get Chris Farrell time on the mound too.

When Jozwiak is on the attack and is the aggressor, he is super good. He has been that way in each of his last two outings. He suffocates hitters with strikes and sets the tone when he's like that.

I like our top third of the order a lot, but it does expose us a bit with Kalae Harrison in the nine-spot since two of our three guys at the top are left-handed. You can go to a lefty, but you're going to have to come get our guys. Brett Minnich has earned the opportunity it play every day, and I've really liked his start.

We started the same lineup on Saturday vs. Oklahoma as we did against Baylor. Their left-hander has terrific stuff, but he struggled with his command. When he got into the zone, we responded with four straight hits with runners in scoring position, capped off by Logan Britt's three-run bomb. The Sooners mixed and matched the bullpen to keep us from throwing the knockout blow. Bryce Miller was fantastic, and Alex Magers was as well. Joseph Menefee came out and walked the first batter before punching out the next five. Scoring seven in the first inning was awesome, and we got a great performance from our pitching to keep the momentum on our side.

Jonathan Childress has been good at managing the game. He has to do a better job of getting the leadoff hitter. We need to make sure we have better options out of the bullpen, but our moves all backfired on us after the sixth inning. Looking forward, we'll probably let him go out for the seventh and get him up to 110 pitches like the other two starters.

We're going to leave our rotation as we had it last weekend with Saenz on Friday. It forces our opponent to decide if they want to match up with the lefty right out of the gate. I like the way it is right now.

We're going to keep Mason Ornelas and Jozwiak in those same spots as our long relievers. We need Will Johnston to pitch like he's capable. Menefee has been fantastic. To make a move with Mason Ornelas on a Friday or Saturday is a tremendous weapon.

We're going to do the same thing that we did this weekend offensively. We're going to give Ryan Targac some more opportunities this week. Getting Taylor Smith going is an absolute must for us. We'll get another look at him in the middle of this week. Targac is a switch hitter. He is strong and physical, and he controls the zone so well for a freshman.

Looking ahead, we're on a 10-game homestand, and we're .500. We are where we are. We have to take care of business at home, and the opportunity begins tonight against Houston Baptist. We'll start Nathan Dettmer tonight, and we will not limit him. Chris Weber will start on Wednesday vs. Incarnate Word, and we'll face their #1 as they do not play this weekend. There are no layups in the midweek.
Never miss the latest news from TexAgs!
Join our free email list