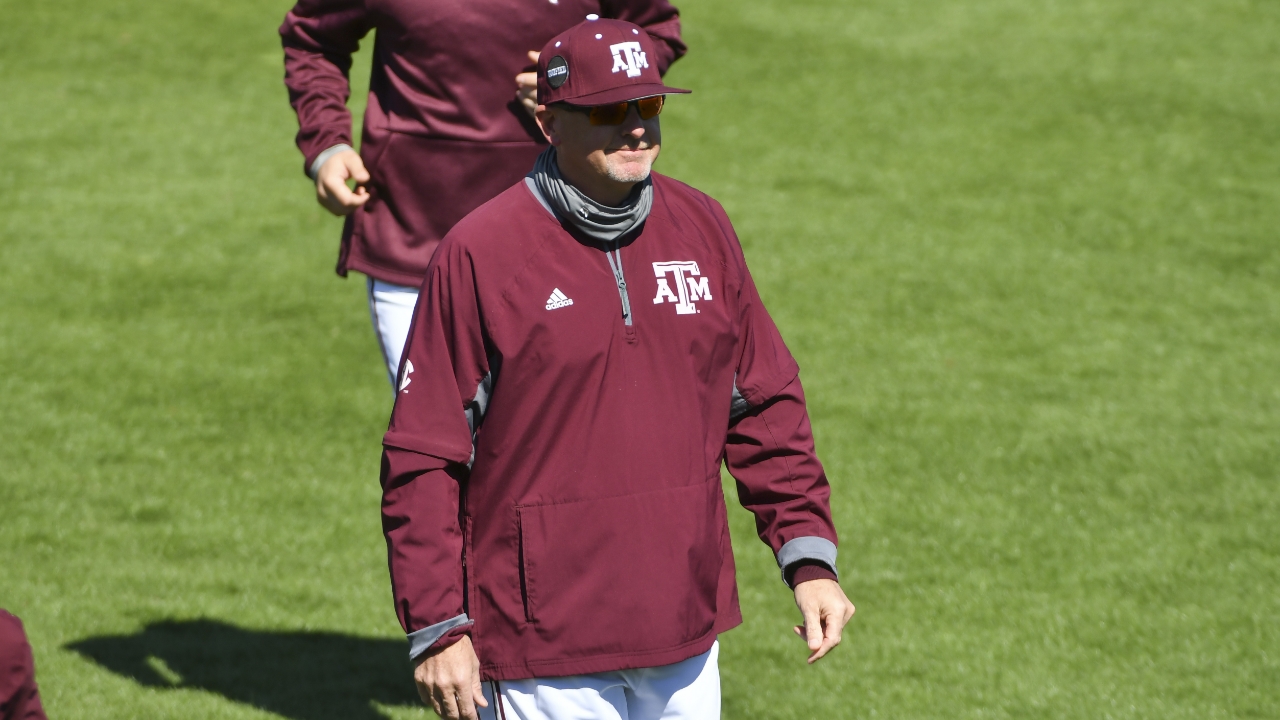 Photo by Jamie Maury, TexAgs
Texas A&M Baseball
Rob Childress discusses upcoming Round Rock Classic, changes to rotation
---
Key notes from Rob Childress interview
We were very grateful to get out there. It had been almost 350 days since we've had the opportunity to play someone else, and then you throw in the winter storm. I took a lot of hard work by our administration and grounds crew to allow us to be able to play this weekend. Those guys are the true heroes, and I wish we would've played better on Saturday for them.

We got off to as good a start as possible offensively, scoring five runs in the first two innings of the season, but we just couldn't get it going on the mound. We gave the lead away in the fifth inning, and our veteran bullpen arms let us down. Dustin Saenz had a great game in game two, but one big mistake was the difference in the game. We had a shot in the fifth inning of game two and weren't able to respond. We had a great response on Sunday, but overall, give Xavier credit because they played great games.

Bryce Miller was maybe a little too amped up, and maybe everyone was. Not being able to adjust is tough. Miller has proven he's capable of starting and being efficient for us, and I know he will do that going forward.

To be able to respond on Sunday and get some different guys in there was crucial. It's not about the nine best players but the nine guys who can play best together, and we will find that formula going forward.

Taylor Smith has proven he can play at a high level. We need that threat of doubles, homers, and he is fully capable of doing that for us. I know our pitchers didn't enjoy facing him in practice.

I appreciated Bryce Blaum's attitude and that he was still engaged in all 18 innings on Saturday. He'll get paid back, and the opportunity to start came from that patience and endurance. That's how baseball works, and that's how life works. He will start again tonight against Abilene Christian.

Mason Ornelas is a guy who arguably has the ability to be in the starting rotation. He is so valuable to us out of the bullpen, and he is very mature and consistent. You know what you're going to get every day out of Mason.

I'm looking forward to our five-game week ahead, and I know we're gonna learn our identity and grow as a team in that time. This weekend will be fun. It could be a regional-type feel for those matchups against some former Big 12 foes. Hopefully, last Saturday was an eye-opener for our team, and we can move forward from that and grow together.

Looking at our rotation and our upcoming weekend opponents today, I think we'll play matchups this weekend with the pitching staff. I think lefty Dustin Saenz will fare better against Baylor's left-handed lineup, and Miller matches up best with Oklahoma on Saturday. Then you'll see Jonathan Childress on Sunday against Auburn.
Never miss the latest news from TexAgs!
Join our free email list