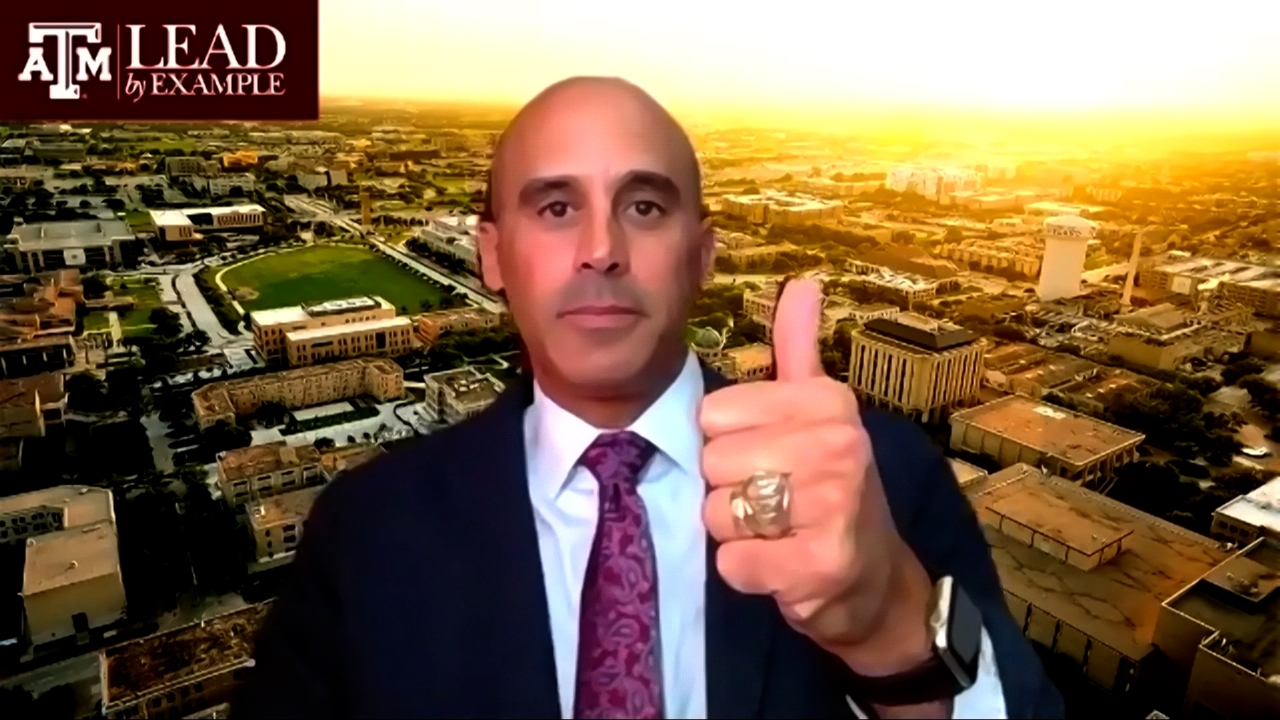 Tyson Voelkel on successful 'Lead By Example' campaign for A&M Foundation
---
Key notes from Tyson Voelkel interview
The Texas A&M Foundation is responsible for managing the $2.2 billion endowment for Texas A&M University and for raising major gifts for the university. We focus on the academic side of what Texas A&M needs to move into the future.

We're also an organization where the donor can choose where the dollars go, also known as "directed giving." We have over 8,500 accounts. We have about 50,000 transactions each year.

We just completed the "Lead by Example" campaign, which was the largest philanthropic campaign in the state's history for higher education and one of the top campaigns in the nation for 2020. It produced about $120 million for Texas A&M every single year.

This organization is founded completely on the idea that we want to be among one of the most trusted philanthropies for higher education. Our mission is simple: Build a brighter future for Texas A&M University, one relationship at a time.

The "Lead by Example" campaign was a comprehensive one that involved all of what we call the affiliated organizations: the Association of Former Students, the 12th Man Foundation, the George & Barbara Bush Foundation, and the Corps of Cadets Foundation were all participants in this campaign. It was launched publically in 2015, but in 2012, 2013, and 2014, there was silent planning and gathering of the information for this campaign. Each one of those organizations has been instrumental in helping us reach this goal for the benefit of Texas A&M University. Each one of these organizations exists to serve our university in one form or another.

Some quick figures for you: We provide over 9,000 scholarships per semester for students on campus through philanthropy. We have over 500 faculty and staff that are receiving some sort of philanthropy. There was over $700 million raised for private grants for research on campus. We're talking about curing cancer as well as educating the next generation of school teachers. We've got the next generation of military leaders coming out of Texas A&M. We've got unbelievable athletic programs and facilities that rival any other university in the country. All of that is founded on the great traditions that make Texas A&M incredible, one of which is the Corp of Cadets — which is very near and dear to many people's hearts. The Texas A&M Foundation provides about $6 million in funding for the Corp. Ninety percent of the cadets are on some kind of scholarship.

This allows the students to get involved in what we call the "other" education, which is the traditions that make A&M unique and special — the aspects we all talk about. Most of the people I speak with don't talk about what they studied at A&M; they talk about what they did and who they shared those experiences with. That is alive and well because of the generosity of our many donors who believe in Texas A&M so much.

You joke about industrial distribution, but there are about six to seven jobs per graduate out of that program right now. That's because it's the best program in the country right now.

Over 40 different academic programs at Texas A&M are ranked nationally in the top tier. That is not at the expense of the traditions, and the DNA of A&M. What's neat about Texas A&M is that you can do both. It's because of our student body. If you ever want to be motivated about our country and the future, go meet with some of our students. Go sit in the Memorial Student Center, have a cup of coffee, and talk to these kids. You will walk away feeling energized.

I tell a lot of people that Texas A&M tries to be elite but never elitist. We want to be the best at what we do in everything we do, but not elitist. As soon as you become elitist and start looking down your nose at everybody else, that's when we start to fracture and lose who we are. Our students and donors are incredible people.

Our donors are incredible, and I mean every single one of them. Every single penny matters to the Texas A&M Foundation. Each one impacts Texas A&M.

We are doing our mission for Texas A&M, regardless if we're in a campaign or not, and that is to serve the university and helping meet what their needs are. Sometimes they're about dollars to recruit the best instructors and the best students. That does not change. What does change is how coordinated of an effort it is. What we're going to do is support the university and work with the other organizations hand-in-hand to do what's best for Texas A&M University.
Never miss the latest news from TexAgs!
Join our free email list