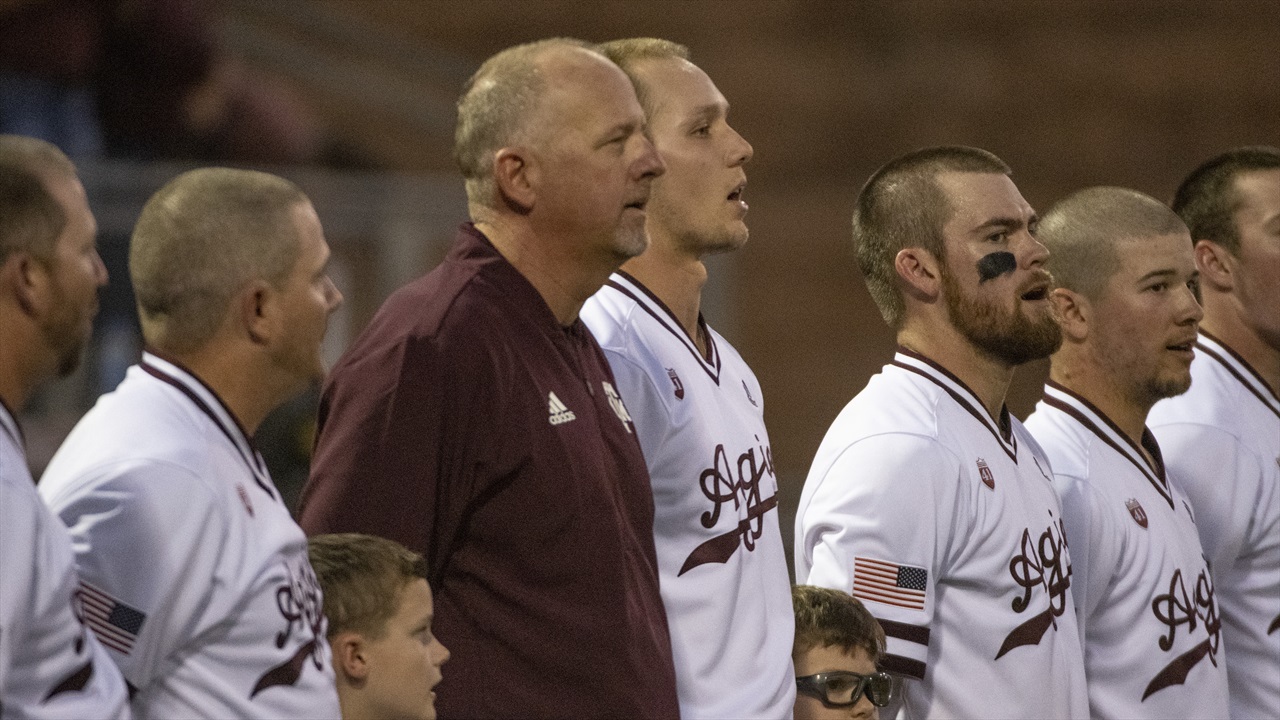 Photo by Tarah Cochran, TexAgs
Texas A&M Baseball
2 Days 'til Aggie Baseball (again): Crazy weather a good sign for the superstitious
---
It's that time of year! The Texas Aggie baseball team is set to open up the 2021 season on Saturday against Xavier at Olsen Field at Blue Bell Park. We're counting down the days with our 2021 Aggie Baseball Preview Series.
---
I have breaking Aggie baseball news. Forget all of the great preseason analysis the TexAgs baseball team has provided over the past week. Don't bother with trying to grab a few nuggets from the preseason press conferences. I have a simple answer.
Based on history and superstition, this 2021 team is destined for greatness. Prepare yourselves for a wild ride this spring out at Olsen Field – assuming history repeats itself.
In my best Gary Coleman voice, "What you talkin' bout, Hop?"
For anybody under the age of 45 grasping for the reference here, ask an "old" like me.
Going to Olsen Field was almost a religious experience for the stalwarts of Section 203. Yes, even this old man was a diehard Section 203er in the late 1980s.
In early February 1989, I was a graduate student at Texas A&M. I lived at the old Treehouse Village apartments at Marion Pugh Drive and Holleman. I was a huge Aggie baseball fan in those days.
While everybody talks about the 1989 team specifically (as I am now), the program had been trending upward for several years under new coach Mark Johnson. The 1988 team won 52 games, and young PA announcer Derrick "D.D." Grubbs made the atmosphere at Olsen Field very student-friendly and extremely fun. Going to Olsen Field was almost a religious experience for the stalwarts of Section 203. Yes, even this old man was a diehard Section 203er in the late 1980s.
In those days, the baseball season started in early February, so I was getting primed and ready for the 1989 season by the end of January.
Many of the players from that 1988 team were returning, led by shortstop and future MLB all-star Chuck Knoblauch, second baseman Terry Taylor and third baseman John Byington.
Since I grew up in Baytown, I was especially excited for this team. Three Baytonians (Byington, Mike Easley, Andy Duke) were projected to be in the starting lineup. My mom was Byington's math teacher at Baytown Lee, and to this day, she says he is one of the smartest students she taught in her 20-plus year career. Mike Easley is a good friend, and we share Aggie football season tickets at Kyle Field to this day.
However, the excitement was doused by a wicked ice storm the week leading up to opening day.
While this week has been especially brutal with the extreme single-digit cold, sleet, snow, freezing rain and power outages, the 1989 storm was all ice and made traveling virtually impossible.
To this day, I've never seen anything like it. Black ice covered the sidewalks, streets, trees – basically, thick ice covered anything exposed outside.
When the freezing drizzle first started, I was entertaining my long-time girlfriend at the time in my small efficiency apartment. We heard some commotion outside the building.
We wandered out to where a handful of students were standing near Marion Pugh and Holleman's T-intersection. A car had run through the stop sign and plowed into the opposite curb on Holleman. That was strange. I figured the young driver probably wasn't paying attention or something.
A couple of minutes later, another car approached the stop sign and slides all the way through and hits the opposite curb as well.
Remember, there was no social media, and the local weather came on at 6:00 and 10:00 p.m. only. We knew nothing about this ice storm. Frankly, I'm not sure I even knew what black ice was, much less the danger it posed on the streets.
Over the next 15-20 minutes, multiple cars were sliding through the intersection and crashing. At one point, we were trying to wave down the drivers in advance, but it was too late. There was no way to stop on black ice, even going just 10-15 mph.
By the time it started getting dark and we had retreated to my apartment, my girlfriend and I both fell hard on the sidewalk. Ice had fully engulfed every square inch of concrete outside my door. For the next 2-3 days, it was a challenge to walk outside. Driving was completely out of the question. By the next morning, the city was completely shut down.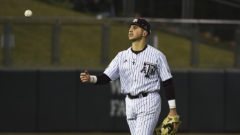 Tarah Cochran, TexAgs
I'm not talking about "mostly" shut down. College Station came to a complete stop.
Nothing was open, not that you could drive anywhere. We did try to walk to the convenience store at the corner of Holleman and Wellborn Road, but no luck. They were closed. By day two, it was becoming an issue. I mean, I was 23 years old, and as with any student, I had maybe a day's worth of chips and crackers in the apartment.
There was another major dynamic at play during this wicked ice storm: I was stuck 24/7 with my girlfriend and her miniature dachshund and cocker spaniel in very tight, cramped quarters.
Now, day one was great. Hanging out with the girlfriend for a whole day, watching movies and spending quality time was just what the doctor ordered to get you through a day of lockdown. It was new. It was fun.
However, by day two and three, I'm realizing that she's getting on my nerves a little bit, and I'm sure the feeling was mutual on her end.
There were a few habits I hadn't noticed during the traditional dating rituals of eating out, movie-going and spending afternoons at the park or a ball game. The dogs were really becoming a pain in the rear. Due to the ice and cold, these mutts refused to go outside to use the bathroom and used my carpet instead – not good. Tensions with my girlfriend were definitely rising throughout the storm.
Then we hit a break on day three.
We saw quite a few students slide their way outside and milling around the complex. Naturally, we checked it out. They heard that Double Dave's Pizza was open. Ironically, this was the old location in the strip center where the TexAgs offices are now located — about a half-mile walk.
It was worth the effort to see if this rumor was true or not. We were desperate for hot food, so we followed the line of students making the treacherous walk to Double Dave's. It was a strange situation. About 15-20 of us walked/slid down the middle of Wellborn with no cars in sight. It was a surreal scene, to say the least. When I say the streets were undrivable, I mean it literally. It's not like you might navigate the icy roads if you use extreme caution, or maybe a few trucks with four-wheel drive could make it through town. This ice was so thick and slick, even walking on it was a dicey proposition.
And what do you know, that Double Dave's was open! Halleluiah!!!
A couple of the employees who lived nearby walked to the store and opened it up. I can't tell you how wonderful it was eating Double Dave's Pepperoni Rolls and breaking bread with other human beings for a change. Thirty-two years later, that memory is still vivid in my head, as if it happened yesterday. Considering I can't remember what I ate for lunch two days ago, that's saying something.
Eventually, the ice finally melted, and that special 1989 baseball season opened to sunny weather. In retrospect, maybe that crazy winter storm was the best thing that happened to us.
Eventually, the ice finally melted, and that special 1989 baseball season opened to sunny weather. In retrospect, maybe that crazy winter storm was the best thing that happened to us.
As you all know, that 1989 baseball team was the best in school history. Anytime the TexAgs community starts discussing greatest Aggie sports memories, that 1989 baseball team and John Byington's two home runs to beat mighty (back then) Texas twice is the most frequently mentioned top moment for any Aggie sports fan who experienced that 1989 season. That team finished 58-7, and there were so many dramatic come-from-behind wins that season. While Olsen Magic and the electric Olsen Field atmosphere was percolating before 1989, the '89 team certainly cemented that rabid culture and circus-like environment that still exists today.
It was definitely a cultural turning point in the program. Many permanent rituals we still follow at Olsen Field today started in the late 1980s, which eventually culminated in the magical 1989 season.
And it all started just a few short days after the paralyzing ice storm of 1989.
We are now in the grips of a historic winter storm in 2021.
Does that mean the 2021 baseball season will be equally epic and history-making? Yes.
We're college baseball fans, and we're the most superstitious bunch in all of sport. Why is that? Well, because it's true. Baseball is a game of superstitions. It always has been, and it always will be. Don't even question it – ever. There's no need to dive down into the deep analysis of this roster. Plus, we have an algebraic theorem on our side as well, right?
1989 historic winter storm = 1989 historic baseball season.
2021 historic winter storm = 2021 historic baseball season.
On a personal note, things didn't work out with me and that girlfriend. Maybe it took the storm to figure that out.
Maybe there's more than just a great Aggie baseball season to appreciate when overcoming the hardships of a winter storm. I know it's been tough for many of you, especially those that have lost power. As with any endeavor in life, we'll all survive, power through it and look at the positives on the other side. In this case, we have a fabulous Aggie baseball season just two days away. History, and my intuition, tell me it will be special. That's enough for me. Play ball, Ags!
Never miss the latest news from TexAgs!
Join our free email list