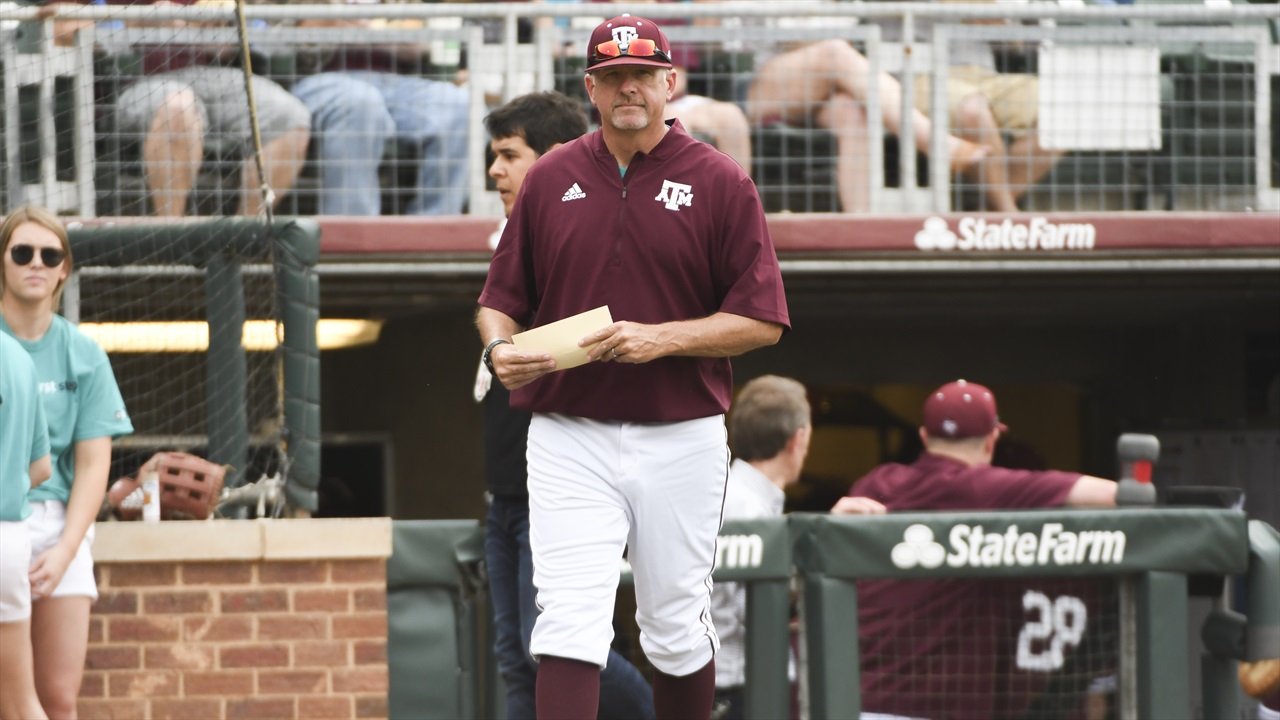 Photo by Elisa Schmitt, TexAgs
Texas A&M Baseball
2 Days 'til Aggie Baseball: One-on-one with head coach Rob Childress
---
It's that time of year! The Texas Aggie baseball team is set to open up the 2021 season on Friday against Xavier at Olsen Field at Blue Bell Park. We're counting down the days with our 2021 Aggie Baseball Preview Series.
---
Texas A&M baseball is still slated to begin the 2021 season on Friday night with the Xavier Muskateers. The Aggies' head man Rob Childress joined TexAgs Radio to discuss the status of his pitching staff and more as Opening Night creeps closer.
Key notes from Rob Childress interview
We're in a great place. We've had enough practice up until this point to prepare. These past three days, we've gotten our starting pitchers' pitch count up to what we need going into this weekend, so we are ready to go. I know our guys are looking forward to putting the uniforms on and getting out on the field again.

Bryce Miller and Dustin Saenz have been pitching at an incredibly high level. Nathan Dettmer has been incredibly consistent. Also, Jonathan Childress and Chris Weber have carried a load for us, and it's just how we're gonna be able to put it all together. Bryce Miller has been very efficient and is ready to go for Friday night. Chandler Jozwiak and Mason Ornelas are guys that I cant wait to get the ball to, and they can give us some length in the bullpen. Nathan Dettmer may have the opportunity to close for us consistently. He and Trevor Werner are maybe guys that will be able to finish for us a lot this season.

Detmer is a guy who has been very focused and can really spin the ball. He's got a wipeout breaking ball and changeup and can throw to right-handed and left-handed hitters equally well. I think his breaking ball is what sets him apart. Nathan may end up in our rotation before we get to conference play. He's a very talented kid who has operated at a high level.

Saenz has matured so much and become so much more consistent, and his pitching is reflecting that. He's developed a slider, which he didn't have as a freshman, and his curveball has become very reliable. The physical changes are there, but I think the maturity with Dustin is most apparent.

I want Joseph "Moo" Menefee to have as big of a role as he did his freshman year. I also think he could finish games for us, allowing us to switch it up. Both he and Will Johnston are guys who are unique and experienced. Both are very competitive and will be leaned on in a big way.

Mikey Hoehner is a great leader and had a great fall camp/January. He's just a quarterback for everybody and leads everyone. I think we're in a great spot at catcher. Other guys will get opportunities, but most of the load will be carried by Mikey.

Logan Sartori will hit each and every day. He's got a great swing and is very competitive. He is willing to do whatever it takes to help our team win. Whether he plays second, third or whatever, he will be at the top of our lineup going into this season.

Logan Britt should get a lot of credit. He has worked hard and has a great relationship with our coaches. He is super talented, and I do believe he will have a great year for us. He's another guy who will be in the lineup every time.

Xavier is a very well-coached team. They have two very experienced guys coming back for them. They can challenge the fences, for sure. We need to go out and execute. The excitement will be out for both sides, so hopefully, the sun will shine, and we can get three games in this weekend.
Never miss the latest news from TexAgs!
Join our free email list