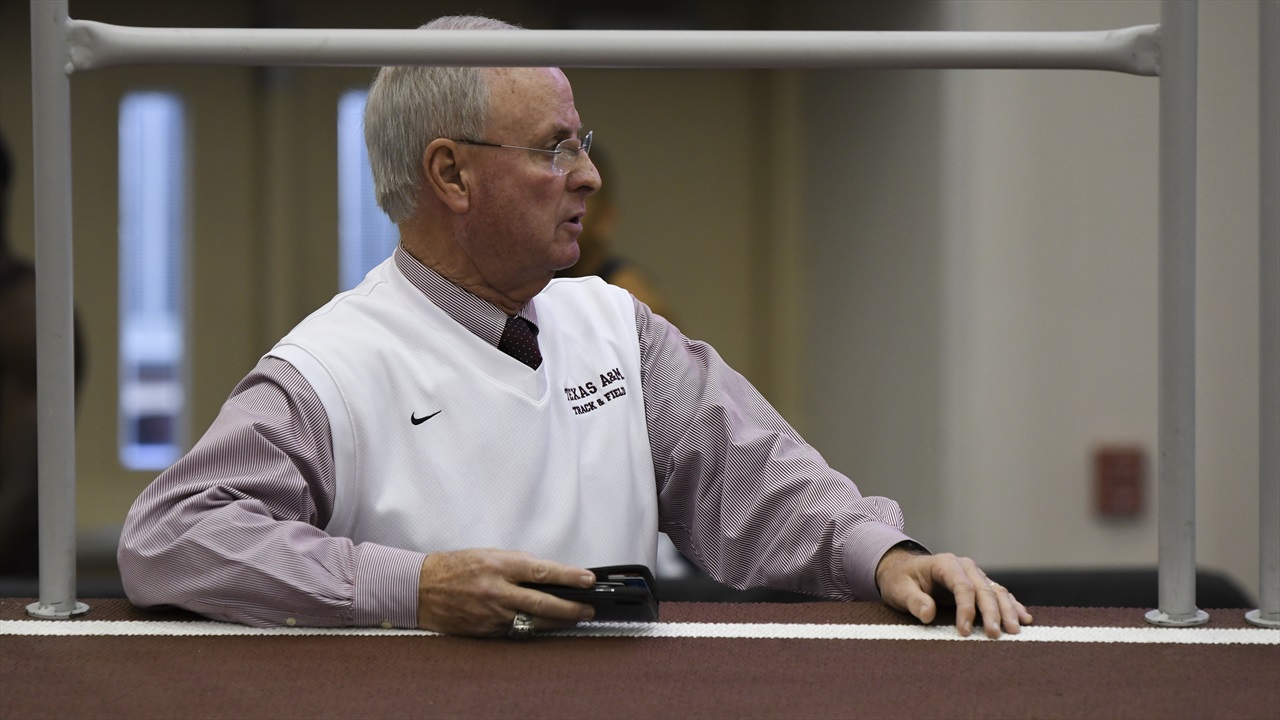 Photo by Jamie Maury, TexAgs
Texas A&M Track & Field
Pat Henry provides an A&M track update ahead of their trip to Arkansas
---
Key notes from Pat Henry interview
This segment may be informative to people out there, especially when more people might not be able to get into the facilities to see our kids compete on the track.

Both the men's and women's teams have done well, and some people have been outstanding. Every team and every sport is dealing with some COVID-19, and we are no different. We have only had two or three test positive out of 140, but of course, that can add quite a few through contact-tracing.

This week, we have a meet at Arkansas, then we have a week off before the SEC Championships. We had someone test positive yesterday, so they'll obviously miss some time. Hopefully, they'll be back before the SEC Championships.

Athing Mu is an American. She is a great up-and-comer, but she's already here in a lot of aspects. She has been tremendous at this point. She's learning a lot about herself. In the 800m, she's ranked No. 1. She has only run the 400m once, and she leads the world. You could not ask for more out of a true freshman.

There is no question about it; Mu could be one of our Olympic athletes. There is a lot of time between now and then. The runs she's had so far are impressive, and we are on limited work to this point. We try to balance it and train for when we need to run well. Our training is geared for a young lady like this.

We do not believe in peaking. That is a mental, not physical, state of mind. When you run right, you're not concerned about peaking. Some people feel tired after they run, others feel great. Our plan is to feel great about yourself each time you run.

Charokee Young is ranked No. 2 right now in the 400m. She is only going to get better every time she gets on the track.

Going into the year, Syaira Richardson was who we thought was our best 400m runner, and she might still be in the thick of it because she ran anchor for us last year. She's very exciting as well.

Bryce Deadmon leads the country in the 400m on the men's, and it was too bad that the season was taken away from him last year because he would've been one of the people everybody would've heard about.

You mentioned Devon Achane. He is a freshman, and track is different than football. It is a different mentality and a different learning curve. We are going to get him on the track this week. We have an important workout this weekend, and we will see where he is at. Very few people get on the track right away. He has a lot of technical things he needs to change to be successful at our sport. He's learning, and he's very coachable. He needs to learn how to separate his arms, but he has the tools. We will see if we can coach him.
Never miss the latest news from TexAgs!
Join our free email list