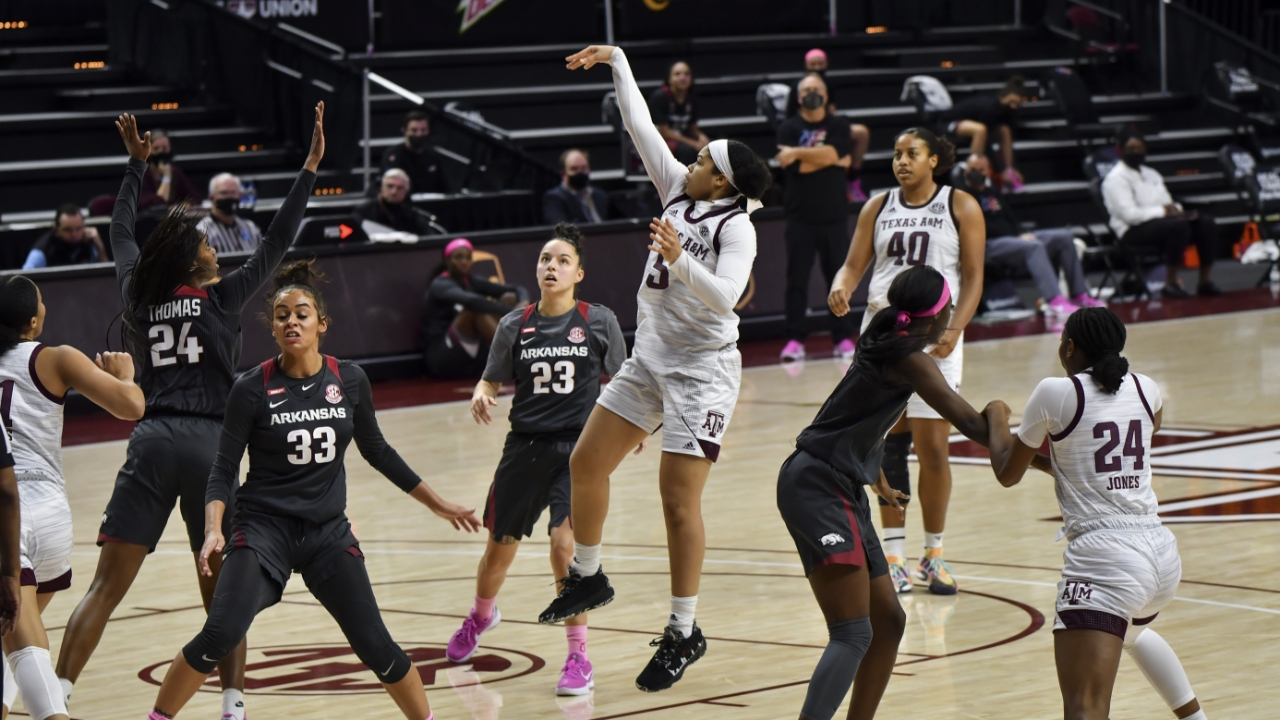 Gary Blair
Jordan Nixon
Kayla Wells
Texas A&M Women's Basketball
Nixon's heroics in final seconds lift No. 7 A&M over No. 16 Hogs, 69-67
---
It's only fitting that the Aggies earn a super top-25 win over Arkansas on Super Bowl Sunday.
According to Texas A&M Head Coach Gary Blair, his team plays every game "like a championship."
The No. 7 Texas A&M Aggies conquered No. 16 Arkansas Razorbacks Sunday afternoon, 69-67, as the Aggies' picked up their second win over Arkansas this season.
Heading into the game, the Aggies (17-1, 8-1 SEC) knew it wouldn't be an easy battle against Arkansas (13-7, 3-6 SEC), who has beaten No. 3 UConn and No. 8 Baylor this season.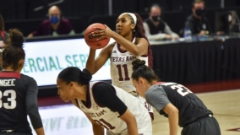 Jamie Maury, TexAgs
It was evident early that Kayla Wells had the hot hand as she scored her first bucket in the first 15 seconds of play. Wells led the way in scoring from wire-to-wire, finishing with 21 points.
Coach Blair assessed Kayla Wells' excellent performance following the game.
"This was (Kayla) Wells' best complete game of the year," Blair said. "We were isolating her in the third quarter and the first half. We told her to keep driving the ball."
The Aggies held Chelsea Dungee — the SEC's top-scorer at 22.4 points per game — to seven points at the half and just 12 in the entire contest. With A&M's defense limiting Dungee's offensive production, senior guard Amber Ramirez took over for the Razorbacks, making five 3-point baskets and scoring 21 points.
Wells touched on how this team limited Dungee's scoring.
"We focus on trying to take her touches away, trying to be there and letting her know that she has people coming and people in help," Wells said. "On the offensive end, we like to attack her also. Just trying to figure out ways to defend her is what we do. Usually, we would swarm her when she gets the ball, but they have three-point shooters, so we have to be careful."
The Hogs took a 20-26 lead late in the first half. The Maroon & White fought back with buckets underneath, which featured a layup from Wells in the last eight seconds to shrink the Razorbacks' lead to 30-32 at the break.
The Aggies came alive in the third quarter and produced 26 points. The team played lights out all quarter, and sophomore McKinzie Green topped it off with a buzzer-beater jump shot for a 56-48 lead at the end of the penultimate stanza.
The Aggies maintained that pace in the final quarter until the Razorbacks fought back.
"Trust carries me in those big moments. Coach Blair told me if it comes down to it, make a play, and that's what I was able to do."
Through Ramirez's threes, Arkansas knotted the score, 62-62.
This effort did not go unanswered. Wells hit a trey, and Aaliyah Wilson put in a layup as A&M took a 67-64 advantage.
Ramirez tied the score again, 67-67, on her fifth 3-pointer.
After an exchange of timeouts, Reed Arena erupted when Jordan Nixon scored her second clutch game-winning shot for the Aggies, 69-67, with just eight seconds to play.
Nixon walked through what carries her through these big game-winning plays.
"Trust carries me in those big moments," Nixon said. "Coach Blair told me if it comes down to it, make a play, and that's what I was able to do."
The Aggies will maintain a home-court advantage for the next contest against Missouri at Reed Arena. Texas A&M will face the Tigers, February 18 at 7 p.m.
MESSAGE FROM OUR SPONSOR
Special thanks to 12th Man Technology for their sponsorship of women's basketball postgame stories throughout the season at TexAgs! For the ninth consecutive year, WBB content will be available to you for free!
Never miss the latest news from TexAgs!
Join our free email list
PRESENTED BY