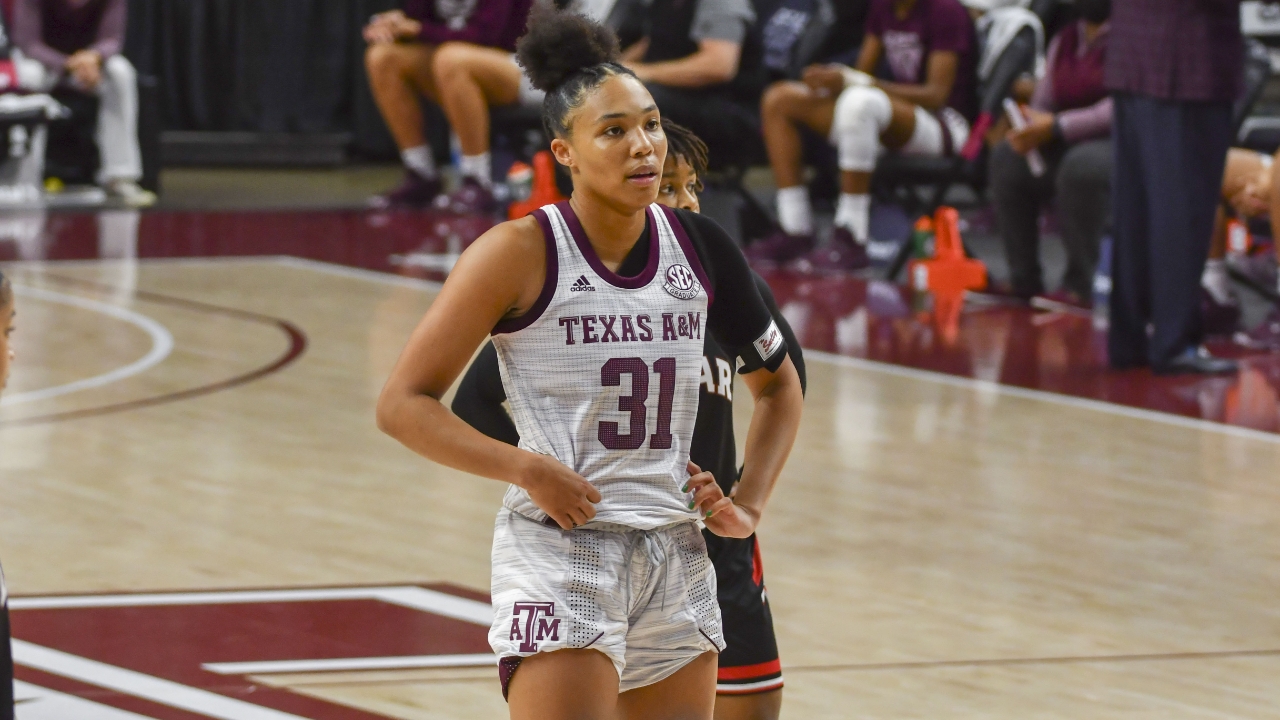 Gary Blair
N'dea Jones
Destiny Pitts
Texas A&M Women's Basketball
Aggies roll Auburn, 84-69, behind big night from N'dea Jones
---
No. 8 Texas A&M (15-1, 6-1) defeated Auburn (5-10, 0-7) on the road Thursday night, notching an 84-69 win that keeps Gary Blair's squad near the top of the conference standings with the last month of the regular season forthcoming.
"We're very happy about this win," Aggie post N'dea Jones said after the game. "It was a total team effort on the road to win a game like this."
Just like last Sunday's performance against Missouri on the road, the Aggies started off with sloppy play and lackluster shooting. Texas A&M finished the opening quarter with 11 points total, shooting 3/18 (17%) from the field.
However, the poor offensive showing in the first quarter was backed up with suffocating defense to keep the 8th ranked Aggies ahead on the scoreboard. A&M held the Tigers to 10-30 (33%) shooting and 5-21 (24%) from deep in the first half. The Aggies also forced 8 turnovers, which led to 11 of their 33 first-half points.
Leading by only six points (33-27) going into the break, Texas A&M needed a spark in the second half. Seniors Destiny Pitts and N'dea Jones helped provide it, leading the way the Aggies scored 51 points in the second half.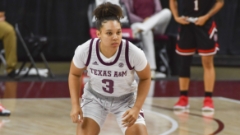 Lia Musgrave, TexAgs
Jones totaled 23 points, shooting an impressive 11-14 from the field, and pulled down 12 rebounds. Pitts ended the game with 14 points, draining making four 3-pointers in crucial moments throughout the game.
"She's our shooter we need," Jones said of Pitts after the game. "We need her to space out the defense especially in a zone."
Pitts praised Jones, who notched yet another double-double.
"I love playing with N'dea," Aggie guard Destiny Pitts said after the game. "Nobody out hustles her and she makes everyone else's job easier on the team."
Ciera Johnson also scored 14 and totaled 9 rebounds while Kayla Wells added 12 points.
After playing four of their last five on the road, Texas A&M returns to Reed Arena on Sunday to tip off a four-game homestand, but Blair knows there is no such thing as an easy stretch the SEC.
"In this league, you better be ready every game," head coach Gary Blair said. "Whether you are home or away, every team will bring their A-game and you have to be prepared."
The Aggies host No. 22 Georgia on Sunday, and the 2011 National Championship team will be honored at the game. Tip is at 4:00 p.m. on SEC Network.
MESSAGE FROM OUR SPONSOR
Special thanks to 12th Man Technology for their sponsorship of women's basketball postgame stories throughout the season at TexAgs! For the ninth consecutive year, WBB content will be available to you for free!
Never miss the latest news from TexAgs!
Join our free email list
PRESENTED BY