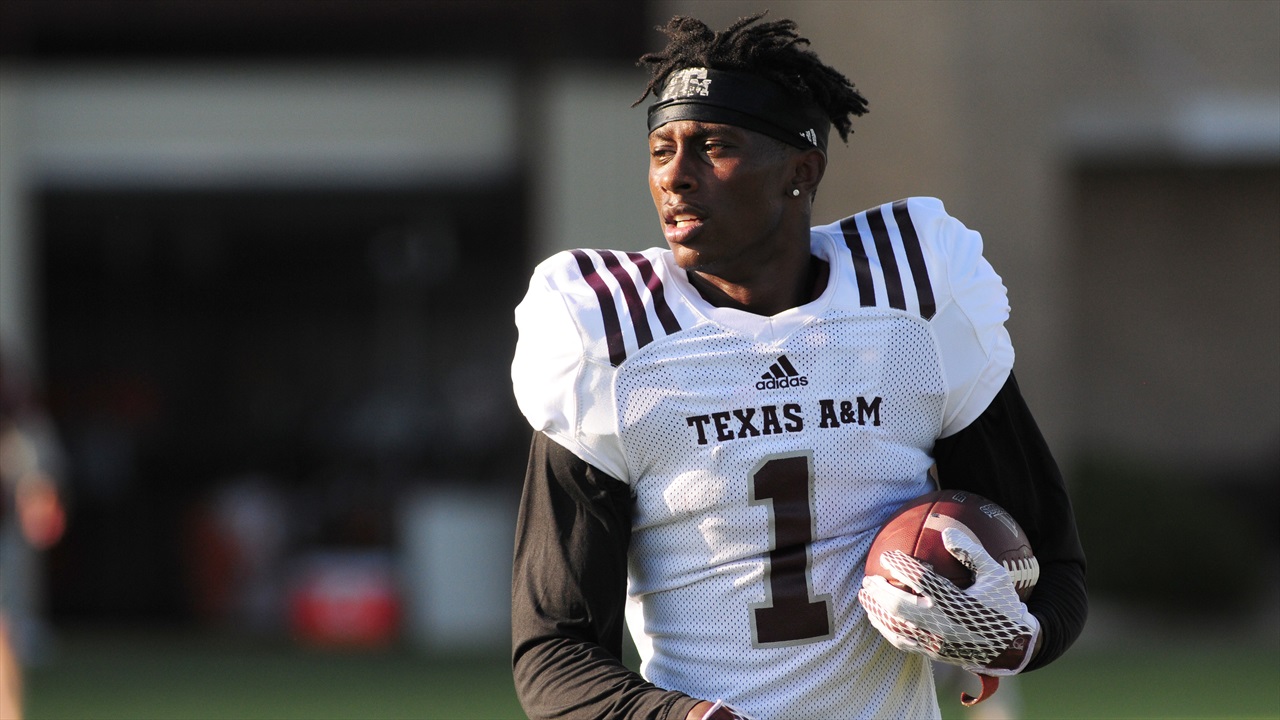 Photo by Alex Parker, TexAgs
Texas A&M Football
Catching up with De'Vante Harris on his restaurant, upcoming charity event
---
Key notes from De'Vante Harris interview
I have two restaurant locations. The main location is in Uptown. It's Aggie-owned and operated, and I get a lot of Aggie support from people who want to have a drink or have the best wings in Dallas. I'm hoping to get a location in Aggieland eventually. We've done a good job of staying afloat during the pandemic. This has been great for my family.

This pandemic has been a big hurdle. It's hard, and it's been affecting us, but if you have a strong foundation and are smart with your money, you'll be able to stay afloat. I've learned from guys in this business, but I've also learned from my life in football about overcoming adversity.

If you come to the restaurant, you're going to see the Harris family. When we're not mudding or on the track, we're here working, fraternizing with the patrons and giving the community what we need to.

In this business, the hurdles keep coming one after another. It's all about overcoming adversity. If one day is messed up, at least you got the next one. Having my father around to tap into advice has helped a lot, even though he has never owned his own business.

Coming back to Dallas was really important to me. I'm a second-generation Aggie and a second-generation football player, so I've seen him interact with people in this community when I was growing up. That helped me come back. When I started my business, I went to where the biggest fan base is. I've got so much support in this community, and I'm blessed.

There is an event coming up, a celebrity basketball game, for the community. I went to the Oak Cliff Boys & Girls Club when I was young, so I like to give back to them. I've started a foundation called Harris' House of Hope. If you come out to the celebrity basketball game, you'll be helping provide textbooks and such to underprivileged kids. There will be a lot of celebrities and former Aggies, including Tra Carson. It'll be a star-studded event. We will also be taking donations there for the foundation as well.

Mike Evans hasn't confirmed that he's going to play yet, but he's talking about it. He's in the group message. It would be good to see him and Tra go at it again and bring back those old days from the Rec.

Jimbo is building a culture and a lifestyle. I love the tenacity that those boys come out and play with. It reminds me a lot of 2012. For a long time, we thought 2012 was the best team at Texas A&M, but they've pushed us. I really thought they were robbed. I love seeing those guys who love playing for each other and their coach.

On defense, you're seeing them build competitive corners. As a corner, I always look at that position. Guys this year were not afraid to press or back off. They're not afraid to jump that hitch route or jump on the curl. They take those risks. The tenacity reminds you a little of the Chavis-style defense. It's eat or get ate. I love how they're buying into Fisher and Elko on the defensive side.

Jaylon Jones showed up right away. He's a guy I'm excited to see grow because he's long and big. You can see him developing mentally. There is a lot of young talent in that secondary and a lot of guys who are buying in and making plays.

When Texas A&M wins, we give away free shots at the restaurant. So I'm very excited for where the program is headed,
Never miss the latest news from TexAgs!
Join our free email list