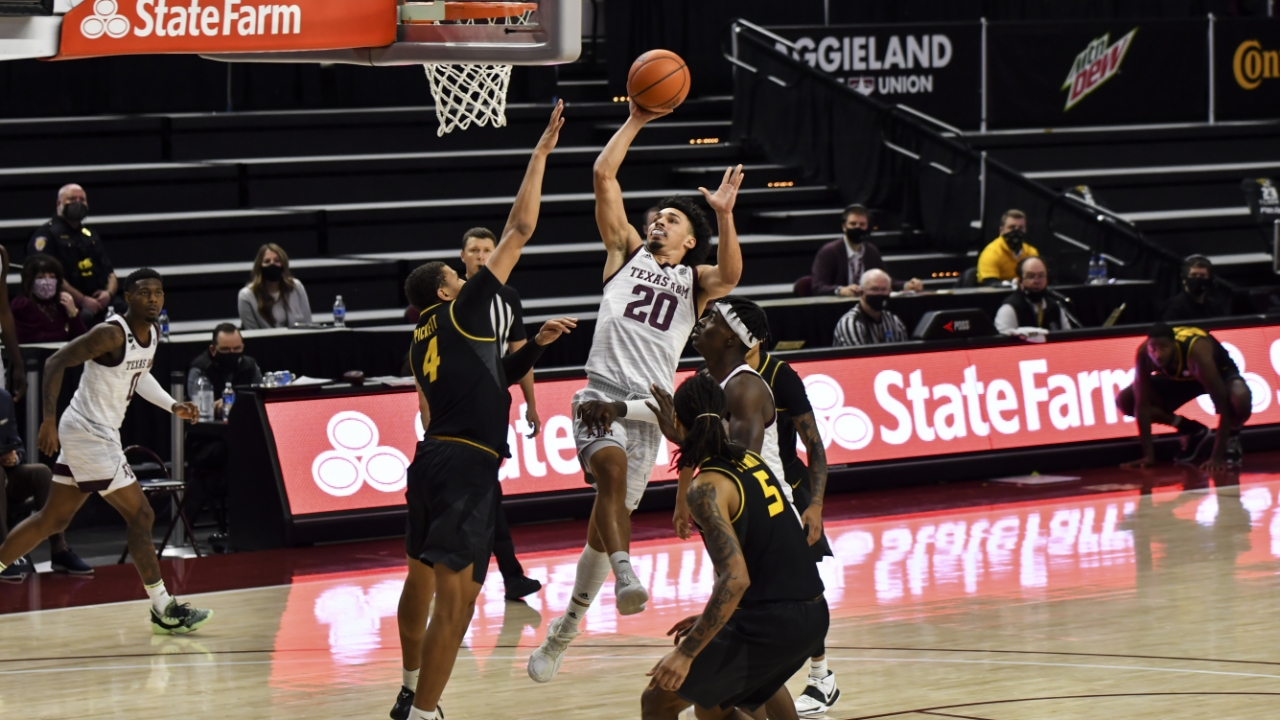 Buzz Williams
Andre Gordon
Jay Jay Chandler
Texas A&M Basketball
Gordon's 19 points not enough as the Aggies fall to No. 17 Missouri, 68-52
---
Fifteen minutes is typically viewed as a rather brief period. But a frustrating 15-minute span resulted in a long, difficult Saturday for Texas A&M.
No. 17 Missouri (8-2, 2-2) more than tripled A&M's point production over the pivotal 15 minutes and went on to hand the Aggies (7-5, 2-4) a 68-52 Southeastern Conference basketball defeat at Reed Arena.
In that time, a seven-point A&M lead dissolved into an 18-point deficit. Guard Dru Smith hit a 3-pointer from the corner to put Missouri up 52-34 with 10:56 remaining.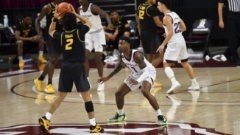 Jamie Maury, TexAgs
The Aggies had hoped to repeat a strong defensive showing following a 56-55 win over Mississippi State on Wednesday.
They appeared to be duplicating that effort for most of the first half, but an apparent lapse of energy led to a second-half collapse.
"I thought the first 15 minutes, maybe even 16, we started and played the way we left off in Starkville," Texas A&M coach Buzz Williams said. "I thought we closed down the half without much energy. It was just lacking relative to the cohesiveness that we need to play with on both ends. I thought we started the second half worse than we ended the first half and maybe played that way for about 10 minutes."
Indeed, A&M started strong and took a 24-17 lead on Andre Gordon's pull-up jumper with 4:04 left in the half.
At that point, the Aggies defense had limited the Tigers to just 35 percent shooting, but Missouri began to heat up when Xavier Pinson hit a 3-pointer.
Then the Aggies went ice cold. They missed 11 consecutive shots. That inaccuracy allowed Missouri to close the half on a 10-0 run and take a 27-24 lead at the break.
Missouri's Javon Pickett converted a 3-point play four minutes into the second half to launch a 21-5 run that settled the issue.
The Aggies struggled with Missouri's superior size inside as the Tigers scored 36 points in the paint. Most of those were provided by 6-foot-10 forward Jeremiah Tilmon and 6-foot-7, 240-pound Kobe Brown.
"I thought we closed down the half without much energy. It was just lacking relative to the cohesiveness that we need to play with on both ends."
Tilmon and Brown combined for 23 points to compliment guards Dru Smith and Javon Pickett, who finished with 15 and 12, respectively.
Still, Tilmon and Co. perhaps did an even better job on the defensive end. A&M was limited to 16 points in the paint. Forward Emanuel Miller was held to nine points.
With Miller in check, the Aggies — who have managed fewer than 60 points in five of their six SEC contests — had to depend on scoring from its guards.
Gordon, who had two big shots late in the victory over Mississippi State, responded with 19 points on 7-of-12 shooting. Jay Jay Chandler had 11, and Savion Flagg added nine.
"I'm just playing within the team," Gordon said. "(Missouri's) defense coming off the ball screens and stuff like that they weren't helping that much, so I was able to get my shot off. I was able to get two early 3's in the game, and it kind of built more confidence."
Gordon added a dunk and a layup to cap an 8-0 rally that pulled the Aggies within 52-42 with 7:43 to play.
But they never got any closer.
Never miss the latest news from TexAgs!
Join our free email list