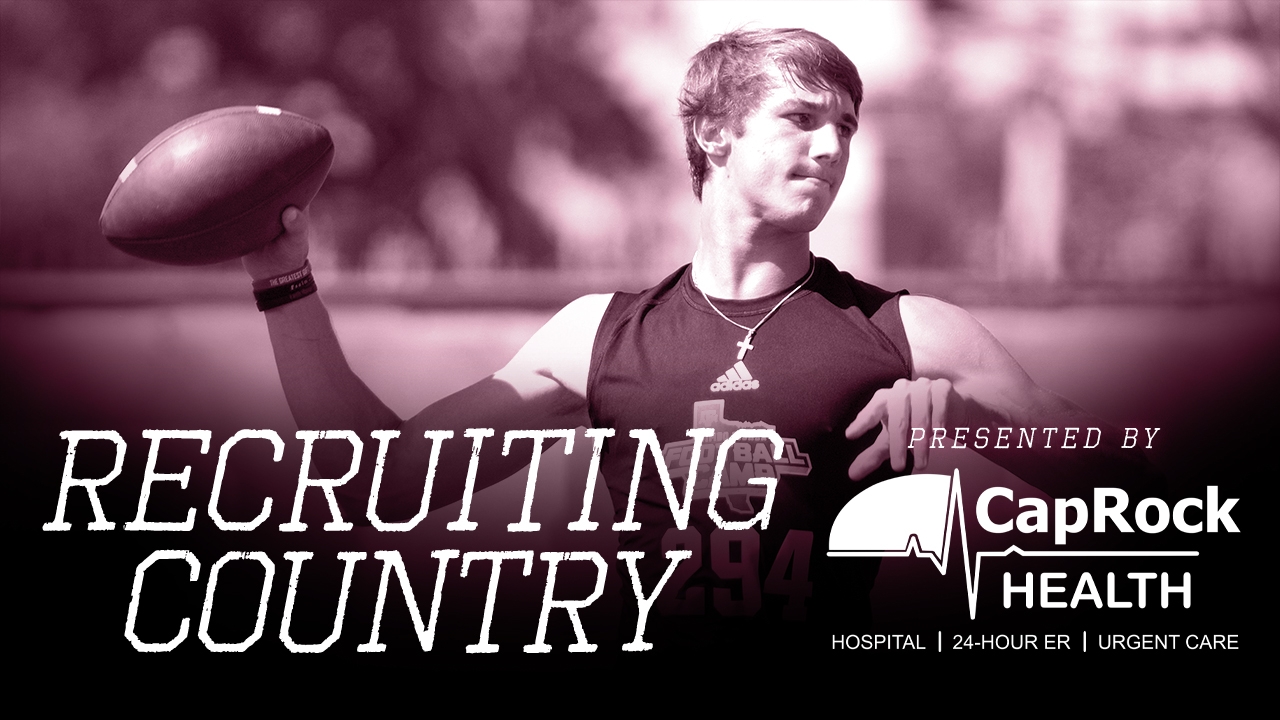 Texas A&M Football Recruiting
Recruiting Country: The latest recruiting news surrounding the Maroon & White
---
Key notes from Recruiting Country
Jason Howell will be at the state championships covering it this weekend. They're only allowing one credential per company with no sideline access. I'll be watching it from home and interacting with people on the board. There are no A&M commits in these games, but a lot of A&M targets in there.

Dallas is well-represented this year. The Central Texas region had some big upsets over the Houston-area. There are some big storylines. You have Aledo - title town Texas - vs. Crosby, who hasn't been there in 60 years. Cedar Park vs. Denton Ryan is intriguing because Cedar Park doesn't have a single Division I signee. I would take both of the Dallas-area teams in those games.

Cedar Hill and Katy is intriguing. Katy's only loss is to Tompkins in district play, but they have figured out their quarterback situation. Katy is a little beat up. No Fernando Garza‍. No Malick Sylla‍. The Tigers can really play defense. This game is Saturday at 1:00 p.m. They are going to be that typical Katy team. They'll hand it off, run it right at you for four quarters and then play defense.

You have the Dodge Bowl. Todd Dodge and Riley Dodger lead Westlake and Southlake Carroll after they led their teams to huge upsets in the semifinals. Riley Dodge couldn't even coach in the semifinal because of COVID. That should be fun. They both have a great 2022 quarterback in Cade Klubnik‍ (pictured above) and Quinn Ewers‍. To me, in the North Shore game, Klubenik had an up-and-down game, but when it was winning time, he went out and did it. I was very impressed with him.

I'm convinced that you can win a lot of football games with either Conner Weigman‍ or Klubnik at quarterback. They both have great leadership capabilities. I'm convinced on both of them.

Texas A&M's quarterback recruiting in 2022 is very focused. They're going after Ty Simpson‍. They're also communicating with Weigman and Klubnik. If you are going to go on one of these kids, they need to go pretty soon. The staff loves to see these kids in person, but they don't have that luxury this year. If they wait until this summer to get in on either of those kids, it might be too late.

Dametrious Crownover‍ is the only commit who is not signed right now. There is no chance that there is going to be any decommits because there are no 2022 or 2023 commits right now.

LJ Johnson Jr‍ is an early enrollee, so he has the potential to just show up on campus start school. It is way different from Zach Evans. I'm telling you, do not make that comparison. It is not close. LJ could enroll early, and his plan had always been to sign on the second signing day. You could see him wait and give a chance to let Texas' staff get filled out before making a decision. He could sign in the second window and then enroll in the summer. I don't think classes starting is going to make a difference. Nothing is going to pressure him to speed his process up. If you're waiting this long, you might as well wait until you feel 100% comfortable.

Move-in started this week for the 2021s. Eli Stowers‍ has not arrived because he's been feeling under the weather. There are a few others that I can't remember off the top of my head.

When a head coach of the caliber of the head coach of Jimbo Fisher wants a young man, why does his recruiting profile matter? Is an accountant or even me, just an analyst, more qualified to say whether or not kids are worthy of playing at Texas A&M? Still, this industry is a result of those sites, so they hold some sort of weight. It's a weird dynamic, but when a coach wants someone to come play for them, fans should be on board.

A&M is in the fight for Brian Thomas‍ with LSU and Alabama. From what I've heard, he has gone off the radar and isn't doing many interviews. It's going to come down to signing day, and A&M is right in the mix.

I'd offer both Weigman and Klubnik both at the same time. They're both SEC West-caliber quarterbacks, and you could win a lot of games with both. A&M wouldn't need either of them to come in and play right away. With Weigman and baseball, that baseball draft is probably going to be forever changed. I think you worry less about the MLB draft because of that combined with his desire to be a college quarterback.
Never miss the latest news from TexAgs!
Join our free email list