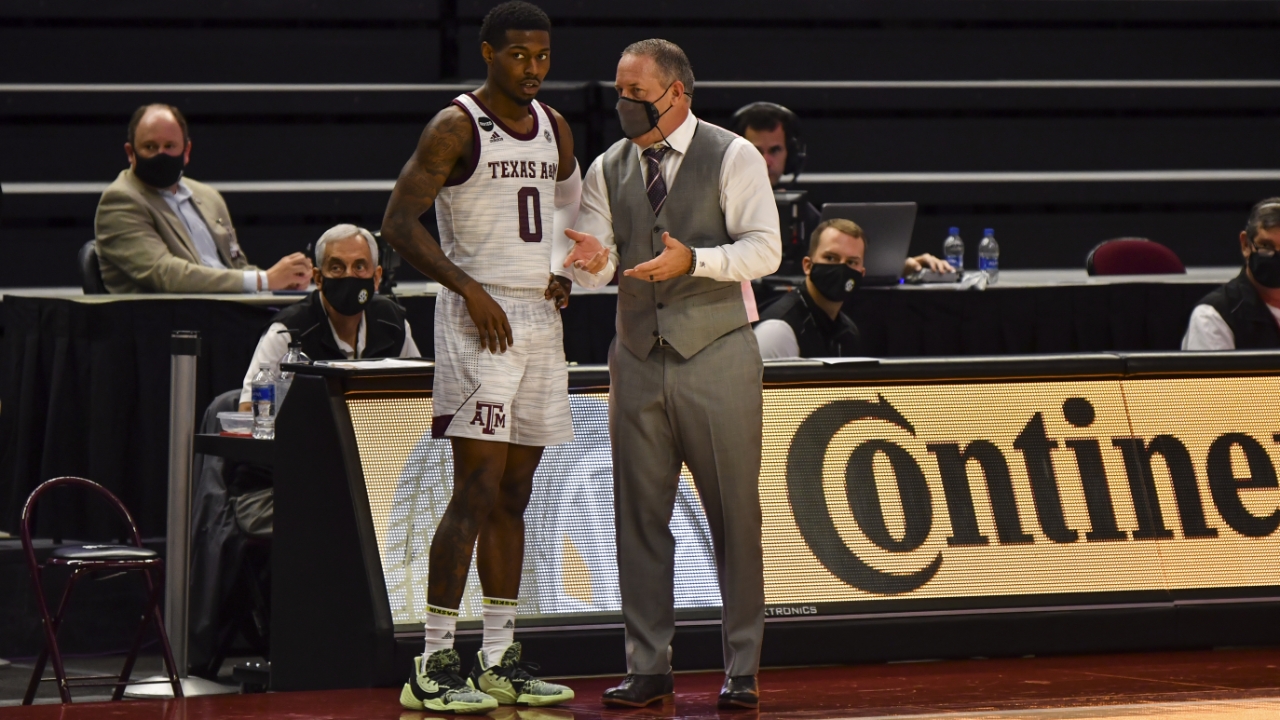 Photo by Jamie Maury, TexAgs
Texas A&M Basketball
Buzz Williams' team still searching for consistency in effort & execution
---
Key notes from Buzz Williams interview
The consistency required to win the game has not been there. We do not have the endurance to do it either. When we do have those, you saw us win that Auburn game by a possession. There was no consistency in our effort or execution vs. South Carolina. To beat a team as good as Tennessee, or anybody else the rest of the way, our consistency in our effort physically, mentally, and emotionally has got to improve.

Categorically speaking, we have smart players who are smart people, but they don't always play smart. They understand what's going on. We haven't had any resistance relative to that. That comes from how they were raised. What we're asking them to do is hard, and they've never had to do it like this. Last year, we had some protection from Josh Nebo and Chuck Mitchell. There is none of that this year. We have to have to improve moving forward.

We just finished our first mini practice today. These kids know what they need to do and how long it should take. With one of the things we were working on, it took us 26 minutes when it should've only taken six minutes. The consistency was off. That's not specific to anything else other than us, and it starts with me. We need to have that consistency, and right now, we don't have that.

In our second year at Marquette, we were picked 12th. We started at 1-3. We lost to Syracuse in our fourth game, and I told our guys on the plane that they couldn't cut their hair again because we needed all the protection possible for their brains. We ended up making the NCAA tournament. We went 11-3 to close it down and finished 12-6. I think this is only the second time that I've started a conference race 1-3.

Savion Flagg has been a great kid. He's one of the smartest players I've ever had. He's the all-time passer for us. He initiated offense in four possessions for us vs. Tennessee. He is a good passer and thinks about the next play and the next pass. I am thankful he made those shots. His ability on the glass is a tell-tell sign of how he's going to produce. We need him to have more of a presence. It's not just him, we need everybody to rebound. In the first 94 minutes that Flagg has played in conference, he has one offensive rebound. That's not good enough.

I told Emanuel Miller in practice this morning that it's the evolution of a good play to show up on the scouting report. Eventually, you become the primary portion of personnel. When you have that evolution, those scouting reports change to how you can stop him. That's the next step he's going to have to take. He went from 28 points vs. South Carolina to eight vs. Tennessee. He's going to have to adjust now that he's in the fourth semester of his career.

I would say that Mississippi State has the best backcourt in the league. They might not have the best two guards, but they have the best group of guards. We're having trouble offensively with turning the ball over and making a shot. They do a good job offensively, and they have so much focus on their backcourt. As much as we know about Mississippi State and their talent and how they play, that is important. It's still not as important as Texas A&M figuring out who we are and how we can be our best. We have to figure out how to do it. We spent time on us this morning and we'll spend more time on us. We'll start talking about Mississippi State, probably not today, but as coaches, we're aware of what we need to do.
Never miss the latest news from TexAgs!
Join our free email list