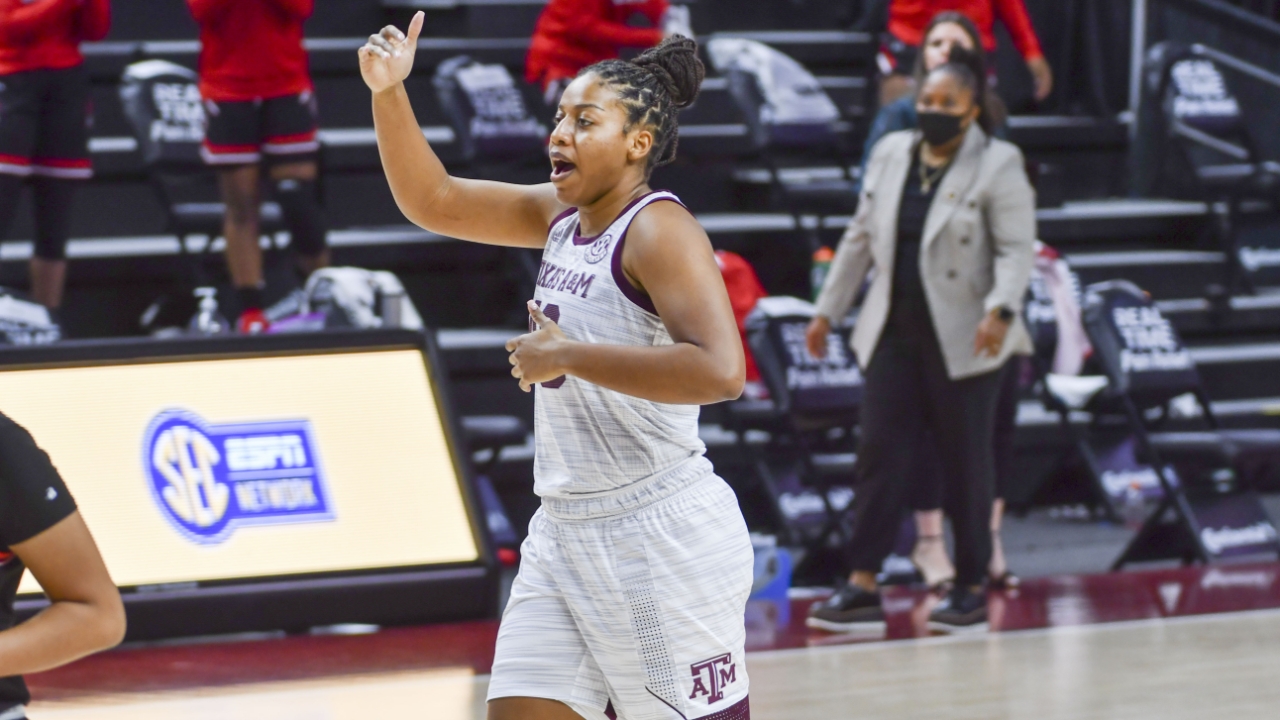 Gary Blair
Ciera Johnson
Jordan Nixon
Texas A&M Women's Basketball
No. 9 Aggies improve to 10-0 after defeating Florida, 92-67, in SEC opener
---
No. 9 Texas A&M opened conference play with a road victory over the Florida Gators, 92-67. Aggie bigs N'dea Jones and Ciera Johnson each recorded a double-double to help the Aggies extend their win streak to 10 games to start the season. A&M's 92 points are the most points scored by Texas A&M in conference play since they posted 104 against Arkansas in 2018.
"Very proud of our team," head coach Gary Blair said after the game. "The flow of our offense was outstanding, and we stuck to our brand of basketball."
"Very proud of our team. The flow of our offense was outstanding, and we stuck to our brand of basketball."
The Aggies and Gators deadlocked throughout the majority of the first quarter. Tied at 15 each, Aaliyah Wilson knocked down a 3-point goal at the top of the key to forge an 18-15 lead at the end of the opening quarter.
Wilson's shot shifted momentum as the Aggies improved their play on both sides of the ball in the second quarter.
With great rim protection by Ciera Johnson and spectacular perimeter defense, Texas A&M allowed only 13 points in the second quarter. At one point in the second, Florida was one for their last 14 and made no field goals during a five-minute stretch.
The Aggies took a 39-28 lead into halftime, but the Gators started fast in the third, and at one point, Florida had cut the Aggie lead to only five points.
Johnson was not proud of her team's performance in the third frame.
"In the third quarter, we weren't defending well," Johnson said. "We didn't communicate well and were rushing shots offensively."
The underwhelming third quarter was completely erased by the utter dominating fourth quarter.
Florida, who is known for their great perimeter defense, had no answers defensively as the Aggies cruised to 31 points.
The Aggies shot a perfect 4-for-4 from deep, with Aaliyah Wilson making two threes in the final quarter. Jordan Nixon also knocked down a 3-pointer, scoring a total of seven points.
Nixon praised her teammates after the game.
"I love my teammates and my role on this team," Nixon said. "There are so many weapons on this team that, as a point guard, they make my job really easy."
After the 92-67 victory, Gary Blair immediately turned his attention to the Kentucky Wildcats, who defeated Arkansas in overtime on Sunday. He also stressed how important it is for the fans to show out in their SEC home opener.
"We need more fans in the stands for this top 10 matchup," Blair said. "I want all the die-hard Aggies inside Reed Arena."
Texas A&M's home SEC opener against Kentucky will tip-off Thursday, January 7, at 7:30 p.m.
MESSAGE FROM OUR SPONSOR
Special thanks to 12th Man Technology for their sponsorship of women's basketball postgame stories throughout the season at TexAgs! For the ninth consecutive year, WBB content will be available to you for free!
Never miss the latest news from TexAgs!
Join our free email list
PRESENTED BY