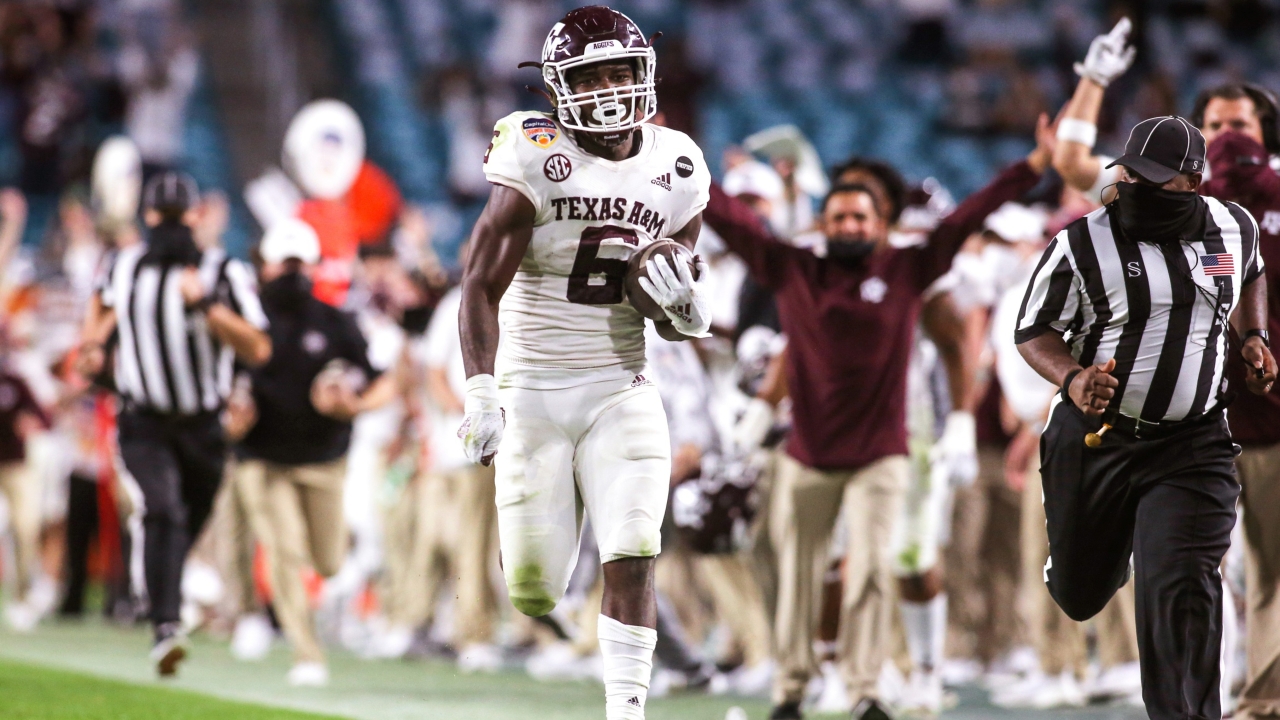 Photo by Sam Navarro-USA TODAY Sports
Texas A&M Football
Achane's late explosion vaults Aggies to Orange Bowl win, bright future
---
A sturdy, reliable axe is an effective tool to cut through obstructions.
But Achane-saw can slice through blockage with lightning speed.
That was demonstrated in the fourth quarter of Texas A&M's electrifying 41-27 Orange Bowl victory over North Carolina on Saturday night.
The 13,737 at Hard Rock Stadium watching freshman Devon Achane saw the Aggies' present and the future race to the end zone in a dead heat and stop the upset-minded Tar Heels stone cold.
"When I broke the tackle and looked up, there wasn't nobody there. I knew, 'Yes, this is a touchdown. Ain't nobody catching me.'"
In a span of just over two minutes, Achane — the fabulously fleet-footed freshman from Fort Bend Marshall — scored on a 76-yard touchdown explosion and a powerful 1-yard touchdown to turn Aggie lamentations into celebrations.
"He's got a chance to be a very special player," A&M coach Jimbo Fisher said in an obvious understatement.
He already is.
Frankly, the No. 5 Aggies (9-1) did not play well for most of the first three quarters.
The offensive line uncharacteristically struggled to protect quarterback Kellen Mond. A plague of penalties nullified several big plays and an end-zone interception. North Carolina quarterback Sam Howell frequently found holes in the A&M secondary. He threw three touchdown passes.
That resulted in A&M trailing 27-20 after Howell threw a 75-yard touchdown pass early in the fourth quarter. The Aggies answered to tie the game at 27 on a Kellen Mond touchdown run, but they were forced to punt on their following possession.
The Tar Heels (8-4) had momentum. A&M starting running back Isaiah Spiller was sidelined with a foot injury. Less than five minutes remained. And a potential lead for the Aggies was a long 76 yards away.
Then, in a flash, everything A-changed.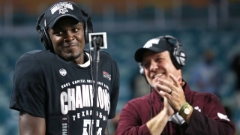 Sam Navarro-USA TODAY Sports
Mond handed off to Achane, who swept around the left end on a counter. He picked up a block from pulling tight end Jalen Wydermyer but seemed to trip over Wydermyer's foot.
However, Achane regained his footing, shrugged off a tackle, accelerated like a rocket and blazed down the sideline, leaving Tar Heel tacklers in the dust.
Just like that, A&M surged to a 34-27 lead with 3:44 remaining.
"Jalen Wydermyer made a great block," Achane said. "I was just following my block. They made it easy for me to do my job. I was tripping, and I almost fell. When I broke the tackle and looked up, there wasn't nobody there. I knew, 'Yes, this is a touchdown. Ain't nobody catching me.'"
Nobody did. But in reaction to Achane's spectacular sprint, the A&M defense seemed to catch some of that lightning.
"It gave us a boost," sophomore defensive end DeMarvin Leal said. "We were trying to fight and fight and fight for that energy. As soon as that happened, you could feel that energy. Energy is so contagious. You could just feel that energy go through everybody. It was an amazing outcome."
The Aggies defense gave up a 9-yard run on the first play of North Carolina's ensuing possession. They did not allow a yard on the next three plays.
On fourth-and-1, freshman safety Antonio Johnson and senior tackle Jayden Peevy stopped North Carolina running back Josh Henderson for no gain.
A&M took over at the North Carolina 34-yard line. Achane immediately ran for 10 yards. Then for 23. On the next play, he scored from the 1-yard line with 1:38 remaining.

That was two touchdowns — and a two-touchdown lead — in just over two minutes.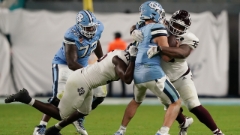 Sam Navarro-USA TODAY Sports
The defense then smothered Howell, sacking him twice for 18 yards in losses, to close out A&M's eighth consecutive victory and seventh straight by a double-digit margin.
Of course, some still won't be impressed. The national media, which has consistently dismissed A&M's accomplishments, will argue the win was tainted because four North Carolina starters opted out.
That doesn't matter, though. The Aggies could finish as high as No. 3 in the final national rankings. A No. 4 finish would be their highest final ranking since winning the 1939 national championship.
That's the past. Aggies should focus more on the future.
A&M made amazing strides in its third season under Fisher. All indications are that the Aggies will continue trending upward.
Their big-play threats are underclassmen. Ainias Smith caught six passes for 125 yards. He's a sophomore. So is Wydermyer. So is Spiller, who scored the Aggies' first two touchdowns and passed the 1,000-yard mark for the season on his fourth carry of the game.
Spiller might have been in the game in the fourth quarter had he not sustained a foot injury earlier.
"He was banged up a little bit," Fisher said of Spiller. "We put (Achane) in, and then he hit it really good two or three times. I said, 'He's doing pretty good,' so we kept it him in."
Fisher might have a problem when the Aggies open next season. Spiller is a reliable, effective running back. He's like a razor-sharp axe.
Achane is a machine. Achane-saw. How will carries be shared? How will Fisher maximize all the big-play ability at his disposal?
"I'll take care of that," Fisher said. "It's a good problem to have."
Never miss the latest news from TexAgs!
Join our free email list