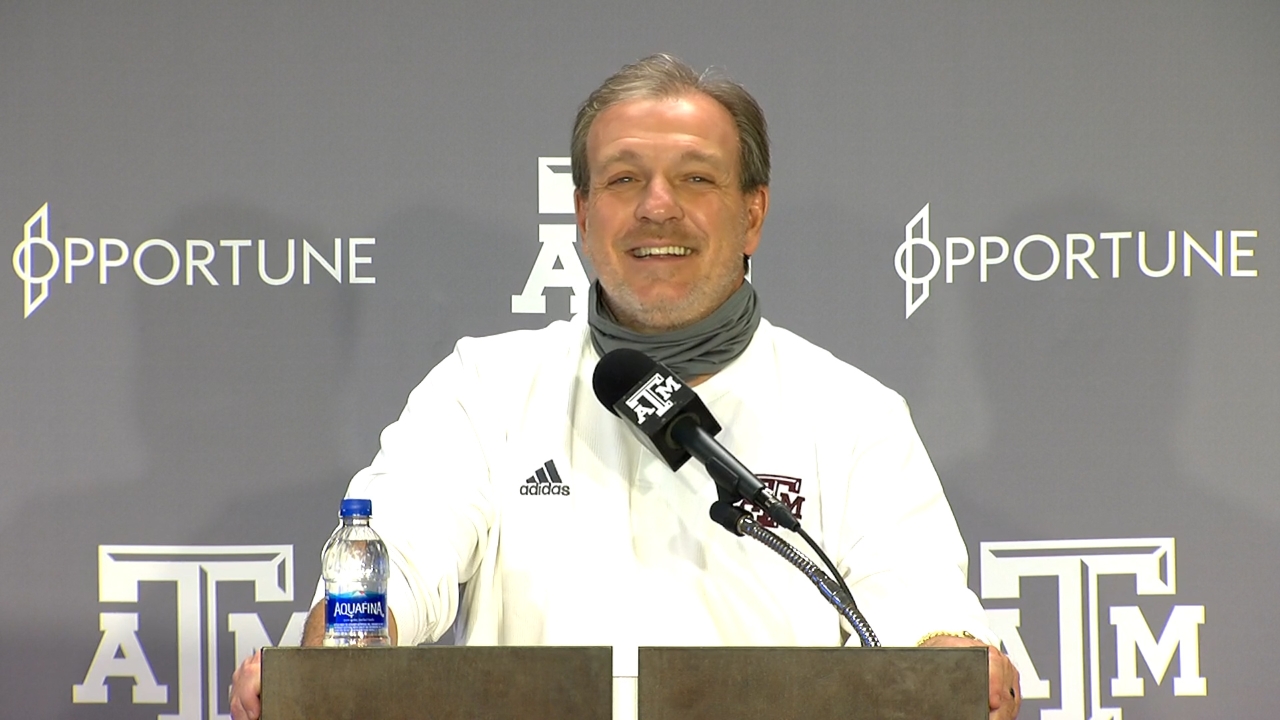 Jimbo Fisher
Kellen Mond
Buddy Johnson
Dan Moore
Texas A&M Football
Press Conference: Aggies preparing for final home game against Ole Miss
---
With Ole Miss scheduled to come to Kyle Field on Saturday, the Aggies are continuing to prepare for the Rebels. Ahead of this weekend's contest, Jimbo Fisher, Kellen Mond, Buddy Johnson and Dan Moore spoke to the media.
Video courtesy of Texas A&M Athletics.
---
The following are live, paraphrased notes from head coach Jimbo Fisher's media availability on Monday.
Very proud of our team. Hard fought, SEC West victory on the road at Auburn. Extremely tough place to play. They play differently there, and we knew it. We knew it was going to be a four-quarter game. Our guys fought. I thought we lost it on defense for a bit. Our offensive line was fantastic, and our defensive front stood up. I thought that drive before half was huge. Our defense got that stop in the red zone. That was huge. We took the lead back. Another huge play was the tackle made by Caden Davis on that kickoff. We got another stop and scored again. We ate clock, and Seth made a big kick. The scramble by Kellen was huge. The catch by Ainias was huge. Wydermyer was great. We had some flaws, but we made plays when we had to. We're continuing to grow, and we've got to get better.

I have not had any contact with Lane Kiffin. We are preparing as if we are going to play this weekend. We are full go right now.

There are no contingency plans right now. We're all-go for Ole Miss right now.

We've used Isaiah Spiller as a fullback all year. We did it in the Mississippi State game.

We know we want to get guys carries and get them in turning certain series, but you also have to have a feel for the game. We feel comfortable getting any of those guys in at any time.

Bobby Brown has outstanding ability and size. He's learning to use it. Elijah Robinson is doing a great job of teaching him the technique. Mike Elko, Elijah and Terry Price are doing a great job scheming it up for him to have success.

Our running backs can all catch the football. It gives you different looks and different matchups. It helps make sure Spiller isn't the only one carrying the load. The more guys we can get involved, the better. Those guys are all doing an outstanding job.

We grinded our team on that three-week layoff. They were hard, camp-like practices. Our practices are hard, and our players always say the practices seem harder than the games. You win because you train to. All of our stuff is designed to find out where we are mentally, not just physically. Schmidt does a great job of getting us ready to go. They do a phenomenal job in our weight and conditioning workouts.

KeShun Brown is coming back into practice. With Elijah Blades, he seemed to have good practices last week. We'll play him accordingly.

Davis isn't making any tackles in practice, but he is a phenomenal athlete. We've had some great kickers who are athletic. When they can get guys on the ground, that's a big thing. Caden is a big, long, athletic guy,

You want to control the clock, but the key to controlling the clock is scoring points on those drives. It's only good if you score the drives. Time management is probably least important for most people right now because you're scoring on explosive plays. We're scoring touchdowns on those long drives. It's important. When you play like that, you have to be a good third-down team, which you have to be in third-and-manageable situations.

Playing to win is playing for the next play, the next situation. You can't think the sky is falling. You have to raise your game. It's all a psychological disposition about knowing how to play. You can't be worried about the outcome. If you know the answers to the test, there is no pressure. Ebbs and flows happen. If the momentum is going against us, you change it by making plays.

Corral is outstanding. His arm action, accuracy and everything are very impressive. I think he's a very good football player.

SEC wins are very convincing. I promise you that. Every time you win an SEC West game, it's a convincing win. It's the best league in ball with the best players in ball. You can't worry about those committees and those opinions. You have to control what you're doing. What good does running an opponent out of the building by embarrassing them? If you play with class and win with class, that's convincing. I'm not worried about what people think. I'm worried about how we play.

I think Spiller, Achane and Smith have been on the field at the same time, I believe. Want us to run the old wishbone? You're giving me an idea. You never know what could happen.

Demani Richardson is day-to-day, and we're hoping to get him back soon. He's a big part of our defense.

Hansford had a big sack in that game. He also got Bo Nix's right arm so he couldn't throw the ball. Leal and Tyree have been outstanding. Our ends have been so good. Those guys have really been good, and they're really good players.

The way we practice, the physicality and the tempo we practice prepares us. We do a lot of good-on-good in practice. The kids understand the toughness and the mental toughness that goes along with practice, which has helped us.

Our team's leadership and keeping guys on task and reinforcing what we say has been huge. The leadership is doing an outstanding job of running the team. They respect each other, and the love and trust are coming together as a football team.

Wydermyer and Mond have worked together. Jalen can run like a big guy and get out of cuts like a small guy. Mond has trust in him, and Jalen is easy to read. Kellen will put balls in holes for him and throw balls high, where he likes it. When both of them do their jobs well, it makes it easy.

When you make a decision, information changes over time. Maybe you reflect on it, or things have changed over time. When guys opted out, there was a lot of turmoil and unknowns in our country. They have changed their decisions, and the door has always been open for them. We are getting them in good physical condition before they get back on the field. If they can help us down the road, then we will use them.
Never miss the latest news from TexAgs!
Join our free email list