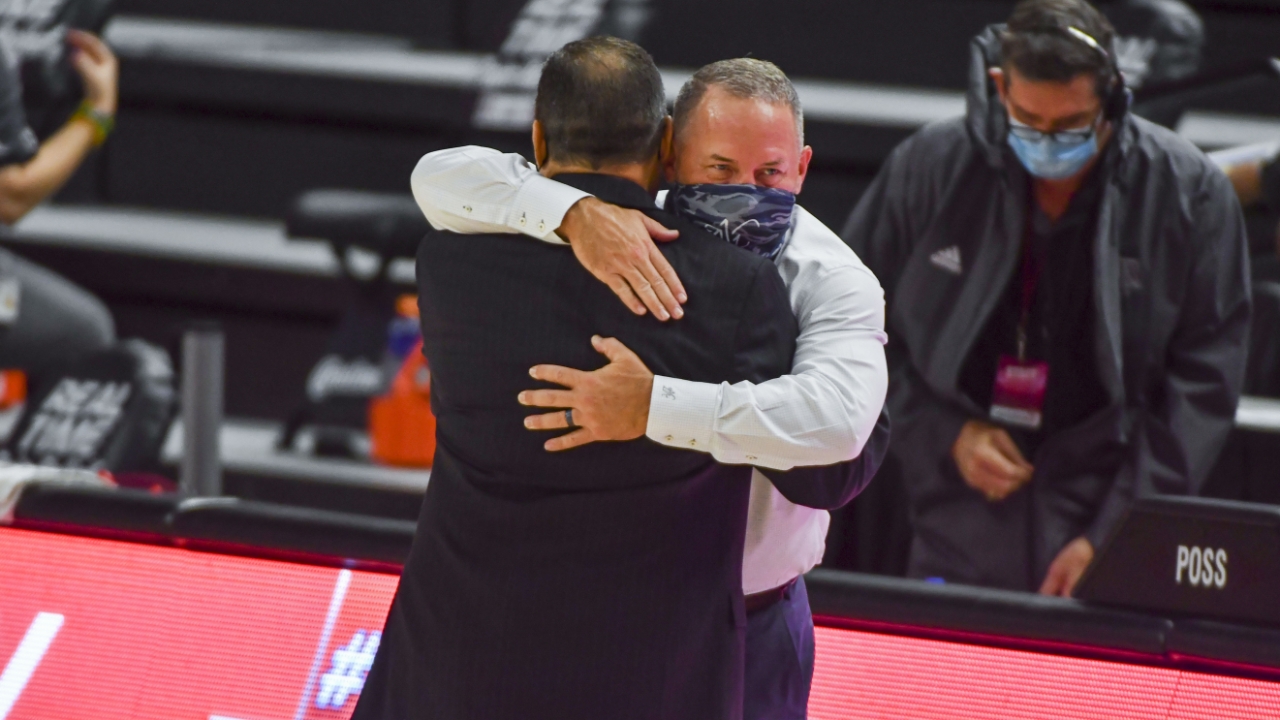 Buzz Williams
Emanuel Miller
Savion Flagg
Billy Gillispie
Texas A&M Basketball
Like old times: Gillispie's team plays tough, Aggies find a way to win
---
Nostalgia and sentimentality were in abundance on Wednesday night at Reed Arena until the guest of honor almost became a guest of horror.
Texas A&M basketball fans turned out to thank former coach Billy Gillispie for the memories. Then, he reminded them why he was one of the most successful coaches in A&M history.
"We knew it was going to be a fight. At the start of the fight, we got hit, but we responded."
Gillispie's Tarleton State Texans (1-1) held a 10-point lead midway through the second half and maintained an edge with just under eight minutes to go.
But spurred by 14 consecutive free throws, the Aggies (2-0) were able to finish strong and capture a surprisingly-difficult 73-66 victory.
Or maybe not.
"We knew it was going to be a fight," said sophomore forward Emanuel Miller, who posted a double-double with a career-high 23 points and 10 rebounds. "At the start of the fight, we got hit, but we responded."
Gillispie's Texans were more aggressive and appeared quicker throughout the first half when they forced 16 A&M turnovers and held the Aggies to 33 percent shooting (7 of 21).
The Texans led most of the first half but only held a 26-24 lead at the break because A&M's Savion Flagg hit a 3-pointer just before the buzzer.
Flagg finished with 21 points, while Jay Jay Chandler and Quenton Jackson each had eight.
Guards Montre' Gipson and Konstantin Dotsenko led Tarleton State with 23 and 15 points, respectively.
Boosted largely by the 3-point shooting of guards Gipson and Dotsenko, Tarleton State stretched its halftime lead to 44-34 with 13:02 remaining.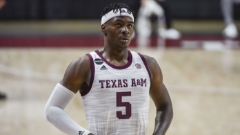 Lia Musgrave, TexAgs
No doubt, the crowd — which was so happy to see Gillispie return to Reed Arena — was surprised the Aggies were trailing. Gillispie was not.
"What a fun night it was, but we wouldn't bring a team here expecting to lose," Gillispie said. "I thought we had a good plan, and our guys played their tails off."
A&M coach Buzz Williams, who was an assistant on some of Gillispie's successful A&M teams from 2004-06, agreed with his former boss.
"They deserved to be up 10," he said. "I continued to tell our guys, in a lot of different ways, that if we don't figure out how to play as hard as they are, they're going to beat us."
The Aggies seemed to get the message at the 12:27 mark when Chandler hit a 3-pointer from the corner.
A&M immediately started whittling away at the Tarleton lead. The Aggies regained the advantage, 50-49, when Andre Gordon hit a free throw to complete a 3-point play with 7:31 remaining.
That free throw was the first of 14 consecutive converted by the Aggies. Eight of them were hit by Miller, who did not play in a season-opening 82-53 victory over New Orleans on Sunday. Miller made 15 of 16 at the stripe.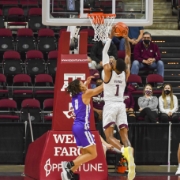 Lia Musgrave, TexAgs
"If they had not had Eman back tonight, we would have won," Gillispie said.
The Aggies would not have won had they not shot so well from the foul line. They converted 31 of 40 free throws. It's the most free throws A&M has converted since hitting 34 against Alcorn State in 2010.
"We did foul too much, Gillispie said. "That's been a concern for us. Nobody can win at home or on the road when you give them 40 foul shots. A&M did a good job making them."
A&M's free-throw accuracy helped ease the fact that they shot just 37.5 percent from the field and committed 20 turnovers.
"We didn't shoot the ball well," Williams said. "That's a credit to Coach's team."
Indeed, it was like old times at Reed Arena. Gillispie's team was playing hard defense, and the Aggies were finding a way to win
Never miss the latest news from TexAgs!
Join our free email list