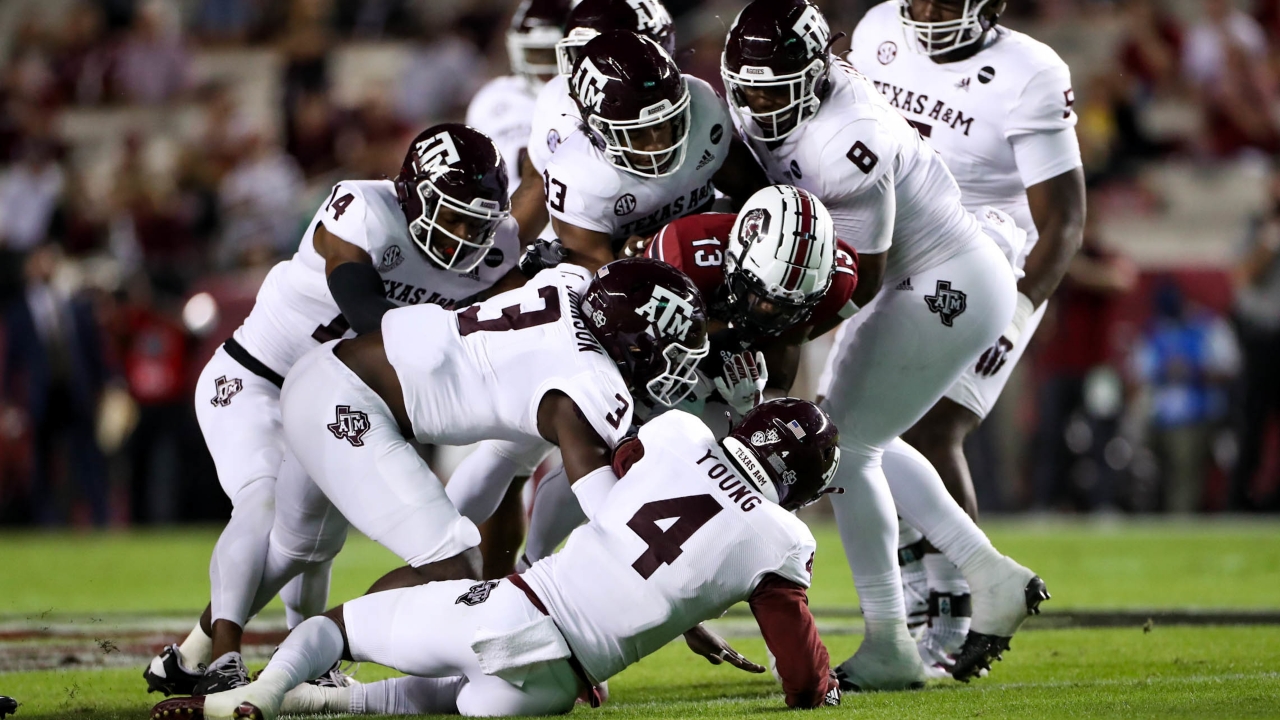 Photo by Craig Bisacre
Texas A&M Football
Ask the experts: Is the 2020 A&M defense nearing 'Wrecking Crew' status?
---
The effort was unquestionably Crew-cial. The manner was almost Crew-el. The performance was practically a Crew-sade.
Defense has returned to Texas A&M. That was made painfully clear to LSU quarterbacks in the Aggies' 20-7 victory last Saturday.
Thirty-six rushing yards. Two sacks. Nine hurries. Eight pass break-ups. Two interceptions. One touchdown.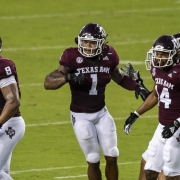 Maria Lysaker-USA TODAY Sports
The sight evoked memories of a time when A&M defenses dominated, destroyed and demoralized. It wasn't a one-game wonder, either.
The Aggies have been exceedingly stingy in the first three quarters. In their previous four games, A&M has allowed just 17 combined points over the first 45 minutes of play.
LSU's lone touchdown came with 38 seconds remaining. South Carolina kicked a field goal with 5:55 remaining in a 48-3 Aggie win. Mississippi State's first touchdown in a 28-14 A&M victory was on an interception. The only offensive touchdown was in the fourth quarter.
Arkansas scored 14 points in the fourth quarter of a 42-31 loss.
Indeed, in that four-game stretch, the Aggies only allowed 31 points in the fourth quarter when they had at least a three-touchdown lead.
The defense has been a wrecking ball. But is it a Wrecking Crew?
That moniker is reserved for the most outstanding A&M defenses.
Have Buddy Johnson, DeMarvin Leal, Bobby Brown, Myles Jones and Co. developed into a defense that can be compared with those that featured the likes of John Roper, Aaron Wallace, Aaron Glenn, Sam Adams and Antonio Armstrong?
This season's A&M defense is obviously good. Whether or not it has earned "Wrecking Crew" status is up for debate.
The feeling here is that they're not there yet. This year's defense has bullied freshmen quarterbacks and transfers.
"They are moving the pocket, moving the line of scrimmage and, the most important thing, striking fear into quarterbacks.They're disrupting plays. They have an attitude. I think the swagger is coming back."
The Wrecking Crew bullied Heisman Trophy-winning quarterbacks. Right, Andre?
But who cares what some writer thinks? Whether this defense has reached Wrecking Crew standards should be answered by those who created the standard.
Therefore, the question was put to bona fide Wrecking Crew members: Would they bestow that hallowed title on this year's unit?
A&M's king of defensive kings appears willing to anoint them.
"They are moving the pocket, moving the line of scrimmage and, the most important thing, striking fear into quarterbacks," former All-American linebacker Dat Nguyen said. "They're disrupting plays. They have an attitude. I think the swagger is coming back."
At the risk of sounding like another college program prone to premature evaluation, is it really baaaaack?
"I think we're headed that way," Nguyen said. "I think we're close."
Derrick Frazier, a cornerback on some of A&M's greatest defenses from 1989-92, shares Nguyen's opinion.
"I won't say that they have not earned it," Frazier said. "They've got to do it over a long period of time, but they're definitely taking a step in the right direction.
"They've almost reminded me of the old Wrecking Crew. They're stacking up in the secondary like we used to. The linebackers are playing well. The people up front are giving them a pass rush."
A&M has accumulated 19 sacks. The Aggies have eight interceptions. They're fifth in the nation in run defense. They're 20th in total defense despiting having faced two of the highest-scoring offenses in the nation — Alabama and Florida.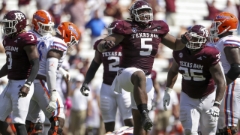 Craig Bisacre/Texas A&M Athletics
Those kind of stats were common for the Wrecking Crew. However, stats are different now. The spread and tempo of modern offenses change the numbers of what makes a great defense.
For example, Texas A&M allowed an average of just 222.4 yards to lead the nation in 1991. The nation's top-ranked defense in every season since A&M entered the Southeastern Conference in 2012 has allowed at least 250 yards per game.
"The game has changed so much," Nguyen said. "It's hard to defend against spread offenses. Tempo-wise, they can hurt you.
"But there are certain things in a game — attitude-wise and playing with violence — allows you to have that chance (for Wrecking Crew status)."
The next three games should determine if the Wrecking Crew has returned. Even the most cynical skeptics might be convinced if A&M is able to cruise — or perhaps Crews — to three more victories.
Never miss the latest news from TexAgs!
Join our free email list
PRESENTED BY