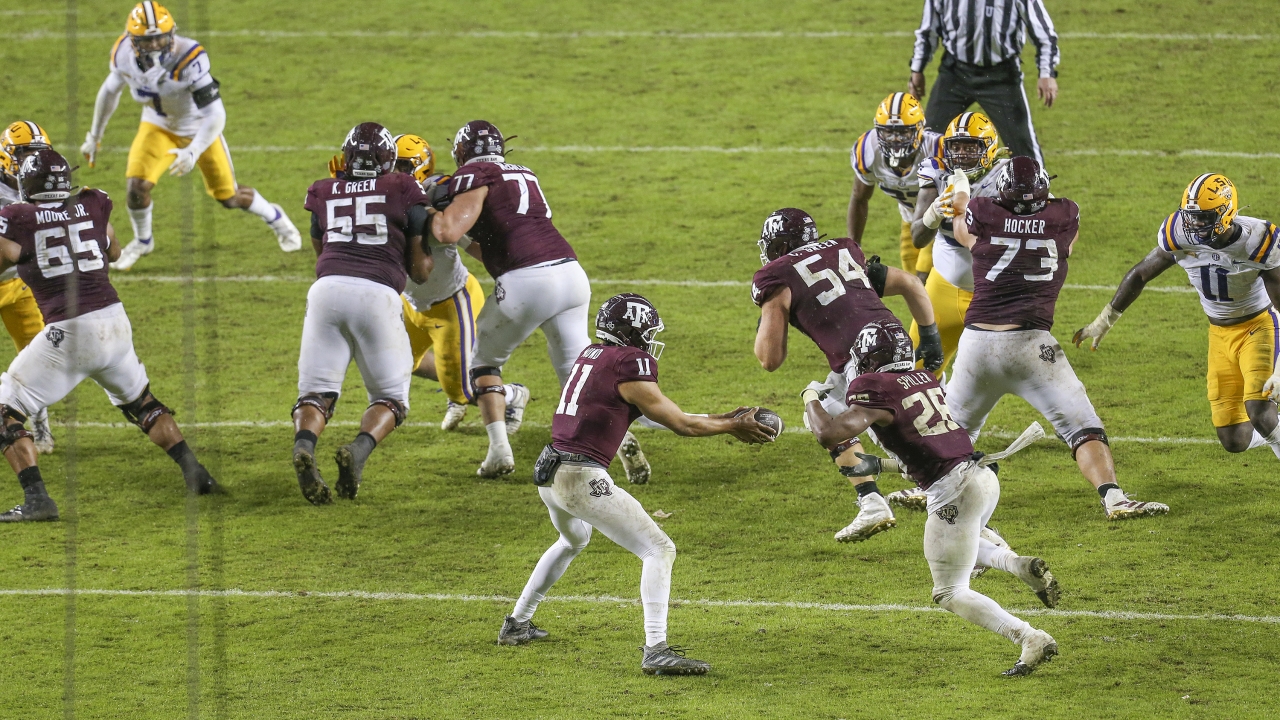 Photo by Thomas Shea-USA TODAY Sports
Texas A&M Football
Fisher focused on mending, not changing A&M offense
---
Jimbo Fisher is approaching Texas A&M's sudden offensive issues like a deflated tire.
He doesn't need to change it. He just needs to fix the flat.
The Aggies offense was surprisingly flat in the 20-7 victory over LSU this week. According to Fisher, there were multiple leaks.
Sealing them is the top priority in practice this week as the fifth-ranked Aggies (6-1) hope to extend their five-game winning streak when they face Auburn (5-3) on Saturday at Jordan-Hare Stadium.
"The effort was there. The tenacity was there. The execution just wasn't there. You get a hair off and start doing different things."
"Everybody took turns (missing assignments), whether it was a guard, a tackle, a tight end, a back," Fisher said on Monday. "We missed some throws we should have made. Dropped a couple of balls.
"The effort was there. The tenacity was there. The execution just wasn't there. You get a hair off and start doing different things."
Still, the Aggie head man is not discouraged.
"They're all fixable things," Fisher added. "We'll go back and get them fixed up and move on."
Repairs must begin with quarterback Kellen Mond, who languished through a miserable 11 of 34 passing effort for a mere 105 yards. He also lost a fumble at the LSU 5-yard line.
It was easily the worst showing of the season for Mond, who had passed for 961 yards and 12 touchdowns in the previous four victories.
Fisher acknowledged Mond struggled but continued to point out he wasn't alone in that regard.
"He wasn't as sharp. He got hit some. That's part of it," Fisher said. "He'll make adjustments and move on just like he has all year. He's been playing really, really good football, but we've got to play better around him, too. Make some plays, protect him better at times and do a better job.
"I think he'll come back and play really well."
At least to some degree, Mond's improvement figures to depend on the offensive line having a better performance.
The line gave up its first sack since the season-opener and allowed more pressure on Mond, too. Also, the line struggled to maintain a strong running game in the second half when star running back Isaiah Spiller managed just 16 of his 141 rushing yards.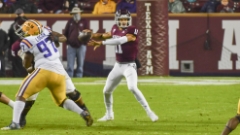 Lia Musgrave, TexAgs
"Kellen got hit way too many times," center Ryan McCollum said. "He was slow to get up, I think, three times. That's not OK with any of us.
"Then, Coach Fisher put the ball in our (offensive line's) hands and started trying to run the ball and run the clock out, and we couldn't. Credit to LSU's defense. They're really talented, but we've got to get in here today and fix it, practice hard this week and come back against Auburn and fix it."
Some mending must be done by receivers as well. As Fisher mentioned, there were drops, poor routes and bad reads.
There was also a question of who might be playing.
Redshirt freshman Chase Lane was hurt during the LSU game, and heralded true freshman prospect Demond Demas was unavailable for unspecified reasons.
Fisher seemed to suggest both will be available to play Auburn.
"Chase Lane should be practicing today," Fisher said. "(He) just got a bruise and should be good to go. As of right now, I believe Demond will be ready this week."
Despite the misfires, drops, "rat traps" and blown assignments, Fisher actually came away from the subpar showing against LSU with more reason for optimism.
"I don't know if we win that game before. I really don't," he said. "We struggled in some areas, but we still fought. The defense rose up and kept going higher and higher. The offense just kept plugging along and doing what they could. The special teams stayed in it.
"You learn to do that. Nobody's pointing fingers. Nobody is saying you didn't do your job. When you play a team sport, you've got to feed off each other and do what you have to do to be successful.
"Our defense did that for the offense. The offense has done it for the defense at times. That's why they're a tight-knit group of guys."
Never miss the latest news from TexAgs!
Join our free email list
PRESENTED BY