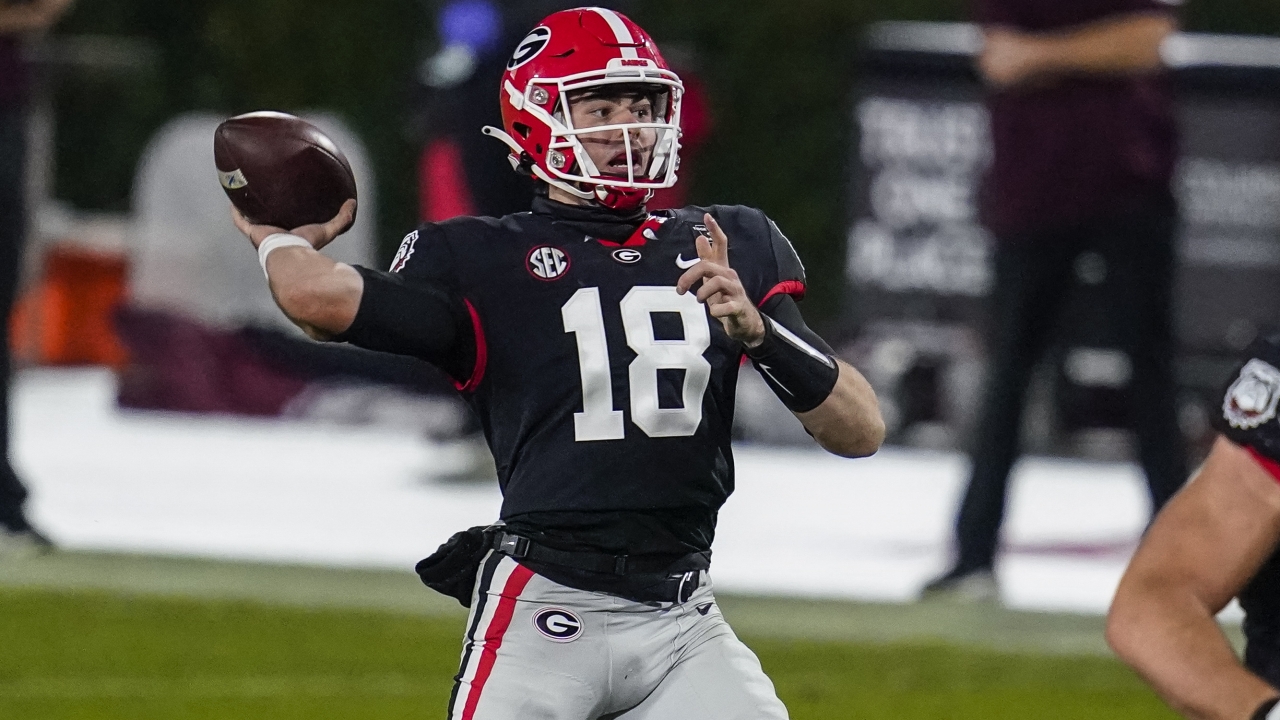 Photo by Dale Zanine-USA TODAY Sports
Texas A&M Football
TexAgs All-SEC Team of the Week: Week Nine
---
Some guys are getting hurt. Some guys are getting sick. Some guys are getting well.
Consequently, there were some new names in Southeastern Conference football starting lineups last week, so it's no surprise there are some new names in the weekly All-SEC team.
Offense
Quarterback: J.T. Daniels (Georgia)
Daniels, a sophomore, made quite the splash in his Georgia debut, throwing for 401 yards and four touchdowns in a win over Mississippi State. He completed passes to only four receivers but finished 28-of-38 in his first game action since August 31, 2019, when he started for USC against Fresno State. He was injured in that game and didn't play again until Saturday.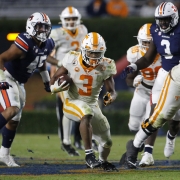 John Reed-USA TODAY Sports
Running Back: Tyrion Davis-Price (LSU) and Eric Gray (Tennessee)
Davis-Price, a sophomore, rushed for 104 yards and a score in the Tigers' win against Arkansas. He had a career-high 24 carries in the victory. Gray, a sophomore, rushed for 173 yards and a touchdown on 22 carries in the Vols' loss to Auburn. It was his fourth 100-yard game of the season.

Wide Receiver: Jermaine Burton (Georgia), DeVonta Smith (Alabama) and Jaden Walley (Mississippi State)
Burton, a true freshman who, like Daniels, is from the L.A. area, had eight receptions for 197 yards and two touchdowns in Georgia's win over Mississippi State. Smith, a senior, had nine receptions for 144 yards and two touchdowns as Alabama crushed Kentucky. He has 10 touchdown catches this season, tied for second-most nationally. Walley, a true freshman, caught seven passes for 115 yards and a score in Mississippi State's loss to Georgia. It was the first scoring catch of his career.
Offensive Line: C Nick Brahms (Auburn), C Landon Dickerson (Alabama), T Stone Forsythe (Florida), Trey Smith (Tennessee) and Dare Rosenthal (LSU)
Brahms, a junior, helped pave the way as Auburn rushed for 165 yards against Tennessee. The Tigers lost star freshman RB Tank Bigsby early in the game but still ran effectively. Dickerson, a senior who began his career at Florida State, was his usual road-grader self as the Tide rushed for 226 yards and five touchdowns against Kentucky. Forsythe, a senior, helped the Gators — who were 8-of-12 on third down — roll up 586 yards and 29 first downs in a win against Vanderbilt. Smith was typically dominant against Auburn. Rosenthal had a strong game at left tackle.
Defense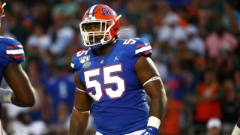 Kim Klement-USA TODAY Sports
Defensive Line: E Andre Anthony (LSU), T Kyree Campbell (Florida) and T Jonathan Marshall (Arkansas)
Anthony, a senior, had four tackles and two sacks in the Tigers' win over Arkansas. Campbell, a senior, had a career-high nine tackles in Florida's victory at Vandy. Marshall, a senior from Shepherd High, had four tackles, a tackle for loss, a pass breakup and two quarterback hurries in the Hogs' loss to LSU.

Linebacker: Kivon Bennett (Tennessee), Nick Bolton (Missouri), Christian Harris (Alabama) and Grant Morgan (Arkansas)
Bennett, a sophomore who is the son of former Alabama All-American Cornelius Bennett, had five tackles, two sacks and one other tackle for loss in the Vols' loss to Auburn. Bolton, a junior from Frisco Lone Star, had 14 tackles and two tackles for loss in Mizzou's win over South Carolina. It was his fourth game this season with double-digit tackles. Harris, a sophomore, had a team-high 11 tackles and added a sack in Alabama's demolition of Kentucky. Morgan, a 5-11, 222-pound senior, again played well above his weight class. He had 19 tackles, a sack, a pass breakup and a quarterback hurry in the loss to LSU. Morgan leads the SEC with 104 tackles, and his average of 13 tackles per game ranks third nationally.
Defensive Back: S Jordan Battle (Alabama), S Jalen Catalon (Arkansas), S Martez Manuel (Missouri) and S Smoke Monday (Auburn)
Battle, a sophomore who is one of four south Florida high school products who start in the Tide's five-man secondary, had eight tackles and a quarterback hurry in Alabama's rout of Kentucky; UK managed just 179 total yards. Catalon, a redshirt freshman from Mansfield Legacy, had 16 tackles and 1.5 tackles for loss as Arkansas fell to LSU. He also was ejected on a questionable targeting call midway through the fourth quarter on what turned out to be the Tigers' game-winning drive. Manuel, a sophomore, had five tackles, 1.5 sacks and a pass breakup as Mizzou limited South Carolina to 283 total yards. Monday, a junior, had four tackles, a pass breakup, a quarterback hurry and a 100-yard pick-six in Auburn's victory over the Vols. The return came late in the third quarter and gave Auburn a 20-10 lead.
Specialists
Kicker: Anders Carlson (Auburn)
Carlson, a junior, kicked three field goals in the Tigers' win, including a 50-yarder to close out the scoring in the 30-17 victory.
Punter: Zach Von Rosenberg (LSU)
Von Rosenberg, a 29-year-old senior (he is a former minor-league baseball player), averaged 48.9 yards on seven punts and dropped five inside the 20 against Arkansas. It was his third game this season with seven punts; he had just one such outing last season in 15 games.
Returner: DeVonta Smith (Alabama)
In addition to his big day as a receiver, Smith had two punt returns for 50 yards in the Tide's rout of UK.
Never miss the latest news from TexAgs!
Join our free email list