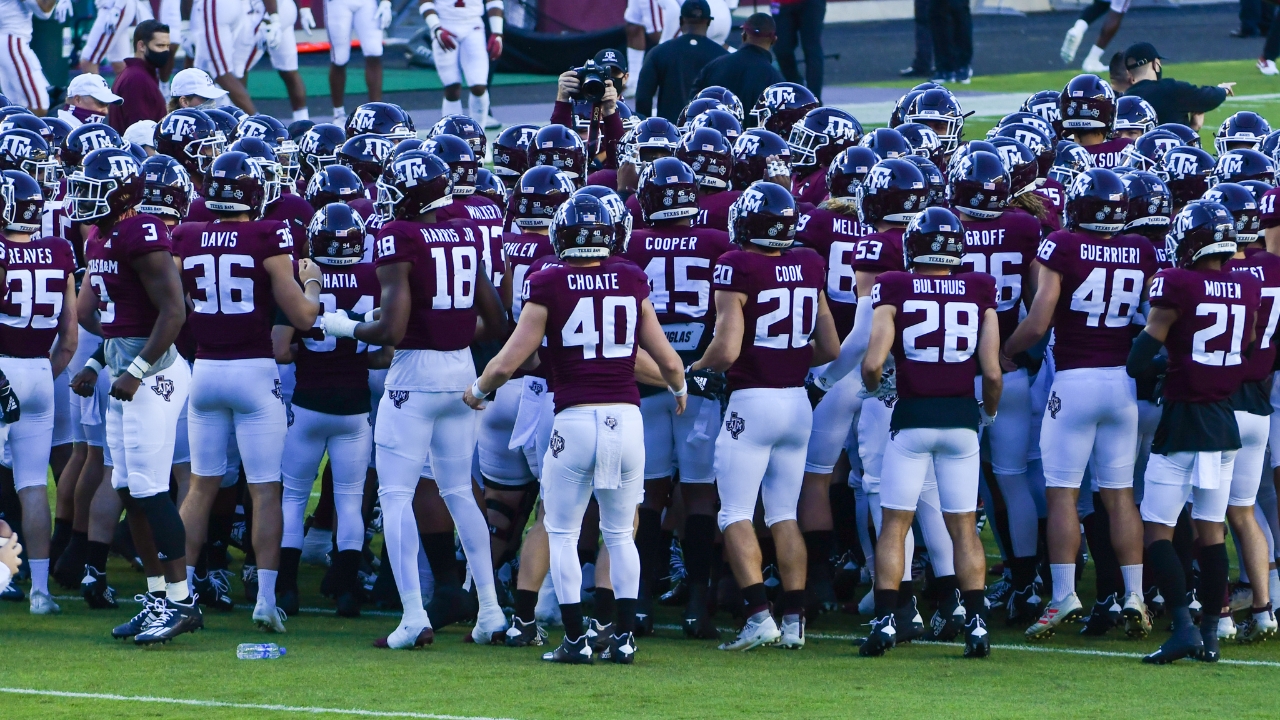 Photo by Lia Musgrave, TexAgs
Texas A&M Football
Texas A&M versus Tennessee postponed due to COVID-19 concerns
---
No. 5 Texas A&M's scheduled Southeastern Conference football game against Tennessee in Knoxville on Saturday has been postponed because of COVID-19 concerns.
The game has been rescheduled for December 12.
A&M sophomore safety Demani Richardson tested positive for COVID-19 last week and did not make the trip for the Aggies' 48-3 victory at South Carolina last Saturday.
Upon returning to College Station, another unidentified player and a staff member also tested positive.
"We currently have three active cases within our football program, including two who traveled with the team to South Carolina, and one who did not travel to South Carolina because of a positive test on November 5," said Texas A&M Director of Athletics Ross Bjork via a press release.
"The nature of away game travel (flights, meals, lodging, locker room, etc.) naturally leads to an increase in the number of student-athletes, coaches and staff who meet the criteria for mandatory quarantine based on contact tracing guidelines," Brojk said. "We are asking everyone around our university community to stay vigilant and follow all of the safety protocols and best practices as we approach the end of the fall sports seasons."
Also, about a dozen players reportedly are in quarantine for contact tracing, which means they had at least 15 minutes of contact within six feet from someone who tested positive.
That resulted in the Aggies pausing all in-person related football activities and re-testing all personnel on Monday.
"Our football team roster has fallen below the SEC threshold in order to compete this week due to two players testing positive for COVID, the contact tracing associated with the road trip, to go along with the players who have opted out and who are injured," said head coach Jimbo Fisher. "We look forward to getting back out there because our team has been practicing and playing well."
Per SEC policy, players who test positive must wait 10 days and then test negative twice before being cleared to play. Players in quarantine for contact tracing must wait 14 days and then test negative twice before being cleared.
That would put the scheduled November 21 game against Ole Miss at Kyle Field in jeopardy, too.
The postponements could not come at a worse time for the Aggies, who have posted consecutive victories over Florida, Mississippi State, Arkansas and South Carolina. A&M has risen to No. 5 in the Associated Press poll and is a contender for the College Football Playoff.
Never miss the latest news from TexAgs!
Join our free email list