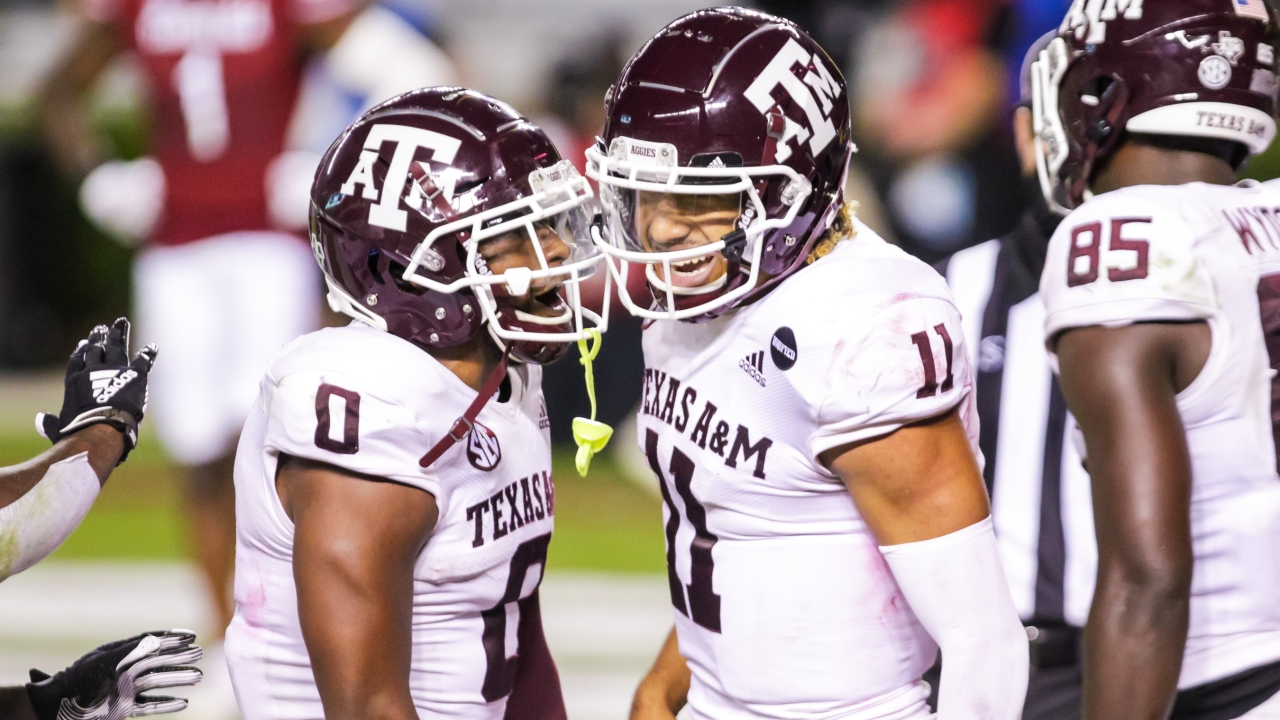 Photo by Jeff Blake-USA TODAY Sports
Texas A&M Football
Aggies put together elusive complete game in 48-3 whipping of Gamecocks
---
Before fed up fans jeered South Carolina Offensive Coordinator Mike Bobo. Before the "Fire Muschamp" chants began. Before fireworks celebrated a meaningless field goal.
Before all those occurrences, it became plainly obvious Texas A&M was putting together that elusive "complete" game.
The seventh-ranked Aggies' 48-3 Southeastern Conference victory on Saturday at Williams-Brice Stadium was indeed complete. A complete domination. A complete dismantling. A complete annihilation of the completely outclassed Gamecocks.
"They're really trying to dominate each play," Texas A&M coach Jimbo Fisher said. "I think that's how you end up dominating a game. You don't worry about the next play or what the results can be if they don't work. You worry about winning your space on that play and going to the next. I think we're learning that and, in turn, you're seeing the big picture come together."
The Aggies (5-1) were nearly as perfect as the breezy Carolina autumn night. They scored on methodical drives. They scored on mercurial strikes. They stuffed the (2-4) Gamecocks' running game. They frequently were up in South Carolina quarterback Collin Hill's grill.
The result was the Aggies' most lopsided SEC victory since a 58-10 demolishing of Arkansas in 2012. That Johnny Manziel-led team was A&M's most recent to finish among the nation's top five.
These Aggies are on the brink of getting there. Their victory combined with Florida defeating No. 5 Georgia ensures the Aggies will ascend in the national pecking order.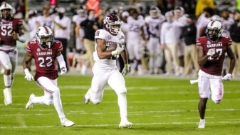 Jeff Blake-USA TODAY Sports
"I think (the win) opens a lot of eyes for people around the SEC," sophomore tight end Jalen Wydermyer said. "You know, that that we can be a dominant force running and passing the ball. We have a great offense that can do whatever they want to do. So, this was a big win for us."
No doubt. The Aggies stayed on course for a possible 9-1 finish. They stayed in discussion for the College Football Playoff. They didn't give a stay of execution to the overwhelmed Gamecocks.
A&M accomplished every objective. The running game again was powerful. Kellen Mond again was excellent. The offensive line again did not allow a sack for the fifth consecutive game.
The defense smothered South Carolina's running backs, applied consistent pressure and grabbed a couple of interceptions.
South Carolina star running back Kevin Harris, who entered the game as the SEC's second-leading rusher, broke away for a 28-yard run early. The rest of the game he ran like a chicken with its head cut off — a lot of movement, but going nowhere. He finished with a season-low 39 rushing yards on 13 carries.
"We just trusted the process and trusted Coach (Mike) Elko's game plan and played Aggie football. We didn't change anything. We just came to play and just got the win," defensive lineman Bobby Brown said.
He later added: "It was expected. We prepared to win. We prepared to dominate the game."
Harris' bad night was only slightly better than that of Bobo and head coach Will Muschamp. By halftime, the frustrated South Carolina crowd targeted Bobo with profane complaints about his offense. They called for Muschamp's dismissal.
"They're really trying to dominate each play. I think that's how you end up dominating a game. I think we're learning that and, in turn, you're seeing the big picture come together."
Muschamp might have wanted to exit at the break when A&M held a 21-0 lead. The Aggies had consumed 12 plays to get a Kellen Mond touchdown pass to Ainias Smith. They consumed 10 plays to get a Mond touchdown pass to Jalen Wydermyer. They needed just six plays for Mond to get another touchdown pass to Wydermyer.
Notice a trend? Mond threw 4 touchdown passes and ran for another. Isaiah Spiller rushed 131 yards before limping off with a sore ankle. Don't worry. Fisher said he could've returned to the game if it was necessary.
It wasn't. Freshman backup Devon Achane came on to rush for 65 yards and a touchdown and catch a 52-yard touchdown pass. That was one play after Leon O'Neal intercepted a pass that was deflected by both Myles Jones and Jaylon Jones.
Even tight end Max Wright and backup quarterback Haynes King connected for a 42-yard touchdown pass.
A&M's offense previously has flexed its muscle in a 41-38 victory over Florida. The defense, though, has been a subject of concern.
They changed the subject. At halftime, South Carolina had run just 25 plays. Most of them (15) resulted in no gain or lost yardage.
The problems continued in the third quarter when the Gamecocks managed just 33 yards on 13 plays. The Aggies eventually allowed South Carolina just 150 total yards. It was their lowest output since 1998 against Florida.
Not everything was perfect, though.
After A&M's fourth touchdown, Seth Small missed his first extra point in 100 attempts.
And with just under six minutes remaining, Muschamp sent in Parker White to kick a 48-yard field goal. That denied the Aggies their first shutout since blanking Prairie View 67-0 in 2016.
"I was looking for a goose-egg, to be honest," Brown said, feigning disappointment.
That's okay, though. The Aggies found something even more valuable. They found that killer instinct that Fisher wants.
They were physical. They were intense. They were brutal. They were complete.
Never miss the latest news from TexAgs!
Join our free email list