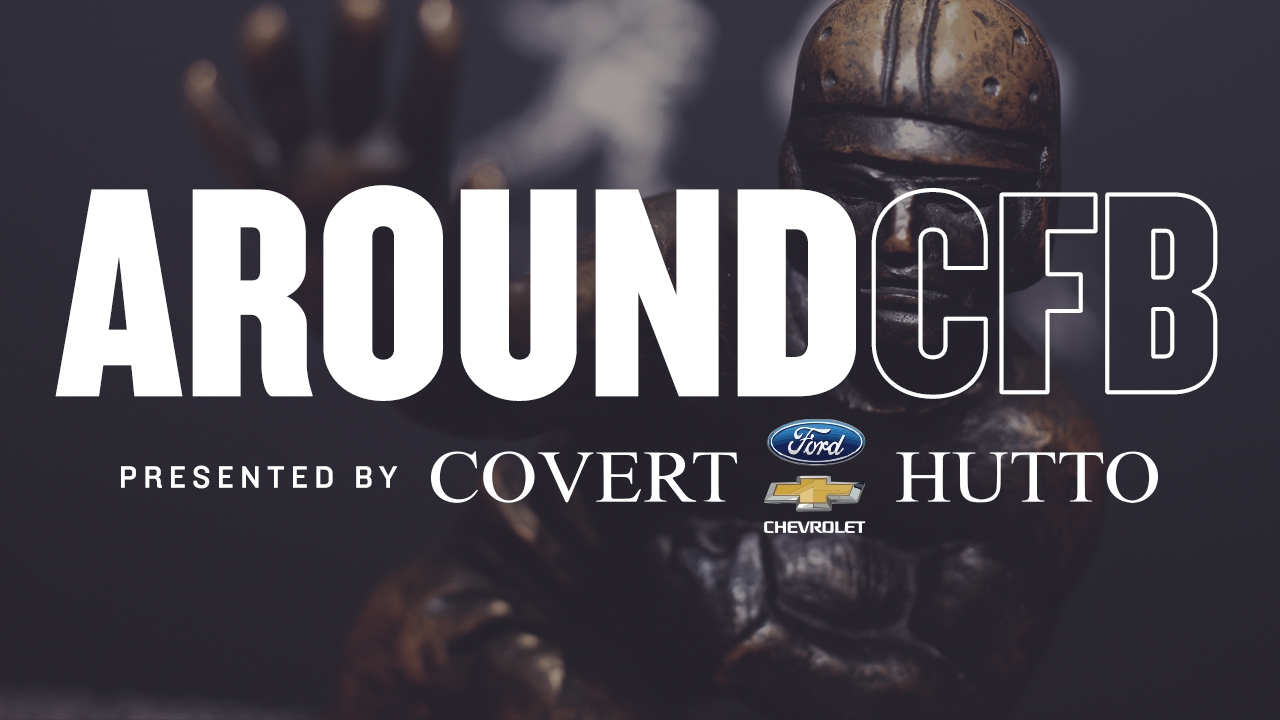 Photo by Brad Penner-USA TODAY Sports
Texas A&M Football
Around CFB: Based on market value, Fisher absolutely worth the money
---
Newsflash: College football coaches get exorbitant salaries.
That's not a stunning revelation. College football fans have come to accept and even understand that football coaches, especially in the Power 5 conferences, will get multi-million dollar salaries.
Yet, that fact still seems to escape some national college football writers. That's especially the case for a CBS Sportsline writer, who seems offended by Texas A&M coach Jimbo Fisher's salary.
Last week, said writer pointed out that Fisher, who gets $7.5 million annually, had earned $882,000 for each of the 17 wins in his first two seasons at A&M. The writer questions whether Fisher is worth the investment.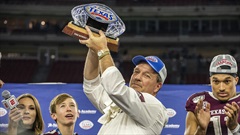 Lia Musgrave, TexAgs
What he doesn't question is how much other coaches hired in 2017 earn per victory.
For example, Scott Frost managed nine wins in his first two seasons at Nebraska. Based on his $5 million annual salary, Frost has "earned" $1,111,111 per win.
UCLA's Chip Kelly is paid $3.5 million annually. That's $7 million over two seasons in which the Bruins are 7-17. He's made $1 million per win.
Willie Taggart, who many in the national media lauded as Fisher's replacement at Florida State, managed nine wins before getting fired. He, too, was paid $1,111,111 per victory.
Then, there's Chad Morris, who many in the national media thought A&M would hire back in 2017. Morris was paid $3.5 million a year at Arkansas. He was 4-18 in his two seasons in Fayetteville. That comes out to $1.75 million per win.
Now, the writer was a big fan of Kevin Sumlin, Fisher's predecessor at A&M. That writer once approached me at SEC Media Days and gushed about how lucky I was to cover Sumlin on a daily basis.
He was dismayed when informed that Sumlin was difficult to deal with, was often unnecessarily confrontational, and a poor coach in general.
Obviously not convinced, the writer tweeted "Sumlin has options" shortly after A&M dismissed him.
Sumlin is now paid $3.5 million per season at Arizona, which has managed nine wins in his two seasons. That's $777,777 per victory.
Arizona hasn't had a winning season under Sumlin, and the program is trending downward.
Conversely, A&M has had consecutive winning seasons under Fisher, is currently in the Top 10 and has a victory over then-fourth-ranked Florida.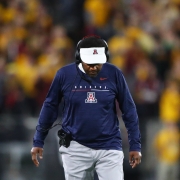 Mark J. Rebilas-USA TODAY Sports
Fisher is looking like a bargain.
Of course, skeptics will argue that comparing Fisher's cost per win only against other coaches hired in 2017 doesn't tell the entire story.
OK. Eight other coaches were paid more than $750,000 per win over the last two seasons. Most of those — TCU's Gary Patterson ($816,666), South Carolina's Will Muschamp ($800,000), Northwestern's Pat Fitzgerald ($850,000) and Auburn's Gus Malzahn ($800,000) — have programs that are struggling.
Heck, South Florida paid Charlie Strong $909,090 per win in his two seasons in Tampa before firing him.
Purdue's Jeff Brohm was reportedly paid $11 million over the last two seasons. His Boilermakers managed six wins in 2018 and four wins in '19. That's $1.1 million per win.
Sure, college football coaches are overpaid. However, based on market value, yeah, Fisher is worth it.
Heisman Watch (If my ballot was due today)
1. Trevor Lawrence, Clemson, QB: Lawrence passed for 287 yards and two touchdowns in a 47-21 victory over Syracuse. It was his worst performance of the season. Thus far, Lawrence has passed for 1,833 yards and 17 touchdowns with two interceptions. He's also rushed for 71 yards and four touchdowns.
2. Mac Jones, Alabama, QB: Jones completed 25 of 31 passes for 387 yards in a 48-17 victory over Tennessee. It was his fourth consecutive outing more than 380 yards. He's passed for 1,905 yards and 12 touchdowns with two interceptions.
3. Kyle Trask, Florida, QB: Don't forget what Trask had done before a COVID-19 outbreak resulted in a two-week break for the Gators. Trask has thrown for 996 yards and 14 touchdowns and just one interception in three games. He's thrown at least four touchdown passes in every game.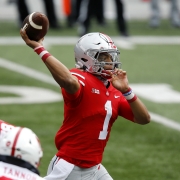 Joseph Maiorana-USA TODAY Sports
4. Justin Fields, Ohio State, QB: Fields debuted this season by completing 20 of 21 passes for 276 yards in a 52-17 victory over Nebraska. That included touchdown passes of 42 and 5 yards. He also rushed for 54 yards, which included a 17-yard touchdown.
5. Najee Harris, Alabama, RB: Harris rushed for 96 yards and scored three touchdowns in the win over Tennessee. He leads the nation with 14 rushing touchdowns. Harris has rushed for 595 yards thus far. He's also caught 14 passes for another 147 yards.
Predicted playoff participants
1. Clemson: The Tigers typically have one subpar performance. That might have come last week in a blowout of Syracuse.
2. Alabama: Few teams could be relatively unaffected by the loss of a player of Jaylen Waddle's caliber. Alabama is one of the few.
3. Ohio State: Buckeyes showed what we already knew they were in their opening win.
4. Texas A&M: Again, why not? The Aggies have a victory over a current top-ten team (Florida) and will be favored in every remaining game.
Games to watch
No. 3 Ohio State at No. 18 Penn State: Despite the Nits' upset loss to Indiana, these still may be the Big Ten's best two teams.
Michigan State at No. 13 Michigan: Spartans need redemption for their opener. Michigan looked strong.
Texas at No. 6 Oklahoma State: Longhorns desperately need a win to maintain some relevance. Oklahoma State projects as the Big 12's best.
Memphis at No. 7 Cincinnati: Some think Cincinnati can crash the playoff field. The Bearcats cannot afford to trip, and Memphis is capable of tripping them.
Missouri at No. 10 Florida: While Florida has been idle the last couple of weeks, Missouri has been looking like the third-best team in the SEC East.
MESSAGE FROM OUR SPONSOR
Call or text Chad at Covert Ford in Hutto at 512-633-4819 For new Fords, Chevys, and over 900 pre-owned vehicles. Thanks and Gig 'em.
Never miss the latest news from TexAgs!
Join our free email list
PRESENTED BY