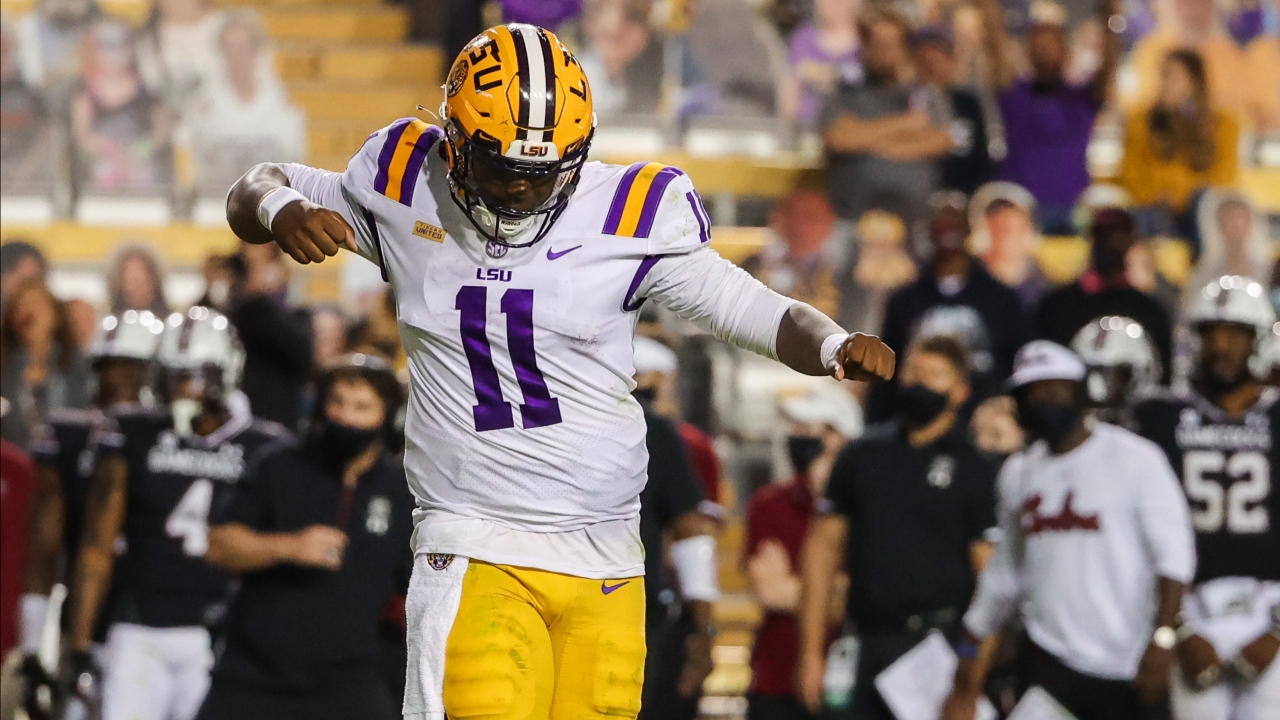 Photo by Derick E. Hingle-USA TODAY Sports
Texas A&M Football
TexAgs All-SEC team of the week: Week Five
---
LSU was resurgent. South Carolina regressed. Alabama was remarkable. Officiating was a recurring nightmare of Auburn opponents.
New players had strong showings in last week's SEC play. Some of the stalwarts were typically dominant.
There are several examples in this week's All-SEC team.
Offense
Quarterback: T.J. Finley (LSU)
Finley, a 6-foot-6, 242-pound true freshman, may not start another game this season, but he played quite well in his first start in the Tigers' rout of South Carolina. He was 17-of-21 for 265 yards and two touchdowns, and he also ran for a score.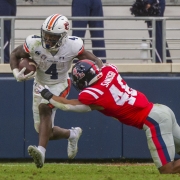 Justin Ford-USA TODAY Sports
Running Backs: Tank Bigsby (Auburn), Tyrion Davis-Price (LSU) and Larry Rountree (Missouri)
Given the big-time performances on the ground Saturday – hey, it was like the SEC went back to the early 1980s! – we're going with three running backs. Bigsby, another true freshman, has the look of a future star; he was the focal point of Auburn's offense in the Tigers' win over Ole Miss, rushing for 129 yards and two TDs. Davis-Price, a 232-pound sophomore, rumbled for 135 yards and a TD in LSU's rout of South Carolina. And Rountree, a senior, was the focal point of Mizzou's offense in its win over Kentucky; he had 126 yards and two TDs on a career-high 37 carries. He helped Mizzou to an unreal advantage in time of possession (43:10 to 16:50) and plays from scrimmage (92 to 36 – and, yes, that is real. Ninety-two plays.
Wide Receivers: Terrace Marshall Jr. (LSU) and Seth Williams (Auburn)
Marshall, a junior who took over as LSU's No. 1 receiver, had six receptions for 88 yards and two TDs in the Tigers' easy win. Williams, a junior, had eight catches for 150 yards (the second-highest yardage total of his career) and the game-winning TD in Auburn's win over Ole Miss. It was the fifth 100-yard game of his career.
Offensive Line: G Case Cook (Missouri), Brandon Council (Auburn), Ed Ingram (LSU), Alex Leatherwood (Alabama) and Landon Dickerson (Alabama)
Cook, a junior, helped pave the way for Rountree in the Tigers' win. Mizzou rushed for 220 yards and was 10-of-20 on third down and 4-of-5 on fourth down. Council was having a good game and good season before going down with an injury in the fourth quarter. Ingram's return to the lineup after missing the Missouri game with injury made a huge difference. Alabama was dominant up front.
Defense
Defensive Line: DT Akial Byers (Missouri), EDGE B.J. Ojulari (LSU), EDGE Sam Williams (Ole Miss) and DE Byron Young (Alabama)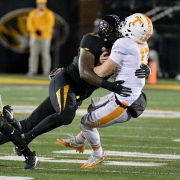 Denny Medley-USA TODAY Sports
Byers' numbers don't jump off the page, but considering he was the best player up front on a Missouri defense that allowed just 145 total yards, we're spotlighting him anyway. Byers, a senior, had two tackles and 0.5 tackles for loss and did a superb job of mucking up things in the middle. Ojulari, a true freshman, is the younger brother of star Georgia edge rusher Azeez Olujari. He did the family proud against South Carolina with four tackles, three sacks and a quarterback hurry. Ole Miss' defense again struggled, but Williams, a senior, made his presence known in the loss to Auburn; he had 11 tackles and three tackles for loss, including a sack. Young, a sophomore, had four tackles and a tackle for loss in Alabama's easy win over Tennessee, which finished with just 302 yards.
Linebackers: Nick Bolton (Missouri), Christian Harris (Alabama) and Ernest Jones (South Carolina)
Bolton, a junior from Frisco Lone Star, led Mizzou's sterling defensive effort, with seven tackles, a sack and a quarterback hurry. Harris, a sophomore, had his second 10-tackle game of the season in the Tide's victory; he also had a tackle for loss. South Carolina was gouged for 541 yards in its loss to LSU, but Jones, a junior, acquitted himself well, finishing with a career-high 19 tackles.
Defensive Backs: S Yusuf Corker (Kentucky), CB Roger McCreary (Auburn), S Smoke Monday (Auburn) and CB Patrick Surtain Jr. (Alabama)
Kentucky's defense never could get off the field in the loss to Missouri, and as a result, Corker, a senior, finished with a career-high 18 tackles, including a sack and one other tackle for loss. McCreary, a junior, had five tackles, two tackles for loss (including one on a fake punt) and an interception in Auburn's win. Monday, also a junior, had 12 tackles and a sack in the Tigers' victory. Surtain, another junior, had four tackles, a tackle for loss and three pass breakups in the Tide's win.
Specialists
Kicker: Matt Ruffolo (Kentucky)
Ruffolo, a senior, nailed a 50-yarder for maybe the only bright spot for UK in its loss.
Punter: Paxton Brooks (Tennessee)
Brooks, a junior, was busy and productive in the Vols' loss. He punted six times, averaging 45.8 yards per boot.
Returner: Trey Palmer (LSU)
South Carolina had cut LSU's lead to 31-17 early in the third quarter, but Palmer took the ensuing kickoff 93 yards for a TD to end any doubt about the outcome. Palmer, a sophomore wide receiver, initially bobbled the kick, then zoomed through the defense for the score.
Never miss the latest news from TexAgs!
Join our free email list