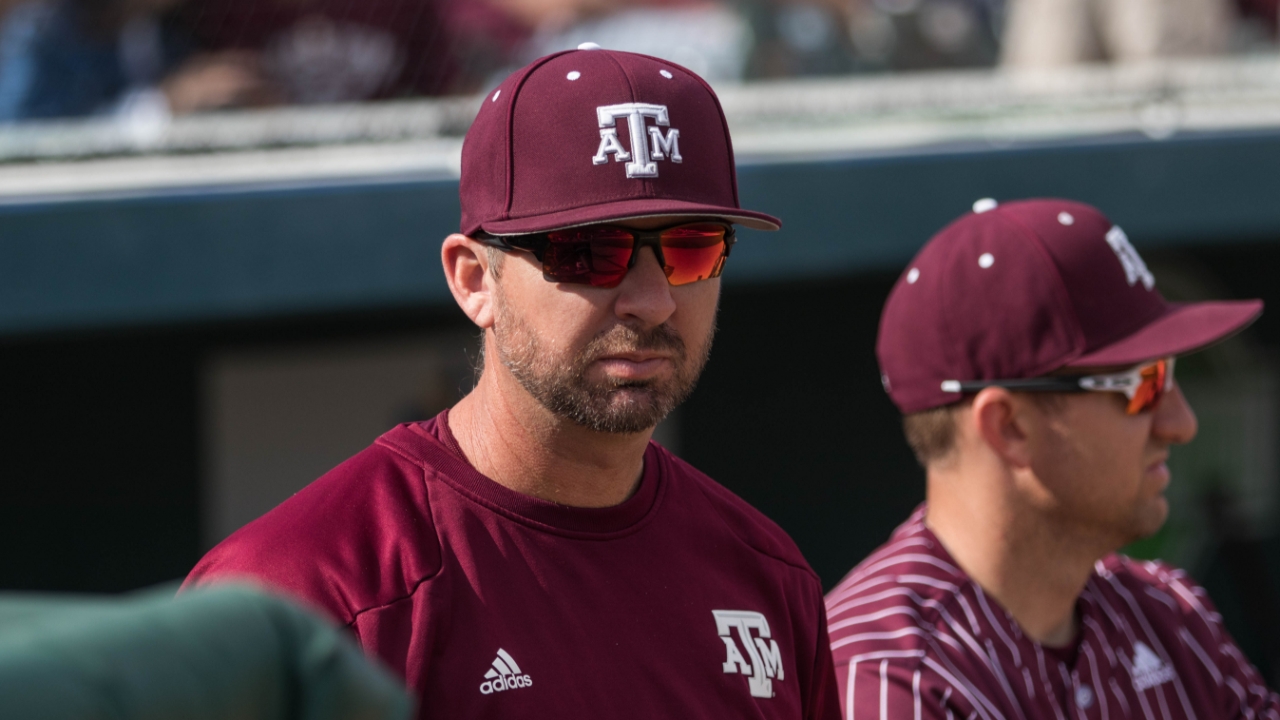 Photo by Angelina Alcantar, TexAgs
Texas A&M Baseball
Justin Seely analyzes the Aggie roster ahead of the Fall World Series
---
Key notes from Justin Seely interview
We've been practicing for four weeks right now. The excitement hasn't worn off. We have to look back to six months ago when we got the opportunity taken away from us. That makes coming to work easy, getting on the field easy, and our guys are pretty juiced right now.

I don't know if we've innovated our recruiting process. I've been watching a ton of videos on my phone and tablet. It's all streaming. It all looks fantastic, but we can't go and actually see it for ourselves. You have to go off what you see and what people you can trust say about these players. Evaluating players and making decisions never stops. We feel very good about these decisions, but I'd like to see these recruits play. When March 1st rolls around, that will be the first time in 12 months that we've been able to see a game.

I do feel good about our team. Believe it not: We only have three or four guys over what we would normally have on our roster. That really rests with our seniors that came back. The balancing part of it has been okay. Guys that are older have class. Hunter Coleman misses like two days a week for class because he's in a graduate program. Chris Weber has a huge workload with his degree as well. That happens during most falls. We did shorten our fall season to five weeks because we wanted to get it in as fast as possible.

A lot of the credit goes to Jeremy McMillan. He's the secret sauce to what we do with changing our guys' bodies and helping put them into a leadership role. He gets his thumbprint on that. Those guys also build those leadership opportunities around the weight room first. That carries on to the field. Hunter and Mikey Hoehner are both communicators, and both play positions that require leadership.

The one old guy I'd like to mention is Will Frizzell, and he's been outstanding. He has set the tone for us offensively.

Kalae Harrison is a shortstop from Hawaii. His brother was a two-time All-American and national champion at Oregon State. He's also battling with Cade Merka from Argyle for that shortstop spot. They're true shortstops. There will be a freshman at shortstop on opening day.

Taylor Smith has been fantastic. Brett Minnich is controlling his at-bats. He's 6-5 and looks like a tight end out there. Same with Logan Britt. Both of those guys have leverage, strike zone recognition, and electricity in their bodies. I'm excited about our newcomers.

Brian Sturges is about as savvy of a baseball player as you'll ever be around. He plays hard, but he doesn't get sped up. He's educated at the plate. If he's swinging, it's a strike. If he's not, it's a ball. He's good on the bases even though he's not the fastest guy. He's going to play a corner outfield spot, move the offense and then bring some punch at the plate too.

I was excited during the first two weeks because our offense kicked the pitchers' butts. Coach Childress played the long game, saw that, and got the pitchers' attention. They have flipped the script on us. Bryce Miller has been outstanding. Getting some starts over the summer has helped him figure out what he's good at and what he's not. He's in a position where he knows what he's doing on the mound, how to attack hitters.

Asa Lacy and Christian Roa are gone, but they have left a legacy for these other guys. It has allowed these other guys like Dustin Saenz to blossom, spread their wings as teammates and leaders. That's been a big part with Dustin, but his stuff is picking up too. His velocity is higher now, but his stuff is fantastic. He has developed a fourth pitch.

Today, Bryce Miller and Dustin Saenz will face off. It's a 3:00 p.m. start and open to the public. I think normal social distancing and mask protocols are going to be in place. It would be great to see fans out there. It should be a nice warm day. If you want an excuse to get away from your Zoom calls at work, come on out.
Never miss the latest news from TexAgs!
Join our free email list