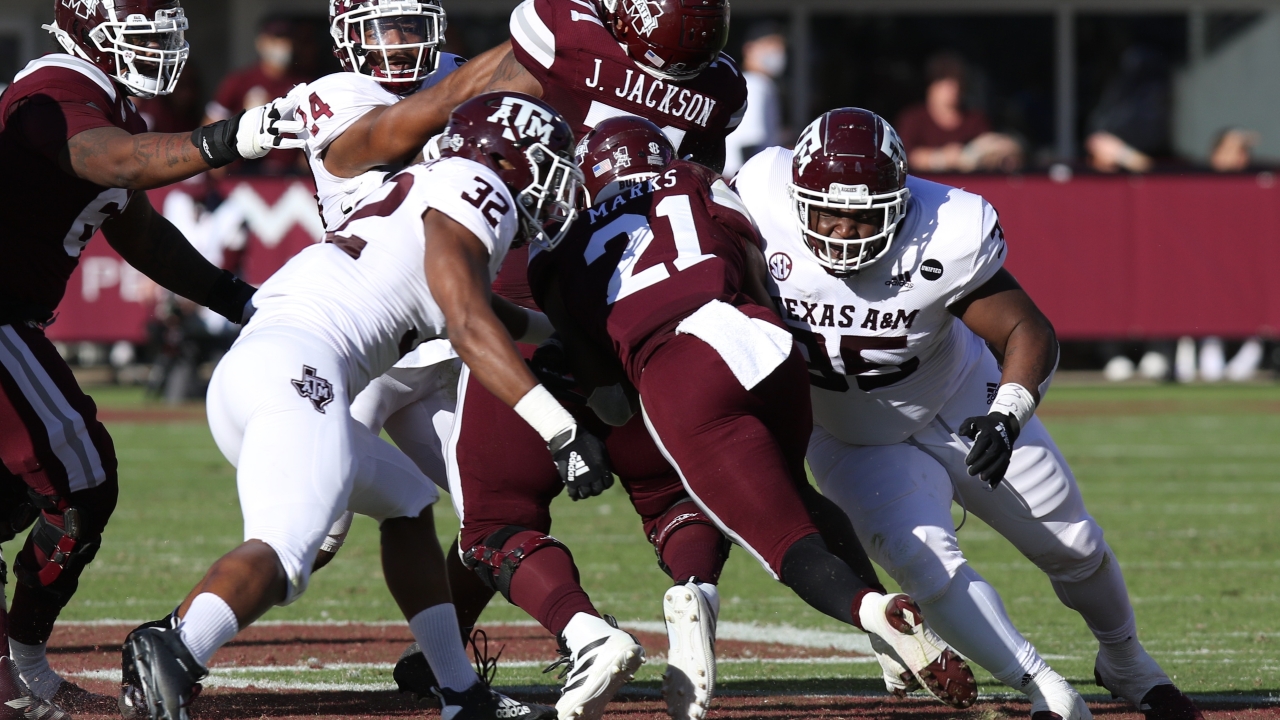 Photo by Mississippi State Athletics
Texas A&M Football
Imposing defense breaks Davis Wade hex as Aggies top Mississippi State, 28-14
---
Whether it be dropped passes, turnovers, key injuries or surrendering big plays, something always dooms Texas A&M in the house of Aggie horrors known as Davis Wade Stadium.
Another horrific swing in momentum threatened the Aggies on Saturday afternoon as a comfortable lead suddenly became precarious.
The Aggies were in control. They had a two-touchdown lead. They were driving for more. And then a Kellen Mond pass ricocheted off Ainias Smith's helmet and into the hands of Mississippi State cornerback Emmanuel Forbes. Sixty yards later, the A&M lead was slashed in half.
The momentum of Mississippi State stalked the Aggies like a predator. Ghosts of A&M's past failures could be heard in an eerie clanging of bones — well, actually cowbells.
Those who've witnessed A&M's demise in the last three trips here surely expected the worst. And who could blame them? It's been a recurring nightmare.
Except, this outcome in Starkville was in stark contrast to the previous three.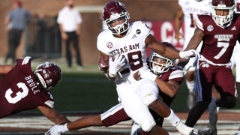 Mississippi State Athletics
This time, the Aggies responded with two touchdowns in the span of less than two minutes to silence the cattle rattles with a 28-14 victory.
"Mississippi State has been a hard place to play for us," A&M coach Jimbo Fisher said. "A couple of years ago, we lost a tough one here, and we were in the same situation coming off some good wins."
The 11th-ranked Aggies were indeed coming off a good win. They upset No. 4 Florida a week ago, 41-38. Yet, this team hardly resembled the one that beat the Gators.
Mond, who was so precise with his passing a week ago, looked like a pitcher who couldn't find the strike zone.
A&M's first touchdown drive was comprised of eight consecutive running plays. Sophomore sensation Isaiah Spiller capped it off with the first of two touchdowns. Spiller's next touchdown came after Chris Russell's blocked punt set A&M up at the Bulldogs' 1-yard line.
That wouldn't seem like enough offense to overcome a team coached by Mike Leach, who often bedeviled A&M when he was at the helm of Texas Tech.
However, the defense that was nearly invisible against Florida had become seemingly invincible.
Myles Jones made a leaping interception in the end zone to quell one Mississippi State threat. He dropped running back Jo'quavious Marks for a 3-yard loss on another.
Other Bulldogs drives were thwarted by a punishing pass rush that produced four sacks in the first half. DeMarvin Leal got one. So did Brian Williams, Jayden Peevy and Aaron Hansford.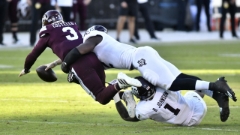 Matt Bush-USA TODAY Sports
Consequently, A&M led 14-0 at halftime. The Aggies took the second-half kickoff and marched to Mississippi State 32-yard.
That's when momentum appeared to turn on Forbes' interception. That's when long-suffering Aggies watching on ESPN began to expect the worse.
There was no such angst on the A&M sideline.
"It's a different era. We have a lot of seniors. We're not going to crater," senior tackle Carson Green said. "It's just another job. We were driving down to score, so we can do it again. That's the mindset you have.
"We were all just, 'Hey guys, catch your breath, get some water, and let's go.'"
On the next drive, Mond hit Chase Lane on a crossing route. The mercurial Lane then turned upfield and outran the futile pursuit of the Bulldogs' secondary to the pylon for a 21-7 lead.
Two plays later, blitzing Buddy Johnson sacked Mississippi State quarterback K.J. Costello, who fumbled. Peevy picked up the loose ball and rumbled 19 yards before getting tripped up at the 8-yard line. That only delayed the inevitable.
Two plays later, Mond passed to Ainias Smith for a 6-yard touchdown that provided an insurmountable 28-7 lead.
"We're nowhere close to what we can be. That's very encouraging to me that we're 3-1 right now, and we've got a lot of room to improve."
"It really was grit. It was determination. It was having confidence in yourself," Fisher said of A&M's response to the turnover. "It was not just grit, but it was also having confidence in yourself to get right back and make the next play."
Mississippi State managed a fourth-quarter touchdown to stay reasonably competitive, but a final strong defensive effort forced a punt with 5:06 remaining.
The Aggies then used up the remaining time on a methodical drive that ended at the State 1-yard line and officially put an end to the Davis Wade Stadium hex.
In years past, A&M has left Starkville lamenting what could have been. This time, they left looking forward to what could be.
They're 3-1, the top ten beckons, and a lot of upcoming opponents are struggling.
"We're nowhere close to what we can be," Fisher said. "That's very encouraging to me that we're 3-1 right now, and we've got a lot of room to improve."
Never miss the latest news from TexAgs!
Join our free email list