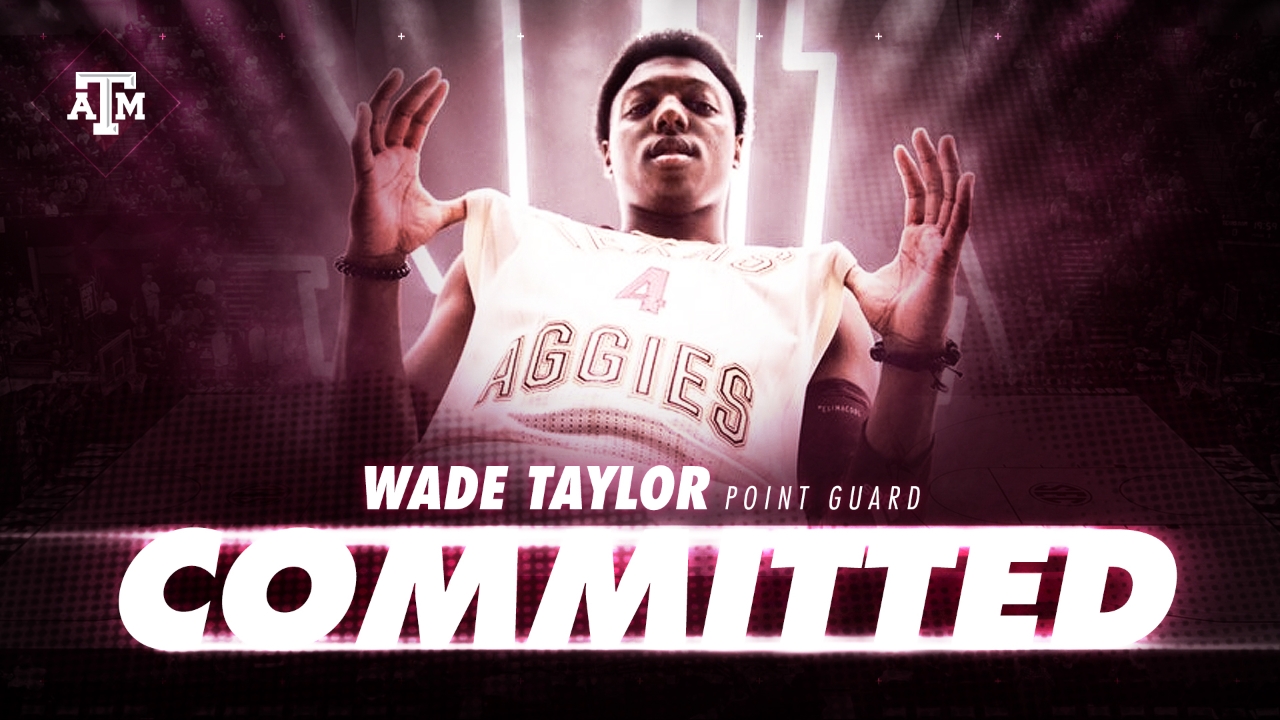 Texas A&M Basketball
2021 Lancaster point guard Wade Taylor commits to Texas A&M
---
Texas Aggie basketball added another piece to the program's future as four-star Lancaster point guard Wade Taylor‍ announced Friday night that he has committed to sign with the Aggies in the 2021 class.
"I've committed to the Aggies," Taylor said. "I'm a family guy, and they emphasize a family environment there. It's also a guard-oriented system, and they focus on guys that are versatile and can play multiple positions. That's a great match for me."
It's been 220 days since A&M's last commitment (Manny Obaseki‍); about the same time the nation went into lockdown. Without any in-person recruiting visits allowed by the NCAA, many of the top 2021 basketball recruits have delayed their college decisions.
It also caused Taylor to make some adjustments to his timeline.
"Coach Buzz is a one of a kind. He has a plan. He took a personal interest in me, and I know he'll make me a better person, on and off the court."​​​​​​
"The pandemic made the process much tougher," Taylor said. "You go into this thinking you'll get a lot of in-person time with all of the coaches and players. Visit the facilities, see the campus, and hang out with them for a few days. The Zoom calls helped some, but in the end, you take the limited information you have and go off of your gut feeling. I wanted to get this out of the way before my senior season."
The 6-foot-1,180-pound guard had plenty of offers after a well-established prep career at Lancaster High School and with Southern Assault on the AAU circuit.
Dallas-Fort Worth has become ground zero for a plethora of blue-chip basketball talent, and the 2021 class is one of the best in recent memory. Taylor has competed and excelled against some of the best competition in the country, and as a result, the vocal point guard had over 20 college offers to consider.
In the end, his choice came down to three schools.
"It was a hard decision to make with so many good options," Taylor said. "But it came down to A&M, Virginia Tech and Oklahoma State. I couldn't go wrong with any of them. They are all quality schools and basketball programs."
However, he could only choose one, and it was Buzz Williams and the Aggies that were left standing.
"Coach Buzz is a one of a kind. He has a plan," Taylor said. "He took a personal interest in me, and I know he'll make me a better person, on and off the court. Also, my up-and-down-the-court style of play and my versatility fits right there with his philosophy and what he likes."
When he was asked to explain his best skill sets and attributes on the court, Taylor explained what Aggie basketball fans should expect from his game in the coming future.
"I'm a crafty guard. I'll take what the defense gives me," Taylor said. "I have speed up and down the court. I can finish at the rim and create my own shot. I have range on my outside shot. I like setting up my teammates and getting them involved.
"Oh, I like to play aggressive, man defense. Coach Buzz wouldn't like it if I forgot to mention that one."
Although Taylor won't be able to attend any games or meet with his future teammates until at least January 1 (no in-person visits per NCAA), he is excited to watch the team progress this winter.
Through Zoom and text, he has already built some strong relationships with players.
"I've known Jaxson Robinson‍ and Manny Obaseki‍ for years, so I know those guys well," Taylor said. "There are a couple of other guys I talk to a lot that should be joining our class, but I can't mention names.
"As far as current players, I've talked to Quenton Jackson and Savion Flagg a lot. They've given me good insight on what to expect when I get there."
Taylor is a consensus four-star prospect by all of the major recruiting services and ranked between No. 100-120. TexAgs has him rated as a middle four-star recruit along with 247Sports (No. 121 nationally) and Rivals.com (No. 116).
Taylor joins Obaseki as the second player in Texas A&M's 2021 class. Robinson was originally a 2021 prospect but graduated early and is already on campus.
With one open scholarship and four seniors on the current roster, Texas A&M technically has five spots to fill, with only two commits on-board for the 2021 class as of now. However, with no juniors on the current roster, the staff may not fill all of the available slots and instead carry over a scholarship or two into the 2022 class.
The A&M staff is still aggressively pursuing a big man with senior transfer Kevin Marfo set to exhaust his eligibility after this season. One name to keep an eye on is Legacy School of Science (Spring, TX) fast-rising big man Ashton Smith‍.
Never miss the latest news from TexAgs!
Join our free email list