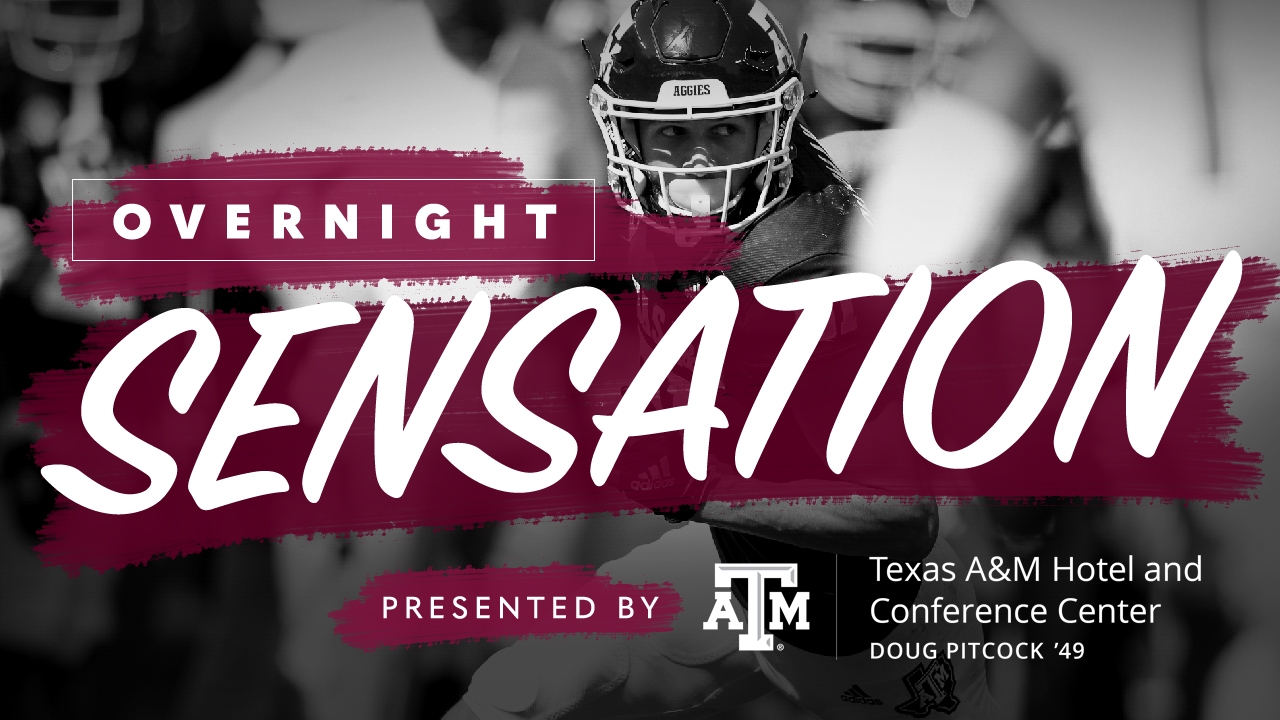 Texas A&M Football
Week Three's Overnight Sensation: Caleb Chapman, Wide Receiver
---
Each Monday during the 2020 Texas A&M football season, we'll identify a first or second-year Aggie player who delivered an exceptional performance and earned the distinction of being the week's 'Overnight Sensation.'
---
I want so badly to name Isaiah Spiller this week's 'Overnight Sensation,' and after 174 yards and two touchdowns, he's certainly deserving. However, I'm going to go in a different direction, and like Kellen Mond did more than a few times on Saturday, I'm going to call Caleb Chapman's number.
The redshift sophomore wide receiver from Clear Brook High School in Friendswood emerged in a big way as he reeled in nine receptions for 151 yards and two touchdowns, including the most important score of the game (no disrespect to Seth Small's game-winning field goal as time expired).
It was clear early on (A&M's fourth play from scrimmage, to be exact) that Chapman was going to play a key role for the Aggies against Florida. After a third-down conversation, quarterback Kellen Mond took a shot deep down the field — something he hasn't done much of — and found Chapman for 49 yards, all the way down to the Gators' 12-yard line. The Ags would find the endzone three plays later. It wouldn't be the last time Mond and Chapman connected for a huge play.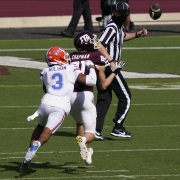 Scott Wachter-USA TODAY Sports
On A&M's next series, Mond hit Chapman on third-and-6 for 10 yards to move the sticks and set up first-and-goal at Florida's 5-yard line. Three plays later, Mond zipped a pass to Chapman on a slant for a 2-yard touchdown — Chapman's second score of his collegiate career.
His day was far from done. Aside from the three grabs mentioned above, Chapman caught passes for 5, 4, 10, 7 and 13 yards. Despite already amassing 100 yards receiving, he still wasn't finished leaving his mark on the contest.
With under five minutes to play, the Aggies had the ball at their own 49-yard line. They desperately needed to answer a Florida score that had reclaimed the lead.
Chapman ran a deep post route with UF corner Kaiir Elam covering him one-on-one. Mond unloaded a bomb deep down the field, but it was a touch underthrown. That was no problem for Chapman, who worked back to the ball, took an interception away from Elam, and in the process, fell into the endzone to bring the Aggies within one point of a 38-38 tie (Small would subsequently make the PAT).
Unfortunately, that highlight was a bittersweet moment as Chapman had to be helped off of the field after suffering an apparent knee injury to the same knee that required season-ending surgery during his true freshman season of 2018.
While it seems unlikely that we will see him suit up again this fall, there is no diminishing Chapman's heroics in helping the Aggies to the 41-38 upset of No. 4 Florida. Jimbo Fisher, Kellen Mond and the 12th Man will certainly hope to see Chapman return as soon as possible as he made a name for himself as one of the Aggies' top receivers on Saturday.
Caleb Chapman's stats vs. Florida
Receptions: 9
Yards: 151
Touchdowns: 2
Average: 16.8
Long: 51
Caleb Chapman's 2020 stats
Receptions: 14
Yards: 197
Touchdowns: 3
Average: 14.1
Long: 51
MESSAGE FROM OUR SPONSOR
With a privileged location directly across from Kyle Field, the Doug Pitcock '49 Texas A&M Hotel and Conference Center offers 250 guest rooms, rooftop pool, dining outlets, a two-story bar and lounge, and conference center with 35,000 square feet of meeting and event space.
Never miss the latest news from TexAgs!
Join our free email list
PRESENTED BY