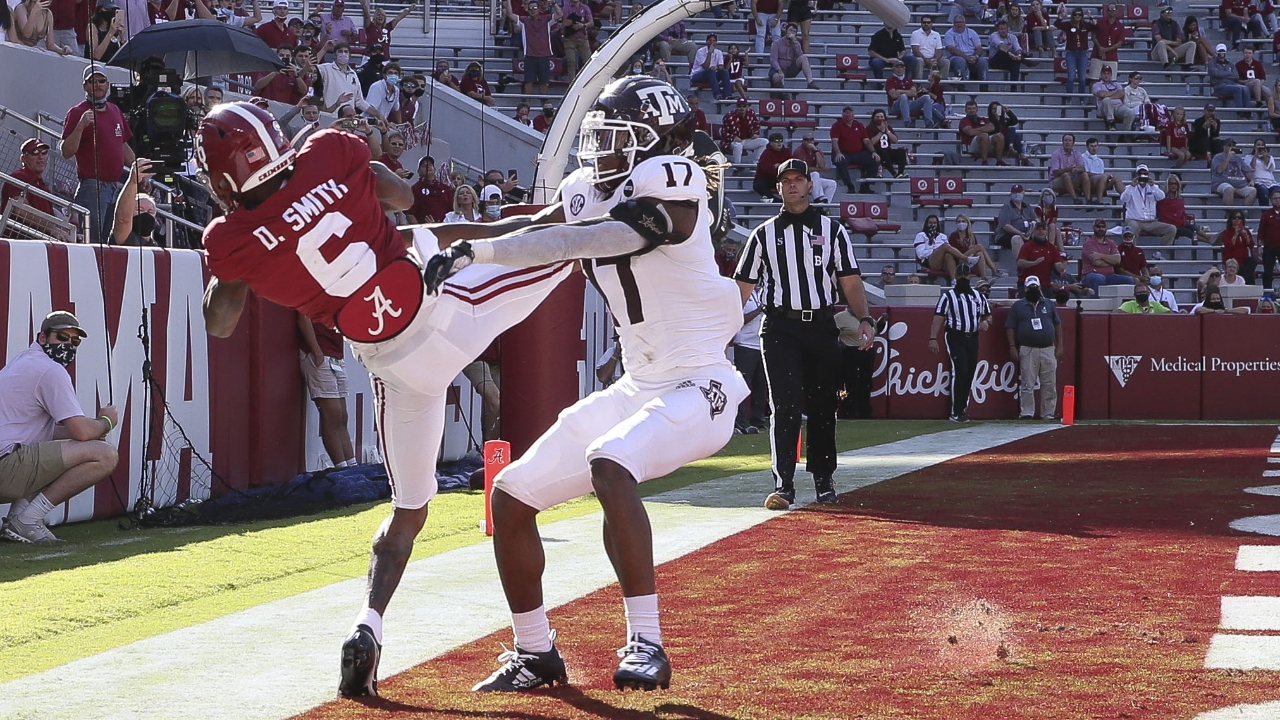 Photo by The Tuscaloosa News-USA TODAY Sports
Texas A&M Football
Gap between Aggies and Tide as much about intangible instinct as talent
---
Analyze the numbers. Compare heights and weights. Look up 40-yard dash times. And, yes, count the recruiting stars.
That won't fully explain the vast chasm that exists between Alabama and Texas A&M.
A large part of the difference is located someplace in the mind or heart or both. There resides (or doesn't) some intangible quality that determines whether a football player flourishes or flounders in pressurized situations.
That was a major factor in No. 2 Alabama's 52-24 victory over on No 13 Texas A&M on Saturday afternoon. And it was as clear as the sunny sky above Bryant-Denny Stadium.
Don't misunderstand. The Aggies were not going to beat Alabama. Not on this day. Probably not on any day this season.
The Crimson Tide receivers are too fast. Quarterback Mac Jones, who threw four touchdown passes and for 435 yards, is too accurate. A&M's secondary is still too vulnerable.
But the Aggies could have at least kept the game interesting with some clutch plays in the first half. Instead, two demoralizing passes — one which fell incomplete and another A&M wishes had — rendered the Aggies doomed by halftime.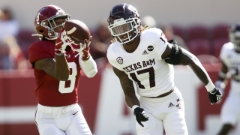 The Tuscaloosa News-USA TODAY Sports
A&M quickly fell behind 14-0 on Mac Jones' 78-yard touchdown pass to John Metchie and a 6-yard touchdown run by Najee Harris.
But Ainias Smith showed the Aggies have big-play ability too. He turned a short pass from Kellen Mond into a 47-yard touchdown as he tight-roped down the sideline late in the first quarter.
About a minute later, DeMarvin Leal intercepted a deflected pass and rumbled 23 yards to the Alabama 17-yard line. Mond hit Ryan Renick with the touchdown pass on the next play. Just like that A&M pulled even on the first play of the second quarter.
Alabama regained the lead on a second touchdown run by Harris. However, the disaster didn't start until A&M's ensuing series.
Backed up by a holding penalty, Mond was aiming to convert a third-and-13. His aim, though, was inaccurate. Mond threw behind Jalen Preston on the sideline. Instead of a first down, the football went directly to Alabama safety Daniel Wright, who returned the interception 47 yards for a touchdown.
That was the disastrous catch. The drop was worse.
The Aggies responded to the turnover by moving the Alabama 35-yard line where they faced fourth-and-two with about 90 seconds remaining in the half.
Mond's fourth-down pass was perfect to Smith coming across the field. The first down was assured. Smith might even get inside 20 or even score.
He dropped the ball.
"That's just one of those details plays," Mond said. "We felt like we got him in a really good look and got a nice matchup on a defensive end. It could've been big play."
The incompletion gave Alabama one more opportunity. With the A&M defense playing back to prevent a big play, the Tide gladly worked underneath for completions of 10, 11, 11, 4 and 9 yards.
That all added up to DeVonta Smith catching a 2-yard touchdown pass with one toe just inside the back of the end zone. That gave Alabama a 35-14 lead at the break.
A&M wasn't coming back from a 21-point deficit. A national CBS audience knew it. The home crowd knew it. In truth, the Aggies knew it.
"It definitely should be a two-possession game. And then they (Alabama) go back and get a three-score game with a touchdown. That was very critical in the game.

"It could be a one-possession game," A&M coach Jimbo Fisher said. "It definitely should be a two-possession game. And then they (Alabama) go back and get a three-score game with a touchdown. That was very critical in the game."
The Aggies tried to mount a second half rally. They might have made it interesting had Wydermyer held on to a third-and-11 pass inside the 5-yard line. That could have set up a touchdown to bring Aggies within 35-21.
A&M had to settle for a field goal. It's hard to blame Wydermyer. Alabama safety Jordan Battle was draped all over him and the catch would've been spectacular. Criticizing him for failing to make a circus catch wouldn't be fair.
Yet, Alabama's Smith did make the circus catch just before the half. And it made big difference.
The national media now will again question whether hiring Jimbo Fisher was a massive, expensive mistake for A&M. Some Aggies are now asking that question, too.
It's way to soon to jump to that conclusion. But the Aggies must bounce back strong.
Florida and Mississippi State looms in the next two weeks. Florida quarterback Kyle Trask has thrown 10 touchdown passes in two games. Mississippi State torched LSU's secondary.
A strategy must be found to contain them. And the Aggie must find that intangible quality to make pivotal plays in the clutch.
Never miss the latest news from TexAgs!
Join our free email list