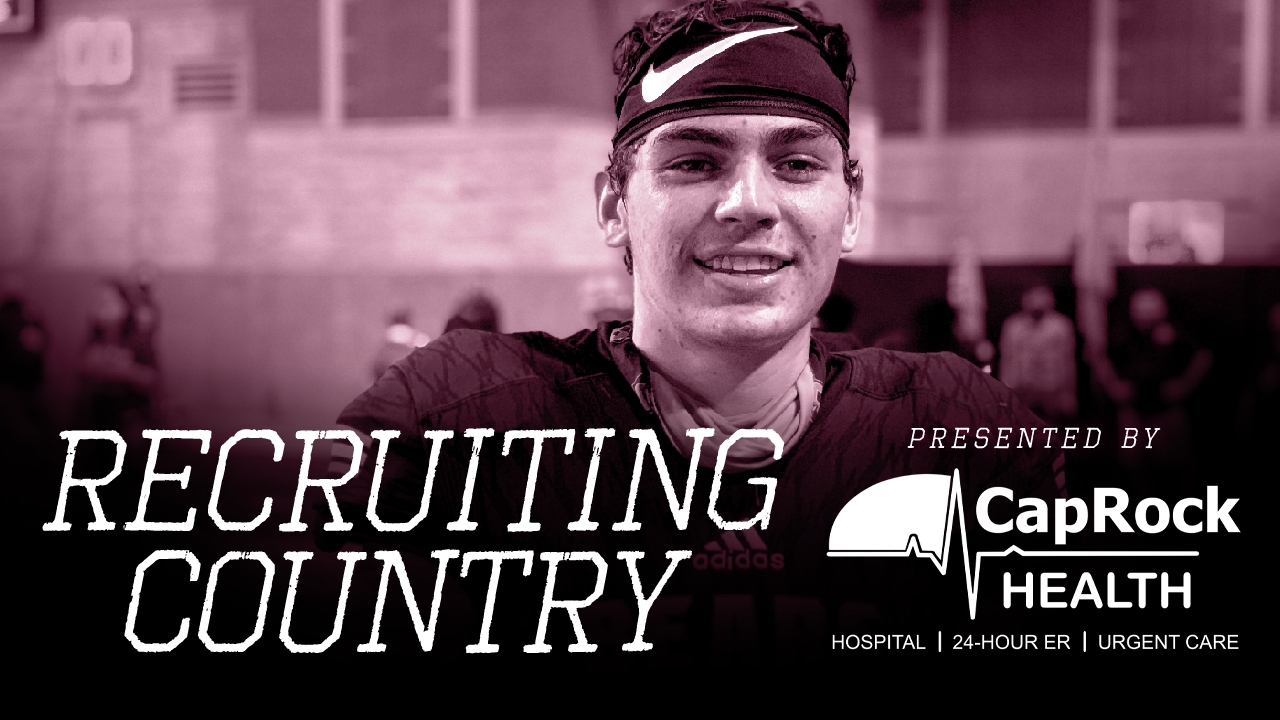 Texas A&M Football Recruiting
Recruiting Country: The latest recruiting news surrounding the Maroon & White
---
Key notes from Recruiting Country
It's a lot easier, yet more challenging, to make a schedule of kids I want to see. We're lining up a lot more games. I got to go into Kyle Field on Saturday and go into the game. It felt semi-normal. It was loud in there at times. As the game wore on, the defense had to make plays, and the crowd understood that. Leon's pick, it got loud in there. It's so cool to see the guys that I follow in high school play out at Texas A&M. The relationships with the kids and the parents in the stands is what I love about it. I saw Kenyon Green's family when I was walking out, and he's great to talk to.

Bryce Foster‍ came to the Texas A&M game on Saturday. They didn't want that news out because they didn't want to start a big stir or a scene. It just leads to more coaches and fans getting on his case. He's been coming to A&M games since he was a kid. He and his brother just wanted a normal day where they came up to see the Aggies play. He came up here on his own with his brother and didn't even tell the coaches he was there. He was here on his own dime. He almost might go to Norman or Baton Rouge on a trip similar to this.

Texas A&M is not having recruits on campus, and Bryce Foster is the perfect example of that. They are not bringing him here. He did it on his own. Recruits can visit the schools, but they are not official visits and have to do it on their dime.

I've known Bryce and his family for such a long time now. Everyone wants to read so much into this trip to A&M about where he's going to land, but this was just another normal Saturday in College Station for him. As we get close to more normalcy, that was something good for him and his brother to do.

It sounded like Denton Guyer got off to a slow start scoring points, but they ended up scoring 53. That was the first game with a new coach and with Eli Stowers‍ coming back. He had a great game. He's off the charts with his leadership abilities and all of those words you want to use to describe a quarterback. Stowers has it. Deuce Harmon‍ also had an interception to start the season.

Denton Guyer plays Denton Ryan this week in a big game. Ryan has a couple of Texas commits, and they've got Bear Alexander‍. It'll be a good game. I don't know who Jason Howell will see this week, but that could be where he goes even though he just saw Guyer last week.

Conner Weigman‍ (pictured above) put on one of the most impressive quarterback performances I've seen in a long time. 26/42 with 372 yards passing and three touchdowns. He also had 16 carries for 149 yards and three more scores, over 500 total yards of offense. He can run. He's shifty and powerful. I talked to him yesterday. There are starting to be discussions with A&M now. The schools that have been talking to him have been stepping it up now. A&M is the new school to put pressure on him. Remember, he'll be looking at both the gridiron and the diamond. He has an offer from Ole Miss, and they've got a great baseball program. An offer from Florida and Texas A&M would be huge.

I don't know what A&M is going to do with a quarterback in 2022. Cade Klubnik‍ is a name to watch too.

With these quarterbacks like Weigman that are also baseball players, it helps them so much. Think about the top quarterbacks in the world right now. Mahomes. Wilson. Brees. Stafford. Even Tom Brady was drafted by the Montreal Expos. Conner told me on Thursday that the baseball aspect of his athleticism helps him with his footwork. If you think about Jimbo Fisher's national championship teams — Jameis Winston, Chad Jones, and Jared Mitchell — have each had baseball players.

Right now, Weigman is the #3 rated baseball player in the state of Texas. Whether he ends up on campus will depend on how the MLB Draft goes. Will it go back to a full draft, or will it be a 15-round draft again? By the time it gets to 2022, there are big questions about what the MLB Draft looks like. That's a decision he's going to have to make, and maybe the sooner he makes it, the better. It's reminiscent of the Kyler Murray situation where Kyler said he wanted to play college football.

Whoever takes Weigman, you're probably going to want to take another quarterback in the class just in case. I think he's a legitimate dual-sport athlete who loves both sports equally. I do think he likes the idea of playing college football.

I haven't heard Javonne Shepherd's name in a while. I don't know if he's playing up at that Kansas junior college. He's lost a ton of weight. That is not a name that we expect will be in this Texas A&M recruiting class right now. That's something I'll have to check on.

2023 is so far out, but I'd imagine A&M will offer Arch Manning‍. It seems like he's getting a lot of LSU attention. With that last name, Ole Miss and Tennessee will be big players, of course. The entire SEC will probably offer him.

A&M is doing an excellent job with those two linebackers in North Houston. I'll see Harold Perkins‍ again this week as they take on LJ Johnson Jr‍. I think A&M is doing a good job with Perkins, but I don't think he's close to making a decision. I also think that they're doing a good job with Martrell Harris‍, but I don't think he's close to making a decision. More offers in 2022 are going out, but right now, I don't think anyone is close to getting a commit.

I've known Aggie baseball commit Mason Ruiz since he was 10-years-old. He's an incredible kid from an incredible family. He has been a fun kid to coach. He's an outstanding defensive first baseman. Both Ruiz and Weigman played up with our 2021 kids in the last tournament of the season, and they hit three and four in that lineup.

Chad Caillet is going into Louisiana and getting kids that the home-state Tigers want. That's ruffling some feathers, and that's a good thing. A&M baseball has never gone across the Sabine and had success. It's very impressive.

Alabama, Georgia, LSU, Texas A&M, Auburn, Florida are all going to finish the 2021 class strong. They're the usual suspects. Tennessee shot off like a cannon, and now everyone else is catching up. A&M could finish in the top ten in the country but still only be sixth in their conference. That's how it is.

Matthew Wykoff's performance against Katy Tompkins was impressive. Magnolia was driving with a chance to take the lead late and threw an interception in the endzone. They were one play away from winning the game against a Tompkins team that was heavily favored. Jalen Milroe‍ was impressive playing quarterback for Tompkins. Wykoff looks impressive. He has all of the stuff you're looking for in an offensive lineman coming out of high school. He can play anywhere. He has an extremely high football IQ. Of course, he was upset they lost the game, but he was able to talk about how they can learn from it going into next week. Super impressive. He's sneaking up on that top group of offensive linemen in the state. There is nothing he lacks, and he checks every box.
Never miss the latest news from TexAgs!
Join our free email list
PRESENTED BY