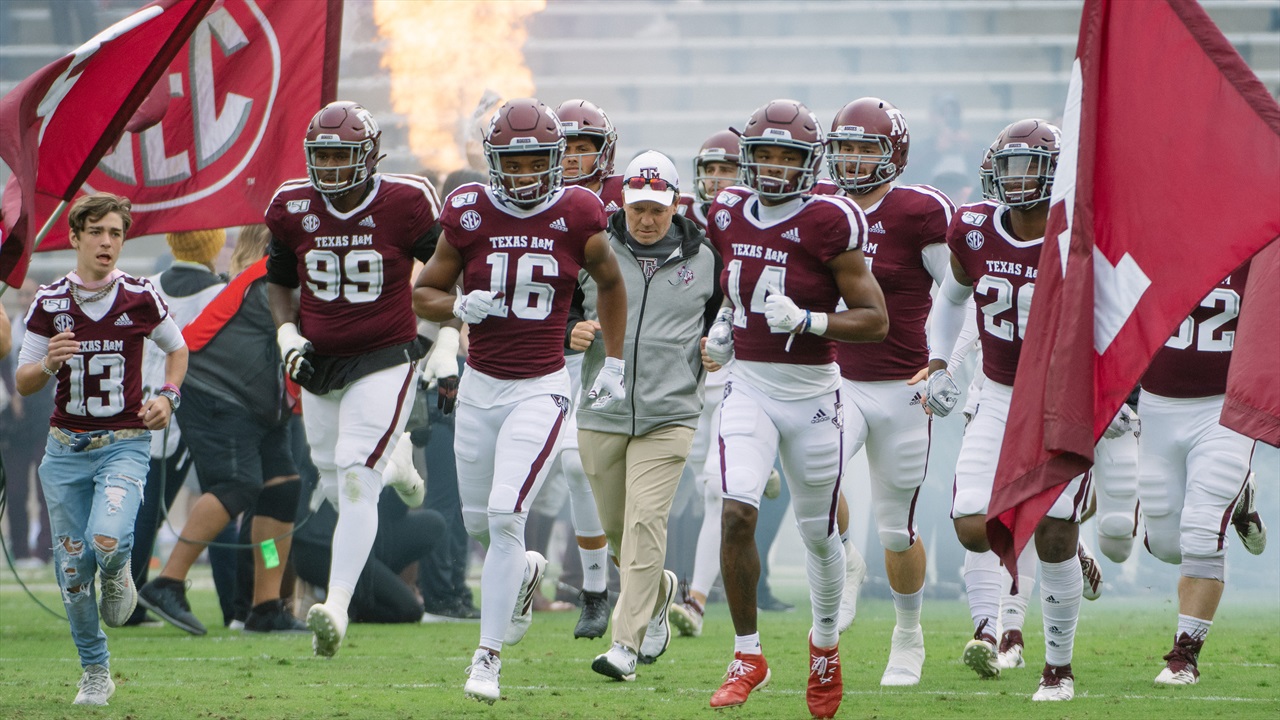 Photo by Rey Romo, TexAgs
Texas A&M Football
Surprised but prepared: Aggies' expectations still high despite opt-outs
---
Being surprised does not necessarily equate to being unprepared.
That was seemingly the message delivered by Texas A&M football coach Jimbo Fisher, quarterback Kellen Mond and linebacker Buddy Johnson on Monday in a press conference via Zoom.
They acknowledged some surprise at the recent decisions by receiver Jhamon Ausbon and linebacker Anthony Hines to opt out of playing the upcoming season. However, they maintained that the Aggies are not unprepared as they open the 2020 college football season on Saturday at 6:30 p.m. against Vanderbilt at Kyle Field.
A week ago, Ausbon announced that he would skip the upcoming season to prepare for the NFL draft. Losing Ausbon — who led the Aggies with 66 catches for 872 yards last year — leaves them without any proven receivers. Available receivers on the A&M's roster combined for just six catches in 2016.
Then, on Sunday, Hines cited concerns over the COVID-19 pandemic and social issues for his decision to sit out this season. Hines was A&M's second-leading tackler a year ago.
"We've built depth. We've recruited well for two years, three years. I like our energy. I like the development of our players."
Despite those subtractions, Fisher said he remains optimistic that A&M can reach the goals they have set for this year.
"We've built depth," Fisher said. "We've recruited well for two years, three years. I like our energy. I like the development of our players. What if they (opting out players) got injured? What's the difference?
"Those are things, as a coach, you deal with and try to plan for. I'm very encouraged by our younger guys who are stepping into those roles and how they're accepting those challenges. You hate to lose guys, but sometimes it becomes an opportunity for somebody else behind you."
Fisher sounded off a roll call of receivers who have made strong impressions throughout camp but seemed to particularly praise sophomores Jalen Preston and Caleb Chapman.
"We've practiced without Jhamon for a long time now," Fisher said. "Those guys have really taken advantage of their opportunities."
Mond agreed.
Although he and Ausbon are roommates and close friends, Mond indicated he's been building a rapport with several new targets.
"Kam Brown. Chase Lane. Jalen Preston has stepped up big," Mond said. "I've seen a bunch of receivers step up. Caleb Chapman. If we continue to work, I think we can be very dynamic with the guys we have."
There is a little bit more experience at linebacker, but not much.
Senior Aaron Hansford and sophomore Andre White both posted 15 tackles in backup roles last season.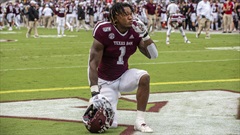 Lia Musgrave, TexAgs
However, there has been speculation that Hansford — who originally played tight end — had beaten out Hines for the starting linebacker position opposite middle linebacker Buddy Johnson.
Fisher did not confirm that theory but did acknowledge the 6-foot-3, 245-pound Hansford has performed well in practice.
"You hate to lose Anthony, but Aaron Hansford has really had a good camp," Fisher said. "He can rush. He can play. He's athletic as heck.
"(Freshman) Edgerrin Cooper has had a really good camp. (Freshman) Antonio Doyle. Buddy is being Buddy. [Andre] White. Chris Russell. [Ikenna] Okeke. Those guys are making plays."
Johnson, who led A&M with 77 tackles last season, echoed that.
"We love Anthony Hines, and we're going to miss him," Johnson said. "He's made a lot of plays for us, but we've got a game Saturday that we've got to get ready for and we're excited for.
"Aaron Hansford has been stepping up. Edgerrin Cooper, Antonio Doyle, T-Lee (freshman Tarian Lee): These guys have been stepping up big-time for us, just making plays. It goes back to the way they prepare."
As a returning starter, Hines figured to get most of the work in practice. Fisher said that was not the case.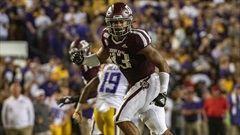 Lia Musgrave, TexAgs
"The way we practice in camp, everybody is getting the same amount of reps," Fisher said. "We practice ones (first-teamers), twos, threes and fours. They literally get the same amount of reps. From that standpoint, he didn't eat any reps up. I don't think that hurt us at all."
Indeed, Fisher reiterated that he liked the way his team was developing.
"I like their attitude, demeanor and how they communicate," Fisher said. "They're fun to coach. They've got me very encouraged that our culture is developing in the way we want it."
---
NOTES: A&M released its depth chart on Tuesday with many positions listing multiple players as possible starters. Fisher cautioned that no one should put too much attention on the depth chart.
"It's going to change every day," he said. "Don't put a lot of stock in everything you see there. It's not a big deal. Depth charts aren't huge to me because we play so many guys in the rotations."
There were no multiple starters listed on the offensive line, which is an area of concern. Four starters from last season return, though there have been rumors that freshman Layden Robinson is challenging senior Jared Hocker for the job at right tackle.
Fisher indicated he has decided on the five starters on the line but would not reveal whether it was those who were listed on the depth chart.
Fisher also had praise for 6-foot-5, 215-pound junior Connor Blumrick, a former quarterback who is shifting to tight end to help compensate the season-ending injuries to tight ends Baylor Cupp and Blake Smith.
"His body type, being 6-foot-5, he can run," Fisher said. "He's athletic. I'm going to tell you, Blumrick is tough, now. He'll put his face on you. He'll hit you. He's competitive.
"And being a quarterback, you pretty much know all the assignments."
Never miss the latest news from TexAgs!
Join our free email list
PRESENTED BY