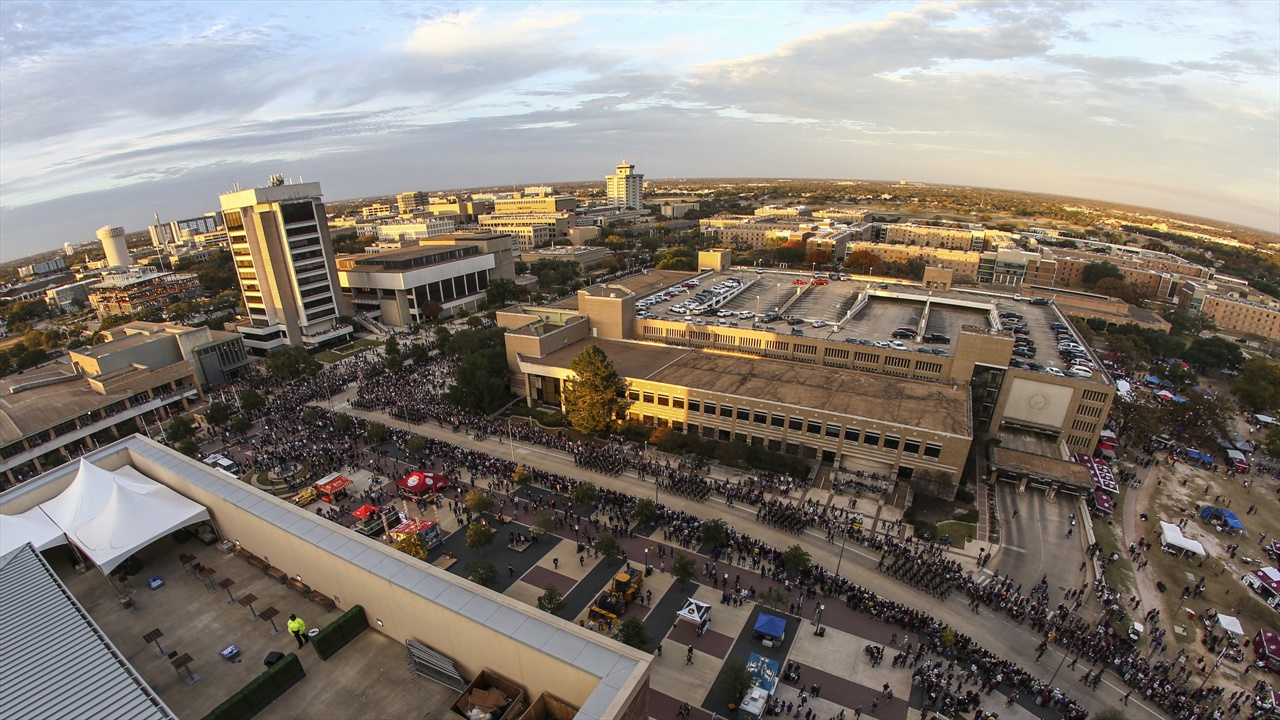 Photo by Troy Taormina/USA TODAY Sports
Texas A&M Football
It actually does mean more: Football vital for well-being of college towns
---
We're told 'it' just means more in the Southeastern Conference.
Maybe that's because SEC communities just need 'it' more.
'It,' of course, is college football.
Football is a driving force for pride, competition, fun, socializing and, quite frankly, the economy for dozens of smaller towns that transform into big cities on game days.
An often-repeated college football factoid is on game days, Nebraska's Memorial stadium becomes the state's third most-populated area — ranking behind only Omaha and Lincoln.
That distinction isn't limited to Nebraska.
Mississippi State's 61,337-seat Davis Wade Stadium becomes the state's third most-populated area in Mississippi on game days.
And when 80,868 pour into Death Valley on game day, the city of Clemson more than quadruples its population.
That's a lot of football fans. It's also a lot of visitors and consumers that spend a lot of money to boost local economies. Many college town businesses count on football weekends to thrive and, in some cases, survive.
Without football, hotel rooms will be vacant. Restaurants won't be near allowed-capacity. Grocery stores won't sell as much food and drink.
Jobs may be lost. Bills may go unpaid.
"We are impacted dramatically by the university. We're not an Austin, a Houston, a Waco."
According to a report in the Texas Tribune, a typical Texas A&M season with seven home games generates more than $140 million for the local economy.
"We are impacted dramatically by the university," College Station Mayor Karl Mooney told the Tribune. "We're not an Austin, a Houston, a Waco."
The same could be said in Starkville, Oxford, Auburn, Fayetteville, Clemson, Blacksburg, South Bend and other football-dependent towns across the country.
Those are all towns located within the SEC and Atlantic Coast Conference footprint. Not surprisingly, those conferences, along with the Big 12, have expressed an intention to play football this fall while trying to manage the threat of the COVID-19 pandemic.
It just means more, right?
Meanwhile, several other conferences — most notably the Pac-12 and Big Ten — opted against playing this fall. Instead, they're hoping for an abbreviated spring season.
Their local economies typically aren't as dependent on football weekends. Many of their teams are located in or near large metropolitan areas. Also, they don't typically draw as large of crowds on game day.
The Pac-12 has campuses in or within a half-hour of Los Angeles, San Jose, Oakland, Phoenix, Tucson, Salt Lake City and Seattle. Yet, a half dozen Pac-12 teams averaged fewer than 50,000 fans last season. Four averaged less than 40,000.
A half dozen Big Ten teams averaged less than 50,000 fans in 2019.
By comparison, ten SEC programs averaged more than 54,000 fans in 2019. Eight averaged more than 77,000. Of those, only LSU is located in a city with a population that exceeds 200,000.
SEC athletic directors are very aware of the economic impacts their games have on their communities. They also know all-too-well they need football games to balance their athletic budgets.
While revenue is vital, the issue of player safety is the deciding factor on whether to play this fall. No one would disagree with that.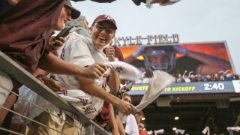 John Glaser-USA TODAY Sports
Therefore, the influx of game day fans — even if stadium occupancy is limited to 50 percent or less — could actually be an argument against playing.
"It's (the local economy) not really part of the equation," Texas A&M's director of athletics Ross Bjork said. "You look at the health and safety of the players. But it's definitely something we're all cognitive of, for sure. It does relate to the potential for community spread when you're talking about fans."
Hosting more people does raise the possibility of spreading the virus. Again, player safety has to be the top priority.
But what if the players feel safe? Through the #WeWantToPlay movement, players across the nation have expressed their desire to play. An organization of Iowa players' parents on Friday sent a letter blasting the Big Ten for canceling the season.
The SEC has instigated safety procedures that include testing for COVID-19 twice — and maybe three times — per week. Look for the Big 12 and ACC to adopt similar procedures that must be followed by their members — even Florida State.
The SEC has made it clear that its football teams will play this fall if at all possible. The SEC is slated to begin its ten-game schedule on Sept.26.
Until then, players, coaches, fans and local merchants will keep hoping the season will be held. Because in the SEC, it just means so much to all of them.
Never miss the latest news from TexAgs!
Join our free email list
PRESENTED BY