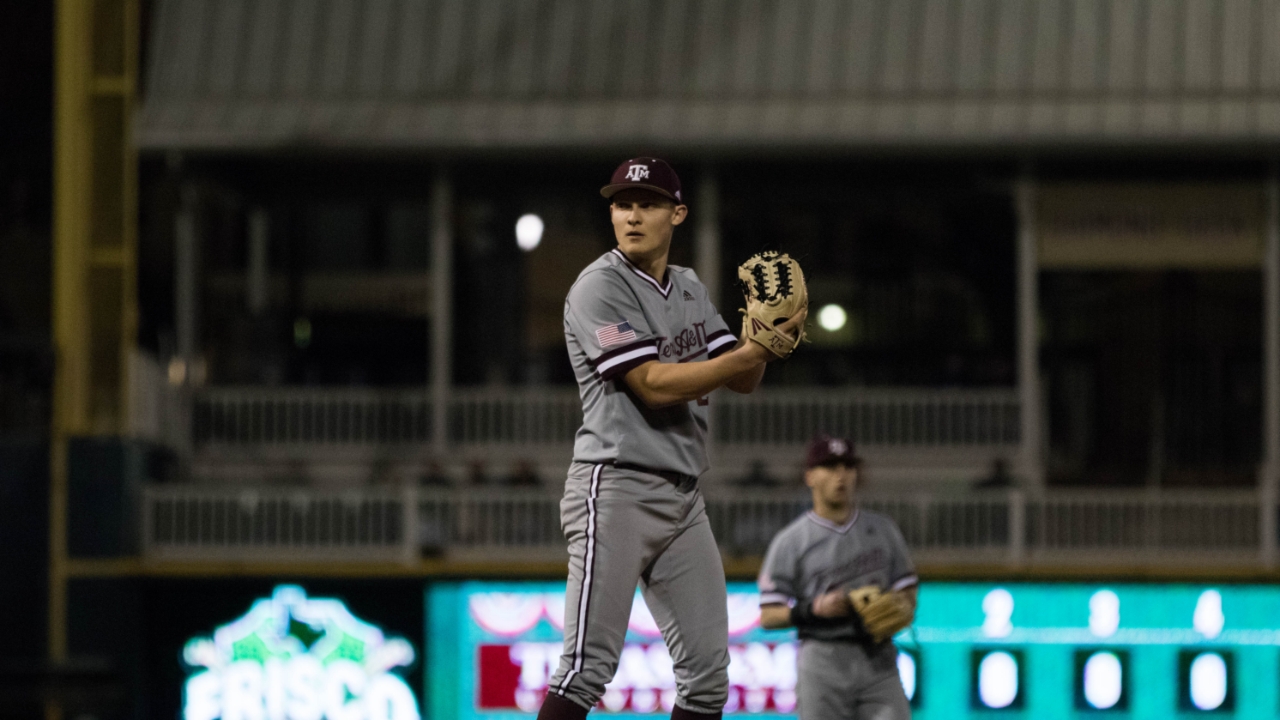 Photo by Angelina Alcantar, TexAgs
Texas A&M Baseball
Freshman left-hander Will Johnston uses odd offseason to his advantage
---
Key notes from Will Johnston interview
March was complete chaos. We were getting ready to get on a plane to go to Auburn and play our first SEC series of the year when they told us we couldn't go. It was devastating. Forty-eight hours later, I was back home in Keller. Total craziness.

I went to a place in Grapevine and was able to continue to weight train, but even that place got shut down early in March. Luckily, it opened back up in May, and I was able to pick up my weight training right before summer ball.

I went home thinking that I needed to get a lot better. There were some things I wanted to work on, so I focused on it. I threw a lot. I played with Shane Davenport and the Stix Five Tool team in Dallas. When our regular season ended, I joined up with the Brazos Valley Bombers. That was a lot of fun. It was cool to play with both teams, and it was fun. It helped me maximize my innings.

I missed all of my Texas A&M teammates, so playing with the Bombers, that was the best part of my summer. There were a few Aggies on the Five Tool team, but when I came back, it was like a reunion. It was great to see everybody and play with a lot of fellow Aggies this summer right here in College Station.

I asked Coach Childress straight up what I needed to work on and what it would take for me to get where I wanted to in this program. He told me that I needed to land my curveball and develop a changeup. While I didn't have a changeup last year, I did have a slider coming in. I was a fastball, curveball guy for A&M this year, but I wanted to be more. I picked the slider back up and worked on the changeup as well. I focused on my body too. I worked and worked and worked. Some good things happened, and I'm looking forward to picking it back up this fall.

I want to be a weekend starter as fast as I can here. I think that's where I can make my most significant impact at A&M.

You'd think that losing Christian Roa and Asa Lacy would worry us, but we're just reloading. We have so many dudes that can be frontline pitchers for this team with Jonathan Childress, Chris Weber, Chandler Jozwiak, Mason Ornelas, and Trevor Werner. And don't forget Bryce Miller. He was lights out as a starter this summer. He has developed a changeup to play off of his slider and curveball. He's got that legitimate four-pitch mix now. It's going to be a dogfight for those weekend rotation spots.

I'm going to carry my friendship with Asa Lacy with me the most. He's a good dude. Coming in, he was a guy I knew I wanted to work and talk with. Listening to how he talks and how his mind works — not just pitching, but wanting to be dominant and perfect in everything he does — rubbed off on me.

I could not mesh better with anybody other than Coach Childress. He pushes you to be your best, and I love that. There is always somebody better and doing something more. Coach Childress reminds you of that. The mentality of being a dog and going to work every single day is incredible.

I think Logan Sartori and Trevor Werner will both have great years. I've heard nothing but great things about the position players coming in. Taylor Smith is a guy to watch. I think everyone at A&M thrives from this dog-like mentality. I believe Trevor Werner and Mason Ornelas are going to be the two guys to watch this year, and they're both my roommates. Ornelas is going to be dominant. He does not miss his spot.
Never miss the latest news from TexAgs!
Join our free email list