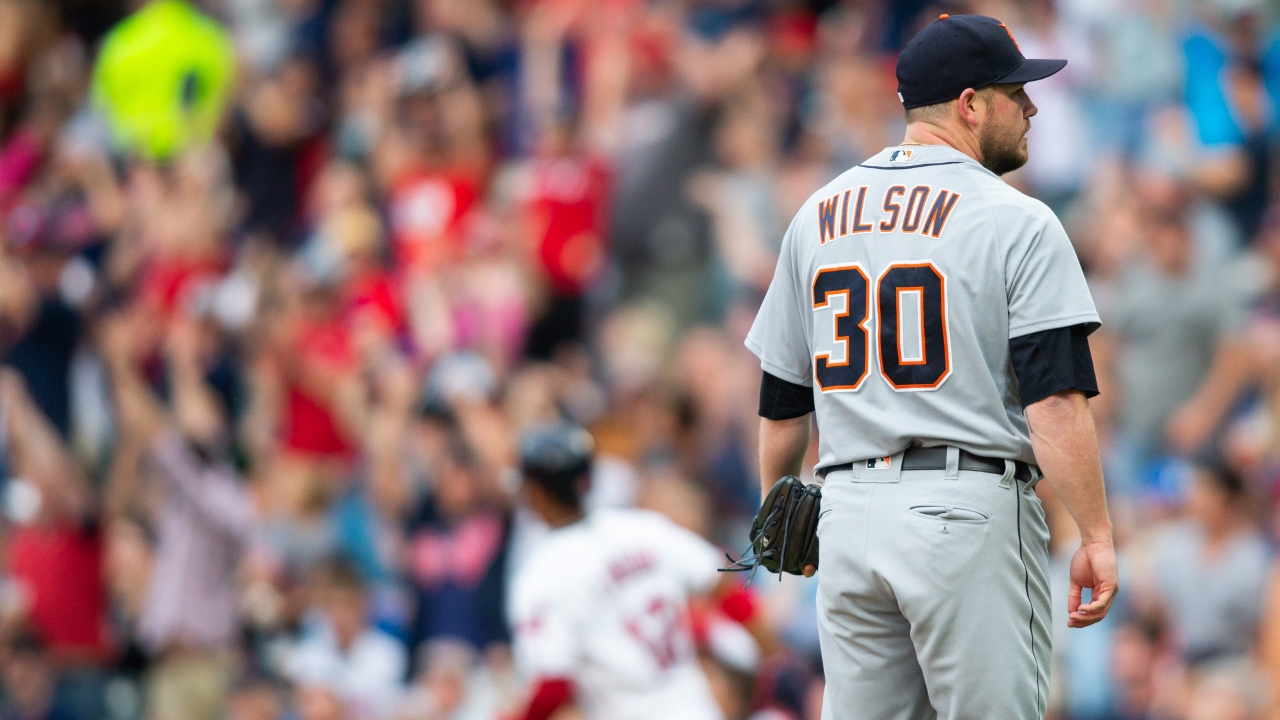 Photo by Scott R. Galvin-USA TODAY Sports
Texas A&M Baseball
Former A&M pitcher Alex Wilson embracing second phase of career
---
Key notes from Alex Wilson transcript
The Lab is a great new little facility here in town. If you're looking for a place for baseball lessons, it's the place to be.

I had every intention of running out and playing this year. I was staying in my routine. We went to spring training and did our thing, but when COVID hit, and we got sent home. I got to spend time at home with my family. My body ached a little bit. It was time to make the decision to hang them up. The writing was on the wall, and I decided it was time to retire before my body started breaking down. I'm ready to start the next chapter.

The agency that represented me during the last five years of my career approached me and wanted to bring me on board. There is nothing that I haven't experienced in my career, and I have a pretty good background in psychology. They want me to bring guys on board and keep that feeling of a locker room, which is one of the hardest things to lose when you retire.

It was important for me to stay in the game in any way possible. I didn't know if it was in coaching or a front office somewhere. I didn't know what laid ahead. This opportunity is a perfect fit and fits my personality. I get to be myself and more relaxed. A lot of this role will be relating to people. It was an easy decision once everything got laid out for me.

I was born in Saudi Arabia, but I was only there for a year and a half. My parents were there for five years, and we left once Desert Storm started kicking up. They decided to come back to the states. My dad was working in oil and gas at the time.

The World Series championship in my rookie year was great timing. I still talk to my manager John Ferrell to this year. My ring sits in my gun safe at my ring. I don't bring it out too much unless someone asks to see it. It's a little too obnoxious to wear around every day.

I bounced around, so the relationships I got to keep because someone was watching me play baseball are special to me. Everyone found ways to connect through that. I made a lot of friends through that. Other than that, standing on a big-league mound and controlling the game is amazing. A handful of career saves will probably stick with me too.

I think the best hitter I faced was Mike Trout. I couldn't seem to ever get Jason Kipnis out, though. Nelson Cruz was a tough at-bat. There wasn't an inch left in the batter's box when he stepped in. You just had to throw it in there and hope the odds were in your favor. Edwin Encarnacion hit a bomb off me at Fenway in 2013. He hit it over the lights and across the street over the Green Monster. It was one of those that you just watch it fly.

Fenway is a tough place to beat. The atmosphere and history are fantastic. It's one of my top ballparks. I also really like Seattle's ballpark. I love the retractable roof, and their bullpens are nice. Those are probably the two ballparks I liked the most.

Detroit ultimately told me they were going younger. I asked for my release. They ended up releasing the other older guys as well. It looks like I made the right decision. When you start throwing sidearm, and your bullets from that angle are harder than the ones over-the-top, it's probably time to hang up the spikes.

Rob Childress is excellent at creating routines for guys and understanding that guys are different. He connects with them individually, and that's a gamechanger at the college level. He had learned how to develop some serious arms who came in as nobodies and leave as serious dudes. It's about developing pitches and understanding the game. He's been good at teaching the game to guys and why it's essential to do certain things at certain times. I have been able to work out at A&M over the last 11 years, so I've gotten to know a lot of the guys and see the program grow. It's been exciting to watch.

I'm excited for Brooks Raley. He's been my throwing partner for a while. It took him some time to figure it out, but he's getting a chance to showcase it. He's an entirely different pitcher than he was five or six years ago. He is a better pitcher at 32 than he was at 22, which is rare.
Never miss the latest news from TexAgs!
Join our free email list