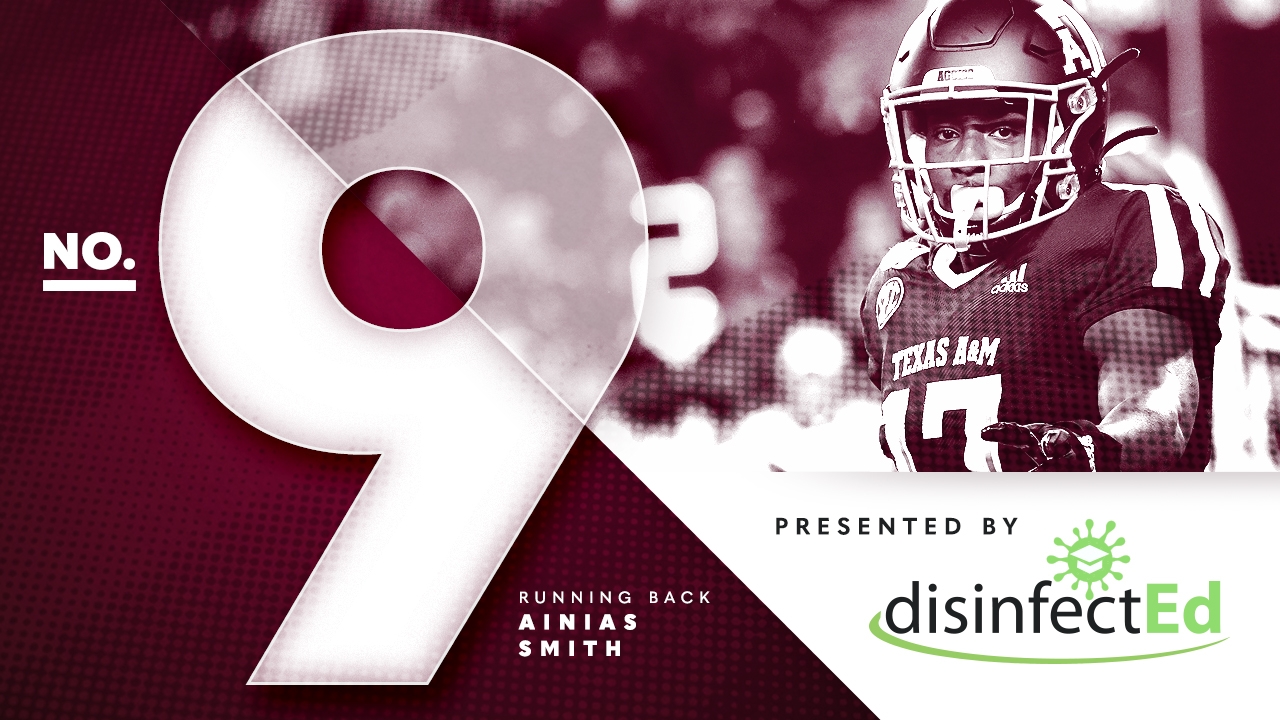 Texas A&M Football
30 Players in 30 Days #9 — Ainias Smith
---
Position: Running Back
Classification: Sophomore
Hometown: Sugar Land, TX
Listed Height: 5-10
Listed Weight: 193
Key notes from Olin's analysis on Smith
I don't know if Ainias Smith wants to play, but I want to see him play. He is an exciting guy. He reminds you of that guy you wanted to pick when you were playing neighborhood football because you just couldn't touch him because he's quick and has all these moves. He has that elusiveness that is natural and can't be taught.

I keep thinking about the pass he caught against Arkansas. It was a short pass, maybe eight yards downfield, but he turned it into a long gain just because of his elusiveness. He juked and got around two different guys in the span of like one yard.

I see Jaylen Waddle as a fast guy. Ainias is different. He's quick, but he's got all of these moves. He's so elusive. I bet he'd be a really good dancer. He's like watching a pinball machine out there.

He's a swiss army knife. He's a good football player, too. He knows who to block. He was a great blocker in the Texas Bowl when he was playing running back for the first time. He figured out the pass protection in his first game. He is not afraid of getting hit.

A lot of times, someone will be talking about a football player, and they'll say, "He's a great athlete." They mean that they're not the best football player. With Ainias Smith, you can't say that. He's a great football player, but he's also a great athlete.

I have no doubt that Ainias plays with a lot of confidence. He probably has a "chip on his shoulder" – and I hate that analogy – because he was "only" a three-star guy. Who didn't see this potential in high school? Seeing what he's doing in college, I can't even imagine what he did in high school.

Ainias has a brother, Maurice, playing in the NFL. Perhaps we're not too far off from calling Maurice "Ainias' brother." Ainias is going to play in the NFL.

The skeptics will ask why he only had 27 catches and didn't get the ball enough. We know the reason, and it became apparent at Georgia. He didn't really know the offense yet. However, this year, he will have a better understanding of his assignments. When that understanding gels with his natural ability, we could see something really outstanding.

I like the idea that Jimbo loves to throw to the running back in the flat. I like that they're going to throw downfield to Demond Demas. I like that they can throw it to Ainias over the middle, and I'll bet that he'll be able to juke around a linebacker, just like he did against Bumper Pool in the Arkansas game.
Follow the entire 30 Players in 30 Days series here.
MESSAGE FROM OUR SPONSOR
DisinfectED……Sanitizing, Disinfecting, and Protecting where we Work, Live, Educate, and Play. For more information, call Jason at 409-939-6323 or visit www.thedisinfected.com.
Never miss the latest news from TexAgs!
Join our free email list
PRESENTED BY