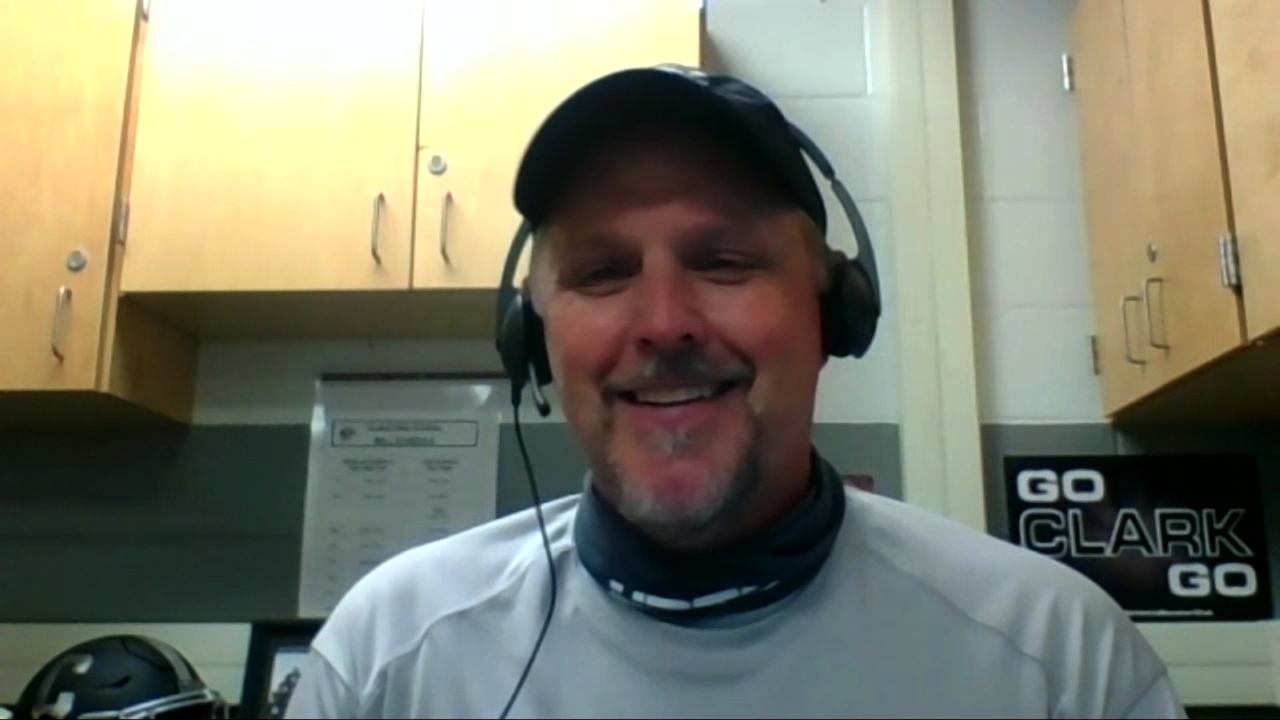 Texas A&M Football
Geist: Ainias Smith is a guy you can put anywhere on the field
---
John Geist was the head coach of A&M running back Ainias Smith at Fort Bend Dulles. He joined TexAgs Radio to offer his opinion on Smith's freshman season, and why his immediate success came as no surprise to him.
---

Key notes from John Geist interview
You know what kind of athlete Ainias Smith is, but he is just as outstanding as a man. What we said at the end of last year in our end-of-season meeting was that he was going to be a hard man to replace. Not just on the field, but also what he brought to the program as a leader and a guy that worked as hard as anyone on the team day in and day out.

I was not surprised to see Ainias earn early playing time last season. He's the guy you come across and know he will be successful anywhere he goes because of the mindset that follows him. The work ethic he had gave me all the confidence in the world that he was going to be a great player at A&M right out of the gate.

Ainias' mindset every time he takes the field is that he's the best player in the country; he has no reason not to think that. The vision he has on the field is elite. He can go vertical very quickly, but once he goes horizontal, he can make a guy miss and be right back to full speed in almost no time at all. That makes him incredibly hard to tackle.

I always knew Ainais could play anywhere we wanted to put him on the field, and Jimbo was one of the first college coaches to realize that. The team that was going to land him was the team that figured out that getting the ball to him in space was absolutely the right move.

He wasn't just an offensive player for us either. He received defensive honors as an all-district player and he was only on the defense part of the time for us. He was even our punter for a little while.

Once I got to Dulles, it wasn't hard to see right away that Ainias was a special talent. His work ethic was more about the way he carried himself, his demeanor in how he approached everyday work. The first time I got to see him get the ball in space, that's when we knew what we had in him.

What caused him to fall through the cracks on a lot of program's radars was his size. Teams overlooked him because he's only 5-10 and isn't a bulky guy. When you give him a chance, you see that he is a rare talent and someone who is deserving of a chance. He can go up and get the ball. He can make moves and create plays out of nowhere. He brings leadership and hard work wherever he goes. He still had a lot of offers coming, but A&M was one of the hardest schools after him. We wanted to see him go where the team would use him to the best of his ability. I'm elated that ended up being Texas A&M.

If you want to know what kind of player you have representing your university, look no further than the fact he was one vote away from being a team captain for us as a sophomore. It wasn't just a title for him either. He is everything you want in a student-athlete. He will be one of the best ambassadors for Texas A&M.

It's awesome to see him play at my alma mater. He's like a son to me, and it's like watching your own son play at your school. I'm so happy he is there and playing early, but it is not a surprise to me at all to see him successful this early in his career.

I think the way A&M is using him in the offense right now is incredible. He's a guy you can put anywhere on the field without having to take him out. That's a special kid in that you don't know where he is going to line up three plays from now, but he will be successful wherever you plug him in.

Adding a guy like Devon Achane opposite Ainias could be an insane pairing because it creates a serious matchup problem. Who do you give more focus to? You can create some serious fits for defensive coordinators when you have guys like Ainias Smith and Devon Achane on the field at the same time. It will be very exciting to watch.

I think Jimbo has done a fantastic job so far at A&M. He has shown that a priority for him was to show the state just how passionate he is about high school football and the kids he is recruiting. He has done an incredible job of networking with the coaches in this state, and it shows in how many kids really want to play for him at Texas A&M.
Never miss the latest news from TexAgs!
Join our free email list