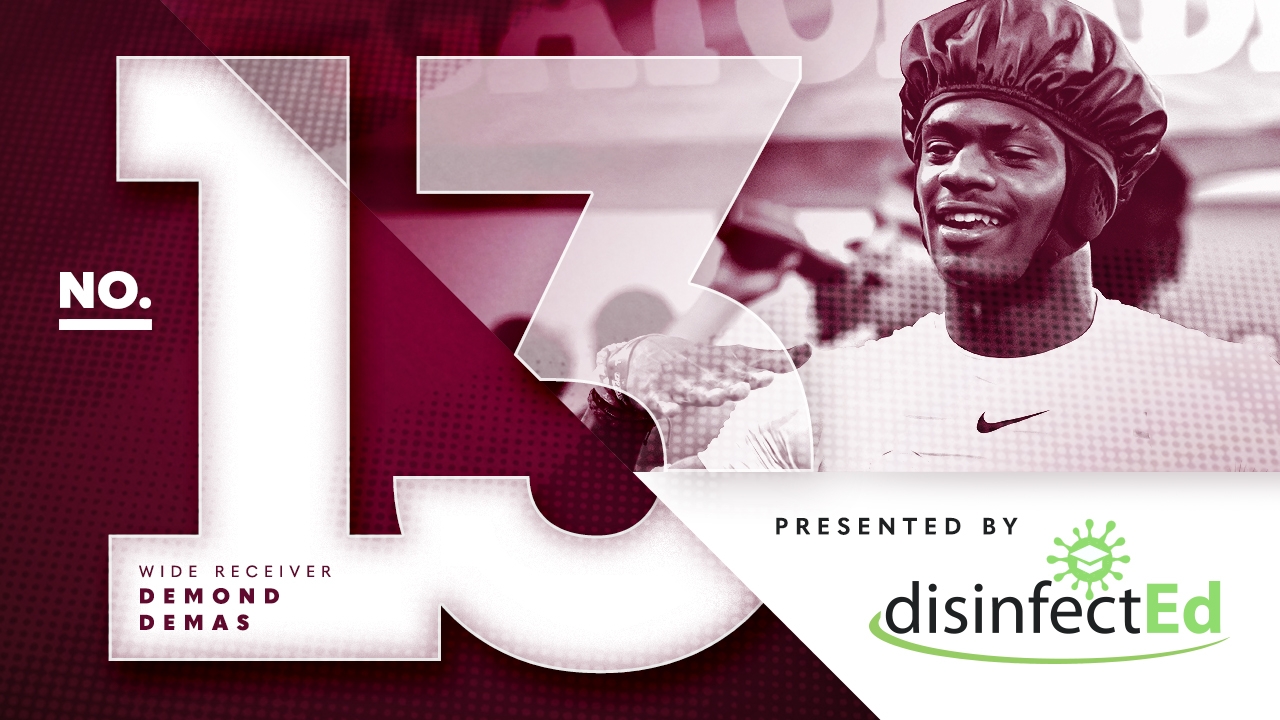 Texas A&M Football
30 Players in 30 Days #13 — Demond Demas
---
Position: WIde Receiver
Classification: Freshman
Hometown: Tomball, TX
Listed Height: 6-4
Listed Weight: 195
Key notes from Olin's analysis on Demas
I think he is going to be a great player. The question is when will he be a great player? In his freshman year or next year?

The ability is there and you see it in his highlight tape, but you can see his athleticism in the crazy moves he makes. He didn't play all year, but he went and played in this all-star game and was incredible.

I remember when Roy Williams was at Texas. He caused some commotion at Texas. Demond Demas strikes me as someone who could have that kind of impact. I think Demond Demas is going to end up being better than Roy Williams.

Demas has everything you want in a receiver. I like how he tries to recruit for A&M. I like everything about this kid. Sticking it out at Tomball after the whole situation with the UIL tells me a lot about his character. He was doing it to help his family. Everything about this kid is something to like. I like how he carries himself. He committed early and stuck with it, even though there were plenty of people trying to poach him.

His comments on signing day remind me of a Michael Irvin quote from when they were playing Oklahoma. Irvin said to get some zone help on him and the defensive backs could come join him in the NFL. Playing one-on-one would land you in the arena league. Demond strikes me as that kind of player.

Picking up the offense and acclimating to college football is going to be a process for him, but even if it doesn't come easy for him, there will be a role for him. I think you could just run Demond deep and have plenty of success.

Another guy that comes to mind is Julio Jones as a freshman at Alabama. Demond could have a very similar impact as Jones did in his first year. It'll depend on when he can figure out what he's supposed to do on each play.

Demond Demas, just by being on the field - even if the ball isn't coming to him - will make the offense more dangerous. It'll stretch the defense which will give all of the other offensive weapons plenty of space to operate. He will get doubled, which will open it up even more.

On the first play of every game, I think they should throw it deep to him. If it's complete or not, you're telling the opposing defense that he's somebody they're going to have to watch for the entire day.

I look at Demond not playing last year the same as a guy who misses his senior year of high school with an injury. Demani Richardson didn't play as a senior, and look at the impact he had as a true freshman last year.
Follow the entire 30 Players in 30 Days series here.
MESSAGE FROM OUR SPONSOR
DisinfectED……Sanitizing, Disinfecting, and Protecting where we Work, Live, Educate, and Play. For more information, call Jason at 409-939-6323 or visit www.thedisinfected.com.
Never miss the latest news from TexAgs!
Join our free email list
PRESENTED BY