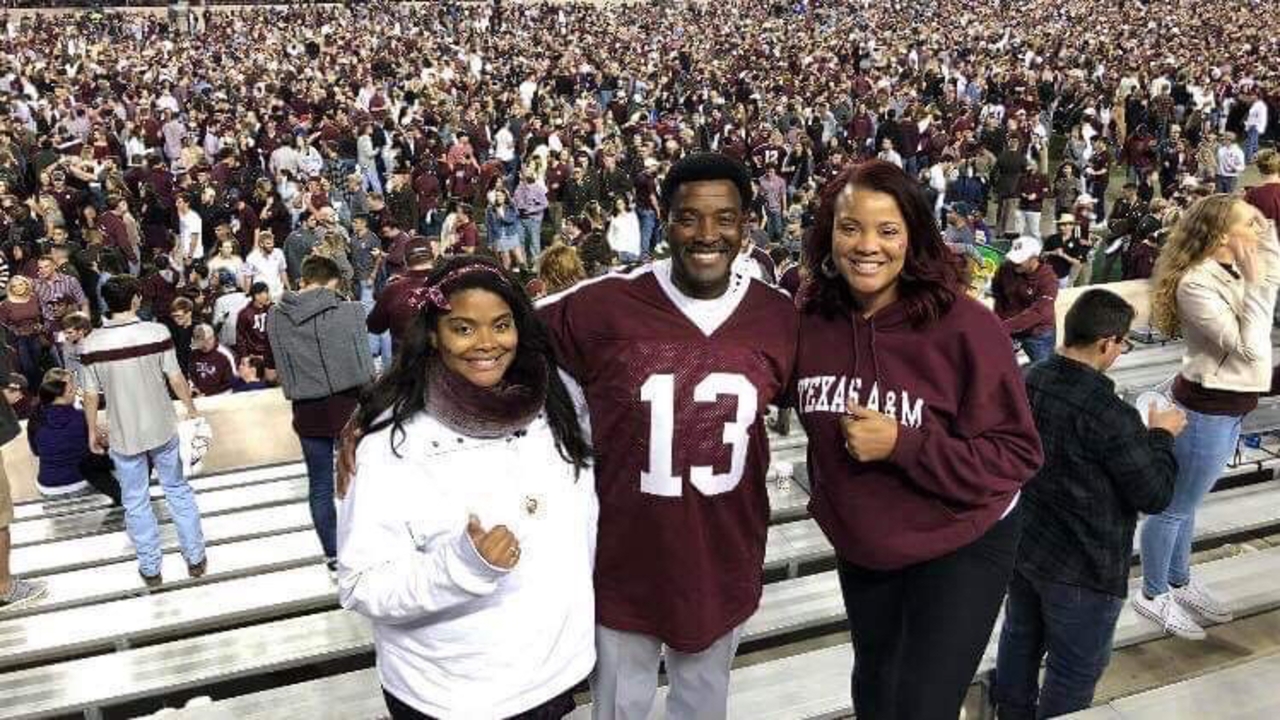 Photo by Carter family
Texas A&M Football
Lunch with Mr. Carter: A reminder that we need football as much as ever
---
Origins of fandom vary.
Fandom can be passed along from parent to child like a family heirloom. Fandom also can be born in rebellion. Fandom is often dependent on geography. It may be acquired by choice of a specific institution of higher education. It can be based in admiration of an individual.
Morris Carter's Texas A&M fandom was established when he started his career as an engineer.
"When I went to work, all these guys were from different Southwest Conference schools," Carter recalled at a recent lunch. "They'd say, 'Your team did this' or 'You got beat by that team.'"
Since then, Mr. Carter, an affable 70-year-old gentleman who lives in Spring, has been an avid Texas A&M football fan. He's never held season tickets, but he has attended countless games at Kyle Field and has made road trips to other games.
He watched the cotton rain down at Kyle Field in 1985. He saw Brian Gamble reach to Heaven after the Bonfire game. He saw Kevin Murray lead a comeback win over Baylor in 1986. He waited out all seven overtimes to see the Aggies defeat LSU in 2018. He watched Johnny Manziel walk the tight rope for a touchdown against Oklahoma in the 2013 Cotton Bowl. The next year he traveled to Atlanta to witness Manziel's final game at A&M.
Carter follows the Aggies with passion. He frequently wears shirts adorned with the A&M logo. The walls of his "man cave" are decorated with Texas A&M memorabilia. There's a photo of him with Kevin Sumlin. There's another with R.C. Slocum. A framed No. 12 jersey hangs on one wall. He has jerseys signed by Sean Porter, Mike Evans and Bucky Richardson.
Morris Carter has sent two daughters — Shauntel ('98) and Chrystal ('05) to Texas A&M. Both earned degrees and have started successful careers.
Morris Carter has sent two daughters — Shauntel ('98) and Chrystal ('05) to Texas A&M. Both earned degrees and have started successful careers.
Based on his guitar rendition of Zac Brown's "Chicken Fried"… well, he probably plays the War Hymn, too.
Mr. Carter isn't much different than hundreds of thousands of other Aggies.
However, a recent lunch meeting with Mr. Carter was a reminder of how much we yearn for the return of football. Perhaps even more so, it was a reminder of why we need the return of football.
That comes later—first, some background on Mr. Carter.
He's a native of Bryan. He attended the segregated E.A. Kemp High School before desegregation. He earned money selling Coca-Cola in the bleachers at Kyle Field.
"We got to keep a percentage of sales. And we got to see the games," Carter recalled. "By the end of the game, you'd be wet and sticky from the cokes spilling on you."
Mr. Carter wasn't always cheering for the Aggies, especially in the 1967 opening 20-17 loss to SMU.
"I was cheering for Jerry Levias," he admitted.
Why not? The dazzling Levias was the first black scholarship athlete in the old Southwest Conference. At that time, black students weren't always welcome on college campuses in southern states. When he was in high school, Carter wasn't planning to attend A&M.
After graduating from Kemp in 1968, he followed a group of friends to Lamar University (then known as Lamar Tech). There, his grades were solid, but his bank account dwindled. A change was necessary.
In 1969, Carter transferred to Texas A&M, where he estimated he had 15 black classmates.
"It was the best decision of my life," Carter said. A second later, he corrects himself. "Well, it was the second-best decision of my life. The first was marrying Theresa."
Carter earned a degree in Mechanical Engineering in 1972. He and wife Theresa, a Hearne native, then moved to Port Arthur to work for Gulf Oil Company
"[Transferring to A&M] was the best decision of my life. Well, it was the second-best decision of my life. The first was marrying Theresa."
He stayed there for 37 years. Gulf Oil gave way to Chevron, which gave way to Premcor. Eventually, he retired from Valero. He draws pensions from three companies. Meanwhile, Theresa retired from her career as a high school teacher.
They took a cruise. Then another vacation. And another. After a while, Mr. Carter had to retire from retirement.
He now works part-time as a consultant to the oil & gas industry. When he's not working, he's bass fishing, playing golf, plucking on his guitar, watching sports or getting involved in social media debates.
Which brings us back to the lunch.
A social media discussion about racial issues resulted in plans to continue the conversation face-to-face the next time he was in College Station.
A couple of weeks ago, Carter texted that he would be in town to visit family.
Lunch was on.
A restaurant was suggested. A time was set. He showed up wearing — what else? — a maroon A&M golf shirt.
The social debate? That lasted maybe five minutes. There were agreements. There were disagreements. There were agreements to disagree.
Reasonable men can disagree and remain friends. Reasonable men would also rather talk football than politics. On that, we could both agree.
Gabe Bock soon joined us. Mr. Carter had previously met and had a photo taken with TexAgs' co-owner Billy Liucci. He'd also previously had a photo taken with me. He hoped to get one taken with Gabe to complete the TexAgs triumvirate.
Mr. Carter, Gabe and I spent the next hour talking A&M football. We learned he had a friendly relationship with quarterback Kellen Mond's father. We analyzed every position. We broke down the schedule. We predicted which players might have a break out year and which ones needed to improve. We discussed every subject involving Texas A&M football.
We did not discuss protests, pandemics or politics. Instead, we expressed our hopes that the football season will be played. It was a reminder of how sports — and football in particular — bring Aggies together.
Finally, Mr. Carter posed for a photo with Gabe. Triumvirate completed.
The conversation continued into the parking lot. The discussion ended when Mr. Carter climbed into a pickup truck.
Predictably, a Texas A&M decal was on the back window. The maroon-and-white license plate read: "72GIGM."
Never miss the latest news from TexAgs!
Join our free email list
PRESENTED BY