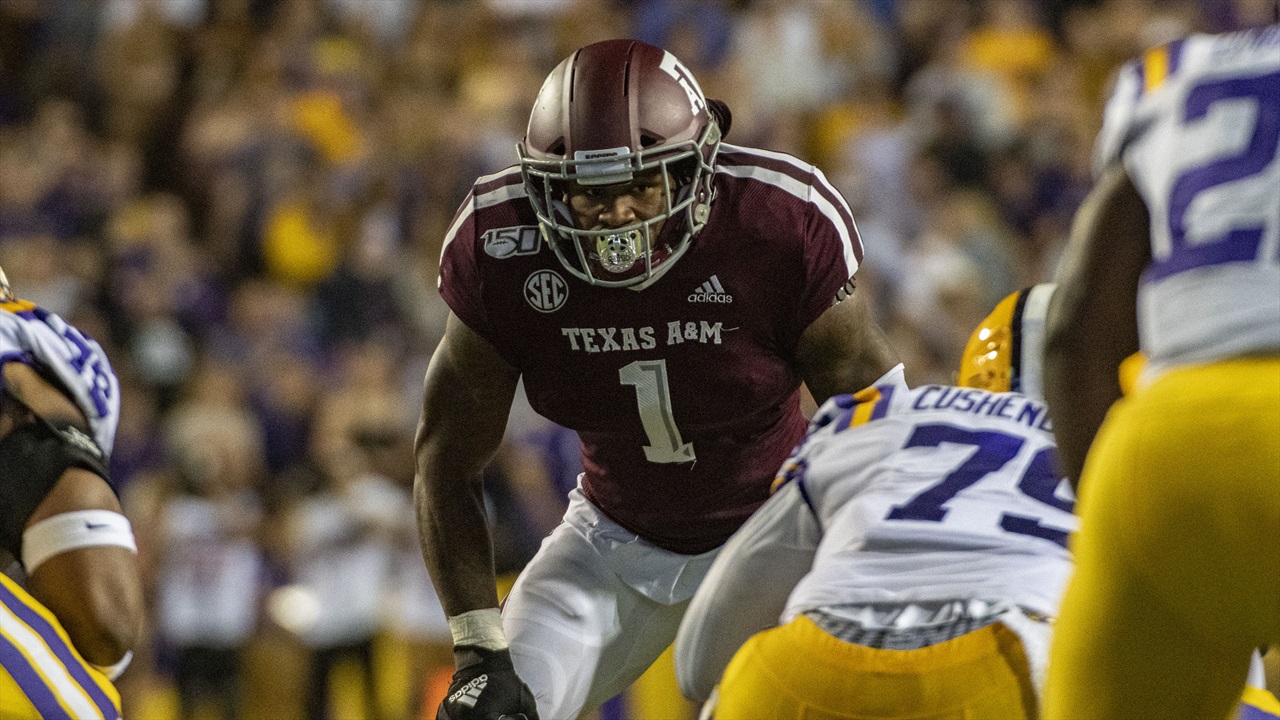 Photo by Lia Musgrave, TexAgs
Texas A&M Football
Cofer: Buddy Johnson is a kid with "Sunday" potential
---
Key notes from Henry Cofer interview
I was blessed to be around Buddy Johnson during his last two years in high school. You could see then he had a dream to play football. He's also still an active member within the community when he's back in Dallas, and it is always good to see him. It was easy to see back then that he had that "it" factor.

It's important when guys like Buddy are seeking to be involved in the community. It was never just about athletics for Buddy. He did so much for the team as a captain and as a leader. He was a guy that when he spoke, everyone listened. I tried to use my time with him to get him to think out of the box in different ways to make him better. He would be here on the weekends working out when no one else was, and you could see how it paid off for him.

His mother is a big reason he has such a great work ethic. She protected him and made sure he was working very hard for everything he wanted to accomplish. I can recall one time back in 2015, his family moved further away from the school where the bus route didn't pick up. Buddy was responsible for getting himself to school, and after so long of that, his mother tried to move schools to make it easier on him, but I asked her to give us a chance to let us take care of him. Thankfully, she did.

I hope I'm not wrong in saying he was a freak athlete. He's a Sunday kid, a guy that will play in the NFL. Back when he played for us, Buddy wore glasses, and I had to ask if he could see without them. We worked out a situation where we could get him some contacts. Once he got those contacts, his world changed, and his game took off. He makes no excuses; he just goes out and does his best everywhere he goes.

I think you have to trust your eyes as a linebacker. Coaches would always ask what position he played, and I told them anywhere you want, but he's a linebacker first. He makes the reads that only a linebacker can make. While he was a second-team offensive player, he was a first-team linebacker. Instinctively, linebacker has always been his best position. It was just a matter of time until a team saw the kind of talent he could provide in the linebacker room.

You always knew he would be able to adjust and react correctly in the college game. When you take a kid like him, you know what you get with him. Academically, he was going to take care of himself. Athletically, he was going to put everything he had into being successful. It is really cool to see it paying off for him from afar.

Buddy knows I'm an honest coach, and the biggest thing I've seen from him is that he has fully grown into the position. When he can make changes on the defense and move guys around on his own, that tells me that he knows exactly what he is doing and that he has taken on that veteran leadership role you want to see from your linebackers.

It was always important to me to show our players that it takes a team to accomplish the goals we want to set. One time he missed practice to film a signing day commercial, so I tried to set an example that the team comes first, so I benched him for the first half of one of our games. He was upset, and you could see how much it affected him, but it allowed me to talk to him about accountability and being a team player. Once I let him loose, he became a different player. He can take over a game, and I think you'll see more of that and more of a leadership role from him this season.
Never miss the latest news from TexAgs!
Join our free email list