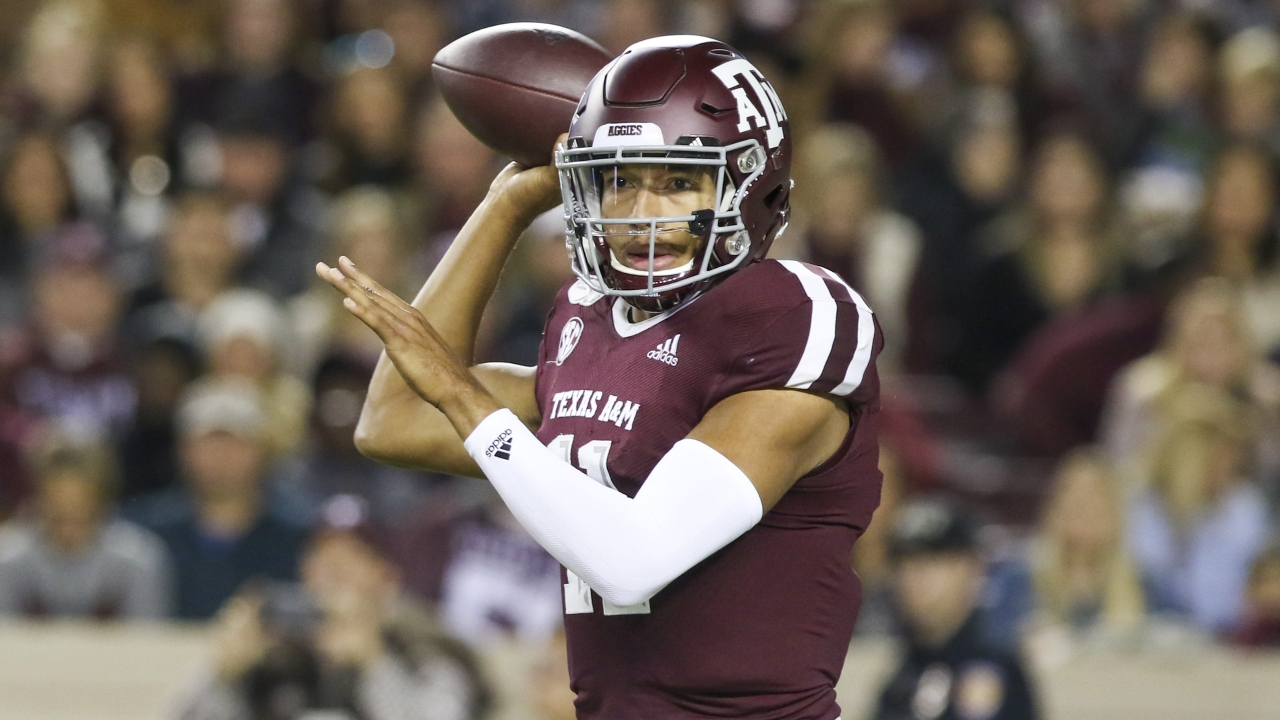 Photo by John Glaser-USA TODAY Sports
Counting on Experience: Mond gives Aggies an edge its 2020 foes don't have
---
Experience is a valuable commodity. It teaches and it preaches.
It often provides a significant advantage, especially for a college quarterback. Experience does not, however, guarantee success. Nor does a lack of success guarantee failure.
Johnny Manziel and Jameis Winston won the Heisman Trophy as redshirt freshmen. Trevor Lawrence led Clemson to a national championship as a true freshman.
But for every example like that, there are probably a dozen more quarterbacks that need time to develop or fit into a system.
"I firmly believe in certain offenses it's easier to plug and play," said former A&M quarterback Stephen McGee. "I believe in (coach Jimbo Fisher's) system, experience is really valuable because they put so much on the quarterback's plate to make pre-snap adjustments to get the team in the right play. I think it takes time and reps to get comfortable to where you're playing and not thinking."
That's great for Texas A&M. Not only will the Aggies enter the 2020 football season with senior Kellen Mond in his third year as a full-time starter, but the schedule is saturated with opposing quarterbacks that have precious little playing experience or experience in their current offensive systems.
Eight of A&M's 12 opponents will have new quarterbacks. Only one — Auburn's Bo Nix — started every game last season.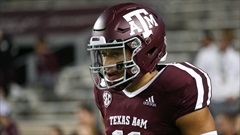 Matt Sachs, TexAgs
Former A&M quarterback Jerrod Johnson is among those that believe the quarterback experience factor will be a major advantage for the Aggies.
"At the very least (Mond) knows situational football," Johnson said. "He can get you in and out of plays. He knows on third-and-seven and (the opponent) with no time outs instead of running out of bounds to slide. That's a winning play. Little things like that you've got to give to a veteran."
That might seem a little surprising coming from Johnson, who had success with little experience. He passed for 2,443 yards and 21 touchdowns as a sophomore first-year starter in 2008.
Also, as an Aggie, he saw up close Manziel's magical 2012 Heisman season.
Johnson acknowledges great talent will overcome some disadvantages. Still, he maintains that experience cannot be overvalued.
"I definitely think guys with that type of success are more the exceptions than the rule," he said. "It's not a talent thing. Guys have success with unique talent."
"But wins and losses come in situational football… the two-minute drive, sliding, don't take a sack in the red zone. It's a lot of little things to think about at once. How much time is on the clock? How many timeouts do you have?"
"The deeper you get into it you can process more information. Those are things you deal with in crunch time."
"I view that as a huge advantage," McGee said. "He's in the third year of Jimbo's system. I think he's going to be comfortable with all the things at his disposal."
McGee agrees. He emphatically believes Mond's experience is a major factor. He also thinks the cancelation of spring football because of COVID-19 will pose problems for many A&M opponents.
"I view that as a huge advantage," McGee said. "He's in the third year of Jimbo's system. I think he's going to be comfortable with all the things at his disposal."
"Even more so it's a huge advantage for A&M in that the COVID-19 virus stuff has set back some signal-callers. In my opinion offseason and spring football is really for quarterbacks. They get the most out of it. For teams with young quarterbacks and young players in general that are going to have meaningful roles… that's a disadvantage for them."
Here's a look at the quarterback position for A&M's 12 opponents in 2020:
Abilene Christian: Luke Anthony passed for 2,525 yards and 17 touchdowns last season. Then, he transferred to Louisiana Tech. The Wildcats likely will start Peyton Mansell, a transfer from Iowa who rarely played there.
North Texas: The program's all-time leading passer Mason Fine completed his eligibility with more than 12,000 passing yards and 91 touchdowns. His successor is uncertain. Last year's backups Jason Bean and Austin Aune, once a transfer from Arkansas, combined to throw for 312 yards in 2019.
Colorado: Steven Montez passed for 9,710 yards — the second-highest career total in Colorado history. He signed a free-agent deal with the Washington Redskins. Backup Blake Stenstrom transferred to Princeton. That leaves the Buffaloes with Tyler Lyle, who attempted one pass in 2019. It was incomplete. Incoming freshman Brendon Lewis figures to have a real shot at starting for first-year coach Karl Dorrell. Just in case, though, Sam Noyer moved to quarterback from safety.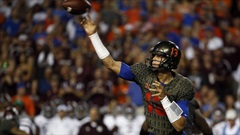 Kim Klement/USA Today Sports
Arkansas: The Hogs used five quarterbacks in 2019. The two most productive are gone. Nick Starkel transferred to San Jose State, and Ben Hicks completed his eligibility. But the position is upgraded with the addition of Florida transfer Feleipe Franks. He passed for 2,457 yards and rushed for 432 in the 2018 season before suffering a season-ending injury in September of 2019.
Mississippi State: Sophomore Garrett Shrader is the returning starter, but isn't expected to start for first-year coach Mike Leach. Shrader is an effective runner, but Leach prefers throwing on almost every down. Stanford transfer K.J. Costello, who has thrown for 6,151 yards in his career, is expected to take over the starting role.
Fresno State: Jorge Reyna passed for 2,655 yards in 2019 but also completed his eligibility. The Bulldogs' likely starter is either Ben Woolridge, who passed for 30 yards last season, or Jake Haener, a transfer from Washington. Haener passed for 107 yards in 2018.
Auburn: Bo Nix was predictably inconsistent as a true freshman starter. He passed for 2,542 yards and 16 touchdowns. He projects to be better as a sophomore, but he'll have an unproven offensive line.
South Carolina: Sophomore Ryan Hilinski figures to retain his starting job. But that's not assured. Though Hilinski passed for 2,357 yards as a freshman, he must stave off challenges from highly-regarded incoming freshman Luke Doty‍ and grad transfer Collin Hill. Hill played at Colorado State for new Gamecocks offensive coordinator Mike Bobo.
Ole Miss: John Rhys Plumlee returns as the starter after a solid freshman year in which he rushed for 1,023 yards. He only passed for 910, though. If he doesn't improve as a passer, new Rebels coach Lane Kiffin might call on sophomore Matt Corral.
Vanderbilt: Every quarterback on the Commodores 2019 roster either completed eligibility or transferred. That leaves junior college transfer Jeremy Moussa and true freshmen Ken Seals‍ and Mike Wright competing for the starting job.
Alabama: Injuries to Tua Tagovailoa forced Mac Jones into the starting lineup for four games in 2019. He passed for 1,503 yards and 14 touchdowns. He closed the season by throwing for more than 300 yards against Auburn and Michigan. Jones figures to remain the starter, though he'll be challenged by incoming five-star freshman Bryce Young.
LSU: Junior Myles Brennan is expected to be the successor to Heisman Trophy winner Joe Burrow, who passed for 5,679 yards and 60 touchdowns. Brennan has passed for 600 yards and two touchdowns in his career.
Never miss the latest news from TexAgs!
Join our free email list
PRESENTED BY