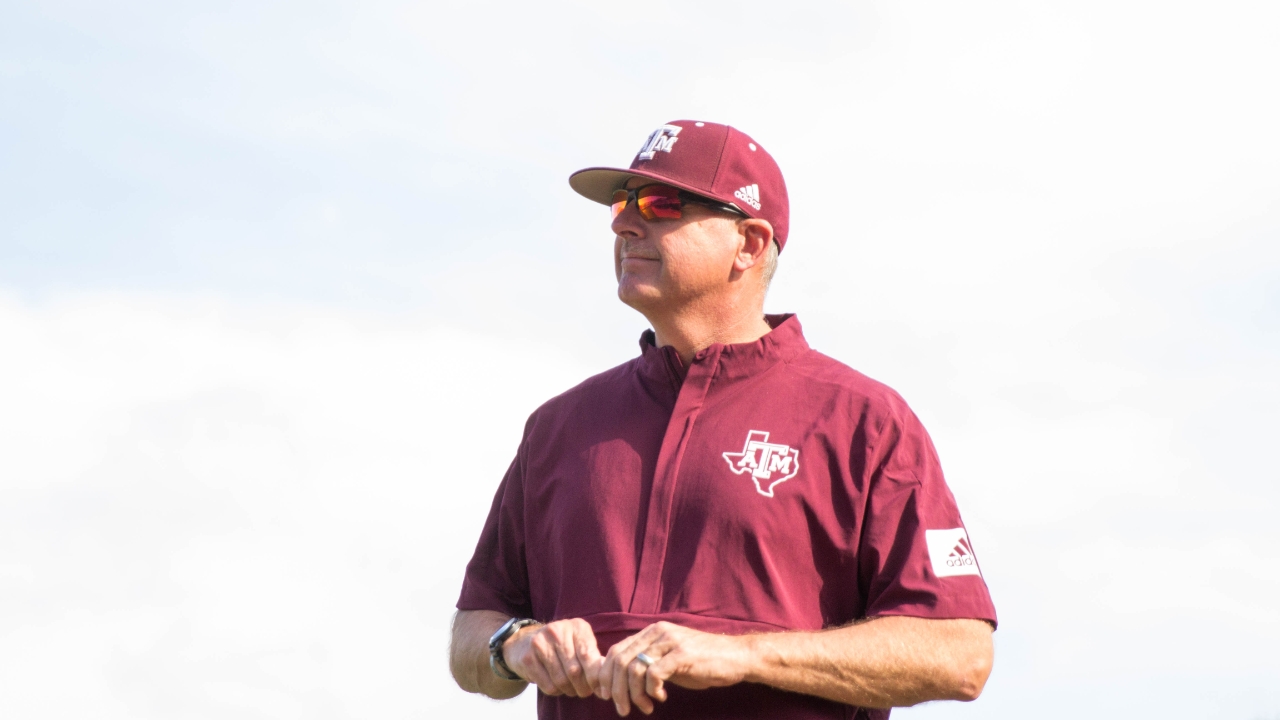 Photo by Angelina Alcantar, TexAgs
Texas A&M Baseball
Rob Childress analyzes Texas Aggie draft hopefuls
---
This week, MLB will hold the 2020 Draft which will consist of five rounds, 35 less than normal. Despite the shortened draft, a handful of Aggies are still expected to be selected. Aggie baseball head coach Rob Childress joined TexAgs Radio to discuss his top prospects.
---

Key notes from Rob Childress interview
In the normal times, our hope would be that we'd be getting on a plane to go to Omaha. It's been surreal these past few months. Right now, we have six players downstairs lifting. That's something positive for us and has been outstanding for us. A&M has been out in front of how we've gone about it. I think other universities are looking towards us and how fearless we've been about this whole thing. I'm very thankful for our leadership through this pandemic.

Next season, through college baseball, there will be older rosters. A lot of guys who would've been gone will be coming back. Several guys are going to go in this five-round draft, but guys who would've signed out of the later rounds are going to be back. Some of the guys we've signed out of high school will be making it to campus that wouldn't have under a traditional 40-round draft.

There will be a trickle-down effect from an "employment" standpoint with kids looking for roles on teams. There aren't going to be enough roster spots. The transfer portal is going to continue to grow as guys look for places to play.

I'm thankful the NCAA gave everybody what is basically a redshirt year. The trickle-down effect will hit everyone on the 11.7 scholarship limit and the roster cap. We're hearing that these caps are being lifted temporarily. My hope is that they give us a couple of extra scholarships, but I'm skeptical that actually happens. You're going to see rosters get really big. Unfortunately, kids are going to be left in the cold. I think this relief will be just a one year deal. I think the 27 will be taken to 32 and the roster cap might be lifted, but I doubt we get more scholarships. Eighty percent of college athletic departments are in crisis right now, so I'm not sure they'll be in favor of more scholarships.

We might lose 3-5 players this week. The first three rounds will go off like normal. The last two will raise some eyebrows. How Major League teams with a lot of selections approach this draft could lead to some surprising results this week.

We sweated during Asa Lacy's senior year of high school when the Cleveland Indians took him. We were happy to get the strong-armed lefty to campus and he needed to be refined. He played at Kerrville Tivy for Chris Russ, one of the best of all-time at A&M, who instilled that fight in him. He never had a breaking ball and still threw 40+ innings for us as a freshman. He found his way into the rotation the next year. Every day, when his feet hit the floor, he wants to be the best at whatever he does. He leads from the front and always wants to help the young guys. One of the joys of coaching this kid is watching how he leads.

In Lacy, you're going to get a front-end of the rotation guy. I talked to Asa before the season started about the difference between the first and the 15th pick. I told him it's about $2-3 million. I pointed out that people - scouts - were trying to figure out if he'd be a starter or a reliever at the next level. He was incredibly efficient this year. I'm disappointed I didn't get to see him for the entire season.

Zach DeLoach had a tough sophomore year. He went out and found what kind of player he is going to be after a summer in the Cape. For him to have the kind of year he did for us, I'm very proud of him. He's a great kid, a great teammate and a great player to coach. He's going to get drafted as well.

Christian Roa will get taken too. Baseball is what he does and what he is. I hope I've been as impactful for him as he has with me. We have a great relationship. The talks and books we've shared with each other have been wonderful. Asa and Christian are both great leaders. This is what the culture needs to look like. Christian and Asa will be missed.
Never miss the latest news from TexAgs!
Join our free email list