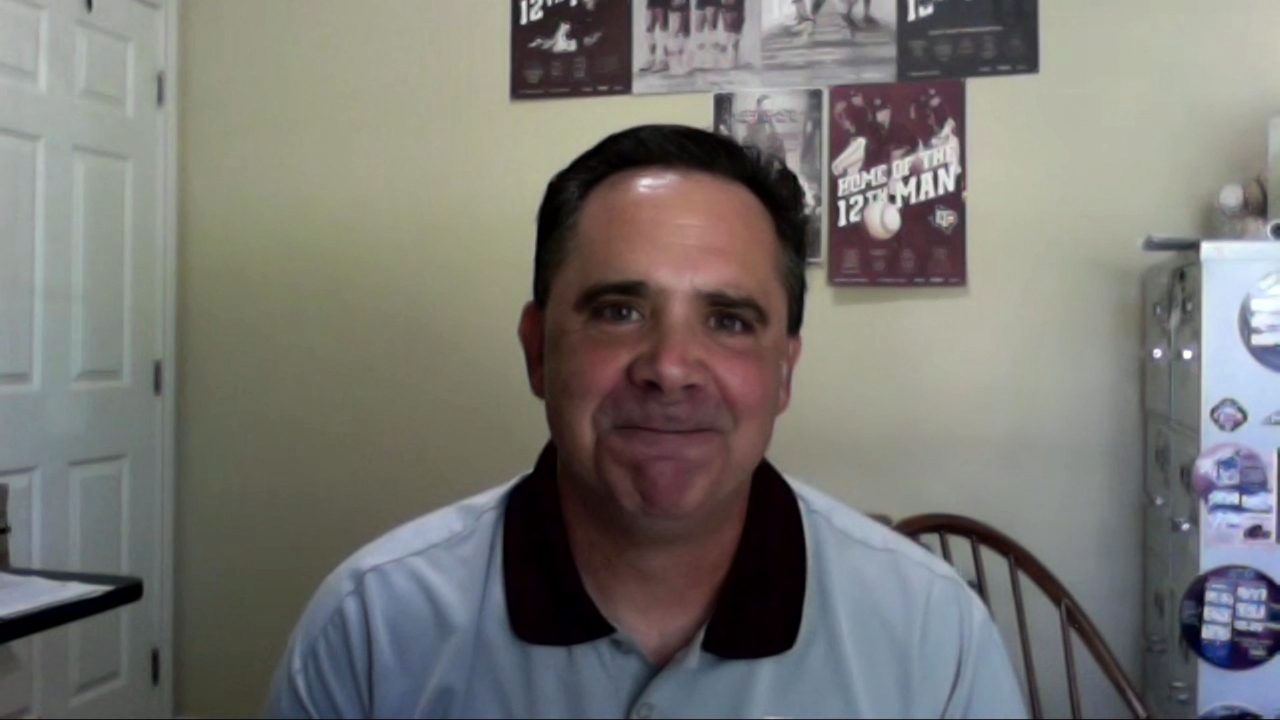 Texas A&M Football
Andrew Monaco discusses family culture implemented by Jimbo & Buzz
---
Key notes from Andrew Monaco interview
I've been busy, just not in the same way that I'm used to. I don't think I've ever edited as much audio as I have in these past two months. I did an interview series with the other 13 announcers in the SEC. All those voices that love to talk about football, we got through two questions in two hours!

My sports hero growing up was Dr. J. I was a Philadelphia kid and eventually got to work with him when I was with the organization. Then, as an announcer, I enjoyed both the Phillies and Flyers announcers growing up in that area. I had many a day growing up where it was sports from sun up to sun down at The Spectrum.

When I was in high school, one of our teachers had built a television studio for us, and that's really where my love for this business began. You start out playing all the sports as a kid and live doing that, then you find this second avenue where you can still stay in the business, just in another way.

I love what Dave South did on opening night when he announced it was it last season, and he said that he wasn't going to talk about it until the season was over. That came too soon. I know that Dave's last game was a win over Rice, but it doesn't really carry the same closure that he deserved. When I got the job, he was extremely supportive of me. Maybe one day he can come back and do another game with us, so who knows. The thing I've learned of him is this: He's so much more than the Voice of the Aggies.

A quick answer on if I think Buzz and Jimbo can get the Aggies where they want to go.. Yes. Jimbo Fisher is very genuine. He has embraced every tradition of Texas A&M. I will say this about Buzz and Jimbo, and even Billy Kennedy: They care. It's not always about sports. There are life lessons being doled out all of the time when they are with their teams. I have had some time to work with some amazing head coaches during my time in this business, and I'm extremely blessed for that.

That's the one thing I've learned about the great coaches in life, they care about their players well beyond the playing surface, and Jimbo Fisher and Buzz Williams certainly have that.

I really do see some similarities in Jimbo Fisher and Greg Popovich in their styles. They both trust their players, and the players trust them.

I'm ready to get back to work. I'm ready to get back together with all of the Aggies, and I think the A&M fan base will truly cherish coming back together. I'm very excited about where Jimbo's group is headed. I like the leadership and experience that they have come back in 2020. With basketball, I think this is a team that will embrace the heightened expectations in year two under Buzz Williams and thrive on it. Culturally, both of these programs are in a great place.
Never miss the latest news from TexAgs!
Join our free email list