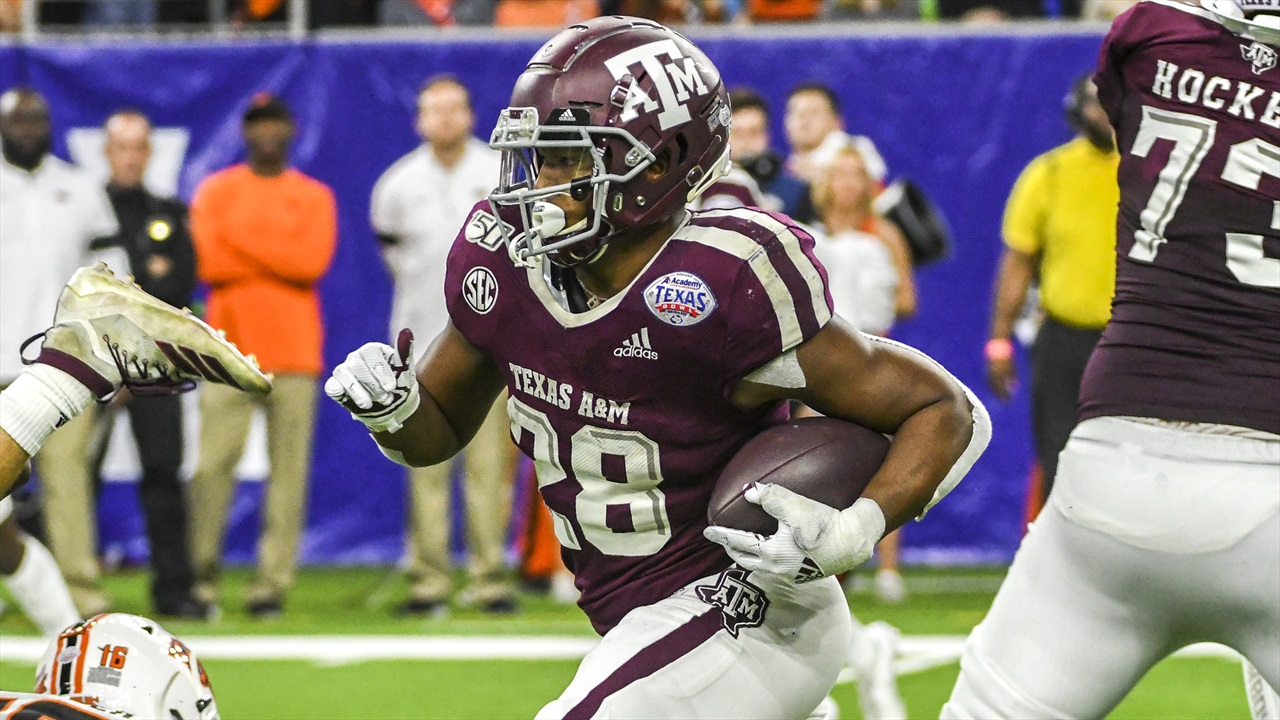 Photo by Lia Musgrave, TexAgs
Texas A&M Football
Jordan Pugh analyzes the 2020 Texas A&M running backs room
---
Key notes from Jordan Pugh interview
What I decided to do was open everything up on June 1. I wanted to take some time and make sure we have everything we need as far as masks and stuff for social distancing. We've been getting everything good to go. We are still doing individual workouts with guys, but we'll get everything back and rolling on June 1.

I'm a '10' that we'll have a football season. I've been saying that for the last two months. Going through this pandemic and the quarantine deal, everything is trending towards that. There is that itch to get things opened up. With the pro sports coming back, I believe college sports will be back. Everything is trending in that direction. We understand everything better, and we're going to be cautious. We need these things back. They give us a purpose. I have read things that say stress levels and suicidal rates are much higher right now because people are struggling to have a purpose through all of this. Sports give people purpose.

Looking at the talent that is coming in with this running back class, it's exciting. But with Isaiah Spiller, he's a dynamic guy. He's a physical presence, and he can be a home run hitter. He's becoming an all-round back.

I think Ainias Smith is special. He reminds me of Percy Harvin. I remember him being the best guy I ever played against. He can run downhill and run routes. He's an all-around utility type of back. That will be a good look and an essential piece for this offense.

I liked what I saw out of Devon Achane on the tape. I think he's special with the type of speed he has, and his abilities to start and stop.

Our JUCO back coming in, Earnest Crownover, is exciting. He looks like he's 6-4. He's physical, and he's got some speed. I watched both his JUCO and high school tape. He's going to be exciting. You look at the whole group, and everybody can play. Watching the film of every back coming in this class, they are all unique. If I had to put my hand on a single guy that could play right away, it's Crownover. With his size, ability, and physicality, he could be a sneaky good guy immediately.

I think playing Achane and Smith at the same thing could be beautiful. As a defensive player, it is hard to defend guys who can do multiple things. Those two backs are similar players who can do multiple things. They also open up the running game for a traditional back like Spiller. I think Spiller will be much better this year because of these other pieces that can create more opportunities for big plays.

I think Spiller is special. This position is probably the easiest to transition into out of high school, but there is still that learning curve, and guys still need to mature. You saw him at times pressing and trying to make the plays. As the season went on, you saw him grow and develop. He is going to pick up right where he left off. Adding other pieces that can counter what he's doing is only going to help him. I'm very impressed with what they've got at running back.
Never miss the latest news from TexAgs!
Join our free email list