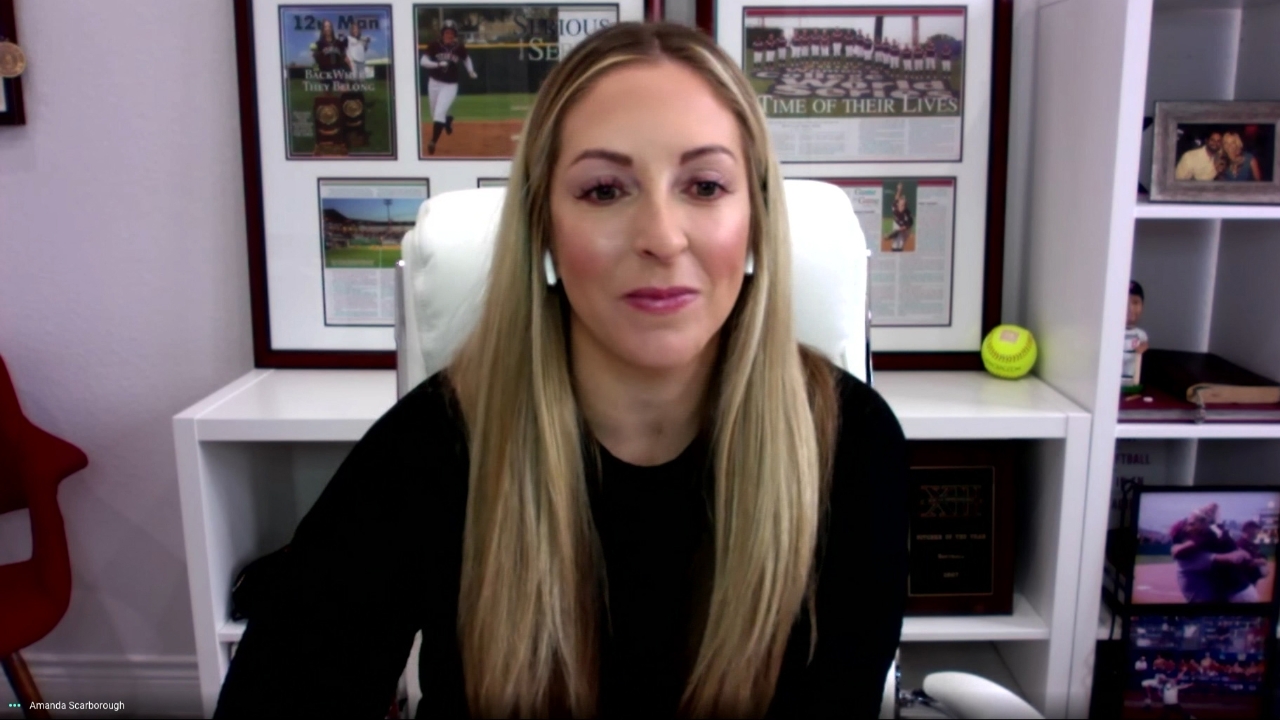 Texas A&M Softball
Amanda Scarborough honored to be on A&M Women's Sports Mt. Rushmore
---
Key notes from Amanda Scarborough interview
Quarantine life has been busier than non-quarantine life. The group I work with for clinics has started online Softball School. I'm also working on a pitching clinic that I'm working on about to get out to people. I'm hoping to launch that in a couple of weeks.

It's surprising that I made that Mount Rushmore. I'm so honored. I loved my time at A&M, and I gave my all. I was surprised because I didn't even play my senior year. I had tears in my eyes that you put me on there. I was so touched.

There is such a rich softball history at Texas A&M. Now that I'm with ESPN, we constantly talk about the rich history there. We are always talking about record books and all-College World Series teams and stuff like that.

I told you that I would've voted for Megan Gibson too. Maybe I should text her and ask who she would've voted for now that this is all over.

The funny thing is, I never felt like I was an injury-prone athlete. That stuff did not happen to me. The things I got injured from were those freak line-drive-to-the-head and then that foot injury. The things that I had were out of this world and probably would never happen again. It was a bummer. My freshman year, I missed the Big 12 Tournament and the regionals that year. I came back for the Super Regionals in College Station against Alabama. The only way they would let me pitch was with a batting helmet on. Isn't that nuts? Super embarrassing. I am running out there to pitch with a helmet in my hands.

Jo Evans was already wearing a helmet in the coaching box because she had been hit in the head pretty severely back in like 2001 or 2002. She made me feel a little better about that.

I always go back to 2007 and those super regionals against Florida. It went three games. It was a crazy series because of the rain delays. I had a walk-off homer hit me in game two - that was the first game of a double-header. We came back and won game three to send A&M to the College World Series for the first time in like 20 years. It was such a special moment.

That was such a strong time for A&M's women's athletics. We still are strong here with our female athletes. At that point, football wasn't very good. Baseball was coming up. The women's sports got a lot of attention back then. It was so special to be on campus during that time and get so much respect.

A&M has an excellent freshman class coming in. I fear for the parity in our sport a little bit. February and March last year was so exciting with a lot of upsets. There were ideas that it would have been the best postseason ever. Now there is fear that the gap will be widened, and the Power 5 schools will take a more significant leap.

The roster size is going to be interesting. Thirty-five players are already a lot. There are going to be talented players at Power 5 schools that could leave because there aren't going to be as many opportunities to get on the field. After this first year and with the transfer portal, I think there will be a lot of talented players who will go to that "lower" level and make them that much better. I'm not sure that the parity will take as much of a hit as some are speculating.

I like the development A&M had early. Their progression from February to the middle of March was impressive. That young team is going to get another year to develop. You take that class that was learning so much and improving so much and add a fantastic freshman class. They're going to be very, very good.

You want to add athletes that are fun to watch. You want to show up the ballpark and watch Fill-In-The-Blank play. A&M is getting those kinds of players back. Bree Warren is going to be one of those players.
Never miss the latest news from TexAgs!
Join our free email list