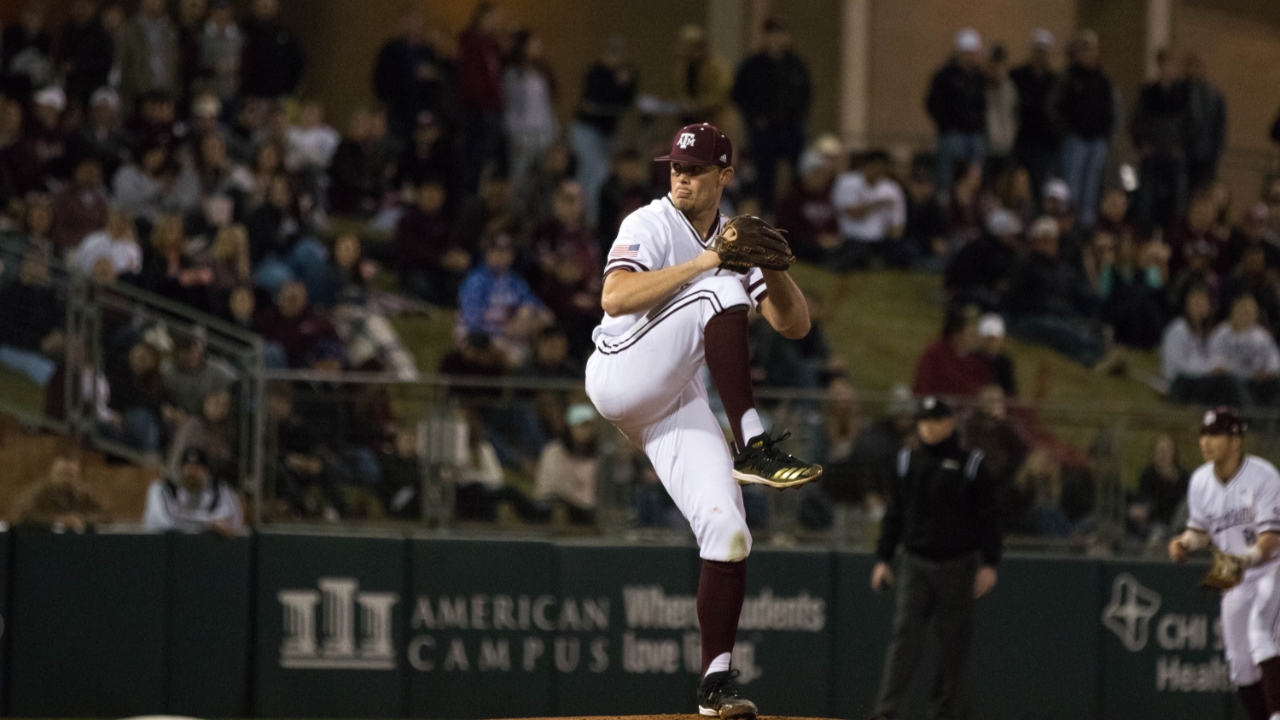 Photo by Angelina Alcantar, TexAgs
Texas A&M Baseball
Diamond Talk: Scott Clendenin discusses best power pitchers ever at A&M
---
Key notes from Scott Clendenin interview
I think the Mount Rushmore of Women's Sports was a great list, but I'm obviously biased having watched Shawn Andaya play in person. She was the best Aggie softball player I've ever seen. I liked the panel and the job they did, they compiled a great unbiased list, but having seen and even gone to class with Shawn Andaya, she would've been on my list.

I think we've seen the resurgence with a few teams in baseball, teams that are putting more money into the sport but there are some teams that don't fully fund their baseball programs with the 11.7 scholarships. I think those are the teams that are in jeopardy of seeing their programs folding, but there is obviously some more pressure to fund the major sports, so I think for many schools, baseball won't have the drop rate that another sport like soccer may have.

I don't think football is going to be canceled in the fall. There's too much that can happen between now and then and I think with what is being put in place at the very top by our government will help us find a way to play the season. Things are trending toward limited access for fans, but I firmly believe we will be playing football in a few months.

I'm curious to see what changes Ross Bjork is looking to implement in Blue Bell Park. I think when the SEC began to allow beer sales, that changed the dynamic and is causing other teams to look at other opportunities to improve their gameday experiences. Ross is trying to bring the atmosphere from other SEC parks to A&M and I'm excited to see what he brings to the table when this all goes back to normal.

The interesting thing to me is, if you enter the portal in baseball, it gives the university a chance to rescind the scholarship. Now we're going to see if the transfer rules are going to force a lot of coaches to rethink that strategy. The NCAA committee is going to meet soon to discuss the one-time transfer rule. I think we're seeing guys put their names in early so they can get their name out there trying to get ahead of the flood of transfers that could come after the NCAA makes a decision regarding the transfer rule.

I wanted to compile a list of guys that had 100 strikeouts in a season for Texas A&M so for this top-5 of power pitchers, we're looking at guys that were going to go out on the field and rack up a ton of punchouts.

At number five, Barret Loux really set the tone as a guy that would strike out hitters. Number 4 is Asa Lacy. I'm disappointed we didn't get to see him pitch against the meat of the SEC schedule, or else I think he would be higher on the list. Casey Fossum comes in at number three as a guy that was 12-7 on a team that led his team to the College World Series. At number two is John Stillson, a guy that ranks first in A&M history in ERA and was consistently getting it done for A&M over almost 80 innings a year. #1 seemed like a no-brainer in Jeff Granger. He was #1 in strikeouts until Casey Fossum passed him, but his junior year he struck out 150 hitters and of course he still holds the single-game strikeout record at A&M with 21 against Lubbock Christian. He still tops my list.
Never miss the latest news from TexAgs!
Join our free email list