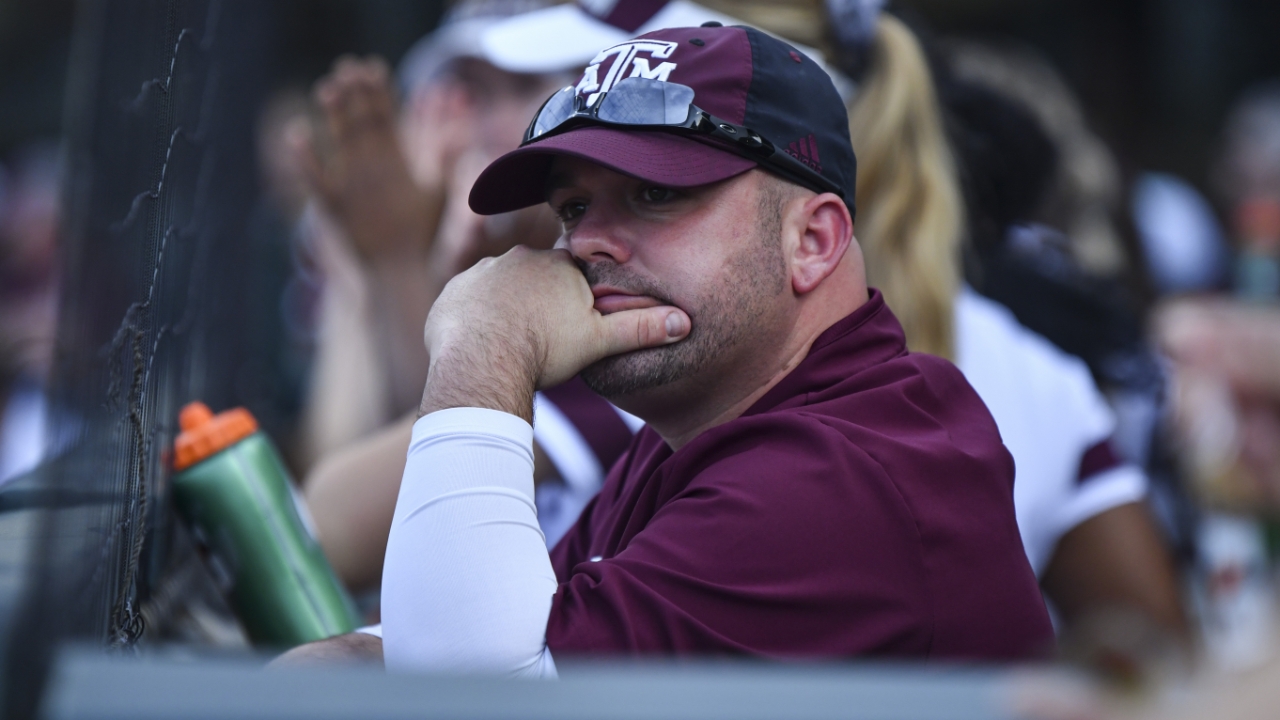 Photo by Jamie Maury, TexAgs
Texas A&M Softball
The Art of Hitting: Inside the box with Aggie Softball's Craig Snider
---
Key notes from Craig Snider interview
It's been interesting. Aside from the obvious, I'm getting to spend time at home with the kids, which is unique for coaches. I think my wife wants me to get out and start recruiting again soon.

This is my 20th season coaching college softball. I don't know if I've ever had downtime like this. It's different, but it's a cool opportunity to be home and spend time with the kids. I don't usually get to do that. I'm trying to make the best of that.

It was tough. With a young squad, you're going to have games that you win when you aren't supposed to. You're going to lose when you shouldn't. That's the mark of a young squad. We were starting to come out of that. The way we ended the season at Kentucky and what we did, I was proud. I was proud of our hitters. I was excited for the following weekend. We had a sold-out weekend against Tennessee. We were excited about that. We were looking forward to what we could do in the second half of the season.

Our kids have been great. We meet once a week via a Zoom call to check in with everybody. It's nice to hear what everyone is doing. It's easy not to do anything, but most are keeping routines going. What we do right now is essential for what February looks like next year. It's not just about the reps; it's about the character and gumption necessary to stay ready for next year.

I'm excited for next year. If you look at the offenses, almost every hitter we had was contributing at a high level. I was excited about that. We were leading the SEC in doubles. Home runs come and go. Singles won't score you as many runs in the postseason. The ability to elevate the ball and get it into the gap is what really helps you. I was excited to see them getting better in that regard. Turning that corner and changing that mindset, along with adding a lot of talented hitters, will make this offense that much better.

I want to make sure Bree Warren is the first one off the bus. She's a talented player and is going to do great things for us. She's coming from that mindset where she knows what it takes. She will be an absolute stud for Texas A&M. If you talk about the Mount Rushmore of female athletes, she'll have a shot to be on it when it's all said and done.

You try to recruit kids where you don't have to change too much. The best way to change a swing is to recruit better.

We look at bat speed and trying to get through the zone better, but the number one thing we try to coach is the mental side of swinging. What you're swinging at is much more important than how you're swinging at it. There is so much technology out there that helps hitting, but the most significant piece is getting a good pitch to hit. That will never change. I'm looking for smart hitters and hitters that know what to look for.

The big thing we want to do is have a common language. If I ask a hitter where the pitch was, and she says it's "kind of outside." Our idea of "kind of outside" might be much different. We have assigned numbers to it all. 1s and 7s are "in the river" and just off the plate. Having that common language to talk about with our hitters is hugely important.

The 1-1 pitch is the tipping point. We're either going to be 1-2 - and the numbers offensively decrease by almost 100 points - or we're going to be 2-1 - and the offensive numbers increase by nearly 100 points. We talk about hitter's counts a lot, and I would throw the 1-1 count into that category. You're going to get a much better pitch to hit than a 1-2 count.

I love being at A&M. I knew taking this job was going to be amazing. Leaving Florida State was difficult, but there were parts of my life that made it an easy decision. My wife is from just down the road, and I get to work with another Hall of Fame coach. And we get to compete in the SEC here. We've put together a fantastic staff here. It's exciting because, from the top-down, we're solid. We enjoy each other, and that trickles down to the team.
Never miss the latest news from TexAgs!
Join our free email list