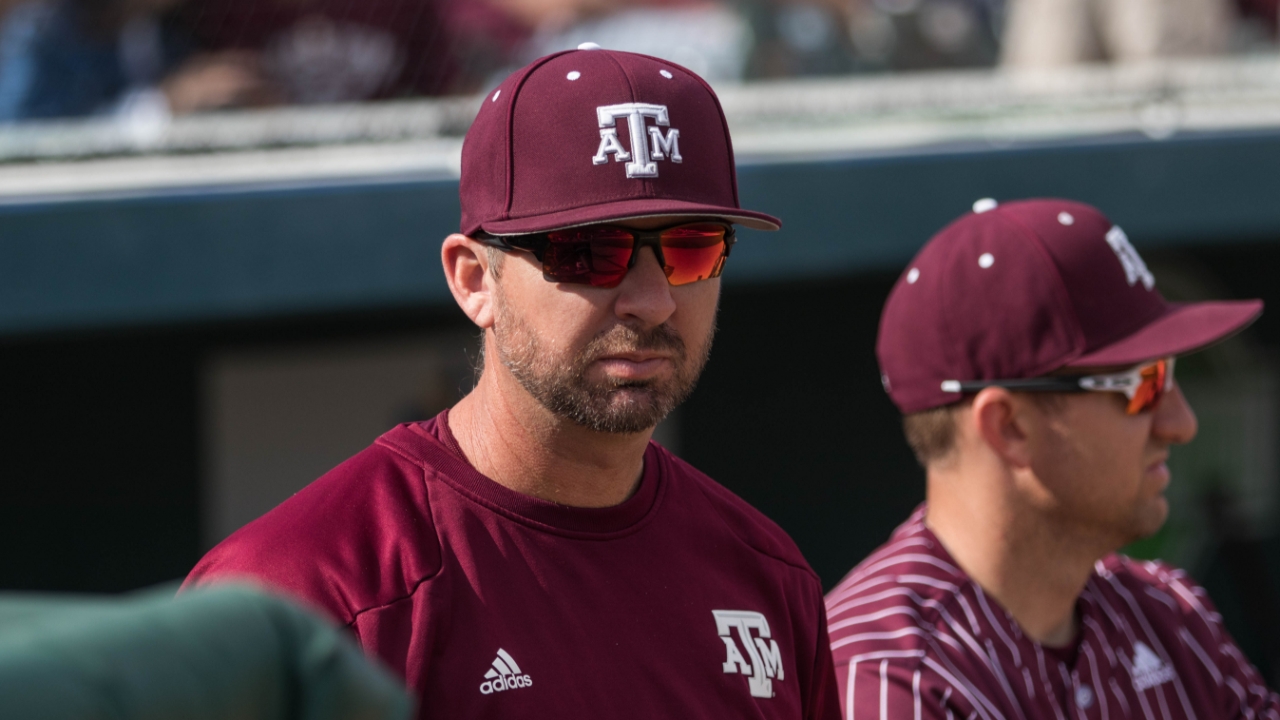 Photo by Angelina Alcantar, TexAgs
Texas A&M Baseball
Aggie baseball assistant Justin Seely praises NCAA for eligibility decision
---
Key notes from Justin Seely interview
I cannot remember a time in my life where I wasn't on a baseball field on April 7. I think at first, the way the season ended was sad, and it still is. But after a week, you begin to see the gravity of the situation, and you can see a different perspective. We're starting to see some pieces moving with things like the MLB Draft coming soon and murmurs of the MLB season coming back, so hopefully, we'll begin to see some things returning to normal. It's an odd feeling, but I know I'll never get this time back with my family, so It's also been a blessing.

I think some good came from the NCAA decision, but they over-delivered. I thought they were terrific in giving all these kids their year back. I've known some of these guys for seven to eight years. I think the bad news is just trying to figure out what happens now with the financial responsibility and the schools having to weigh that. I believe our school will step up, so I'm not worried about that. The tricky part will be figuring out the roster. There's a lot of decisions we're still waiting on, and for some of these decisions, we won't know the answers until possibly mid-July.

Anyone you add from here on out will count towards your 11.7 scholarships, so we have a firm understanding of the scholarship situation right now. I think everyone kind of understands the situation and what's happening right now. These kids are obviously upset they lost a year, but getting to continue to earn their education at Texas A&M is huge, and all the parents are helping by showing their kids the bigger picture of what's going on.

The NCAA giving everyone the extra year back is enormous. It helps juniors keep their leverage when looking at the draft. It's a massive decision. Let's say Asa Lacy, who by all accounts is set to go very high in the draft, goes to the draft but has lost a year of eligibility. Now with no legitimate option to come back to school, he would lose all his leverage in draft negotiations. But now, because he has his year back, he can get all the money that is allotted to the pick where he would be taken. We're talking potentially millions of dollars that he will get because of this decision.

What I think will happen is that this will all be sorted out in a year. We're not done talking relief with the NCAA. With the draft process being shortened, you'll have a better idea of what your roster will look like in terms of players coming back. So many are going to be draft-eligible, and next year, we could have as many as 15 with the choice of what they want to do. With fewer rounds, you'll see more return to school than we're used to seeing. By that point, teams will know where they stand roster wise. These kids still have decisions to be made as well as the coaches, though, so we have a long way to go. We'll know more as time goes on. There are no concrete plans at this point.

What I have to say is Ross Bjork has been unbelievable so far. I feel like I am more aware now than I have ever been when it comes to an understanding of the decisions being made at the top by the NCAA. He's done a tremendous job with how he has handled all of this and helped us all to understand what is going on.

I think it's a safe assumption to think the 2021 class could be loaded. There are typically 162 picks in the first five rounds of the draft. We're going to see around 120 of those picks be from the college ranks, leaving a lot of high school players who weren't going to make it to college left with no choice but to go to school and play. College baseball will be loaded from all aspects as a result of this.

I'm sure we'll begin to see a lot of movement in the graduate transfer market. Now all of these guys returning to college are a year older and will be able to graduate before the next season. We could see a larger number of players transferring as they lose spots with their teams now and see spots open up somewhere else.

Things are much more challenging now but in the best way possible. For as much flack as the NCAA gets, they stepped up. We're all trying to win championships, but we're here for the players first, and them getting that year back is precisely what needed to happen.
Never miss the latest news from TexAgs!
Join our free email list