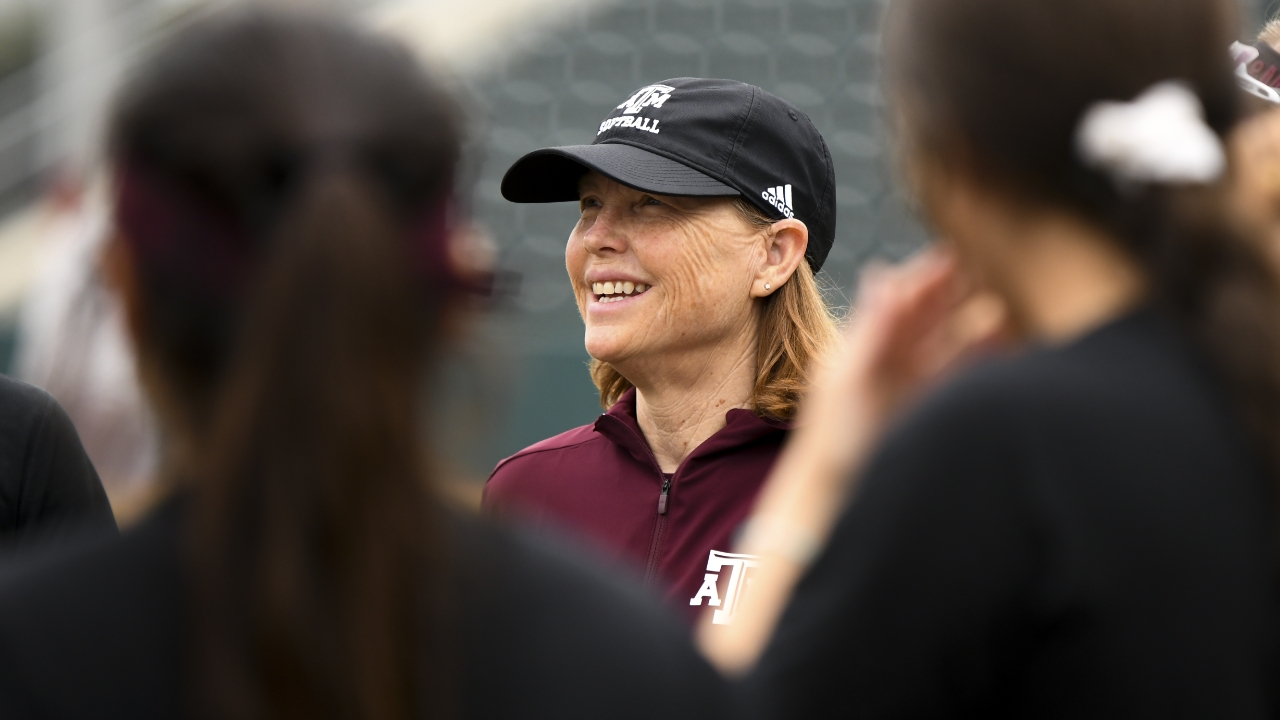 Photo by Jamie Maury, TexAgs
Texas A&M Softball
Coach's Take: Jo Evans looks at roster ramifications of eligibility decision
---
Key notes from Jo Evans interview
It has been a crazy time. We had no way to prepare at all for any of this. It all happened so fast. It went from initially possibly not being able to play in front of fans, to not playing at all for a few days, to the season being suspended and then outright canceled. Now all the questions have been coming up about eligibility for next year. It's a lot to figure out, and we're waiting to see where all of this is going to go.

For our team, we were practicing with a game coming up, and I had to tell the girls that their parents aren't going to be able to watch the games. Then, all of a sudden, having to tell them we weren't going to be playing at all. Since we live in a world of social media, they knew before I could even talk to them. As a coach, I had to sit down with them and just try to speak encouragement into them.

I'm thankful that I have a perspective from my time as a head coach. Not everything goes your way, and you have to manage and process. At that moment, I told our seniors that if the worst-case scenario happens, and we don't get to play again, your time at A&M doesn't come down to the two months you didn't play. Your time is defined by the full four years you were here, the memories you made with your teammates and family, and not by the time you lost. I'm not at all diminishing how they felt at that time, but it helps to try and see it from a broader perspective and knowing it's not what defines you.

We came out as a young team with a lot of athleticism, and we certainly had our freshmen lows with the anxiety of playing on the big stage. As we continued to play, you could see it all come together for our girls. We were able to go on the road for our SEC opener and had a chance to beat Kentucky in all three games. I was proud of them for how they handled that series and for how they handled the games they played after that series against teams like Texas State. We had some good wins and were starting to see it come together when it all came to an end.

I think I was prepared for anything regarding the NCAA's decisions. With them giving out eligibility relief, I originally thought it was irresponsible. It puts a significant burden on small schools to make up the money for returning seniors. While large schools like Texas A&M can make that up pretty easily, it puts those small schools in a really tough position. There are a number of pros and cons involved.

For the NCAA, I think it appeases the fans and parents. The thing that is challenging is the coaches are now dealing with larger rosters to manage and having to make key decisions on players' futures and finding the money to support them.

If all seniors came back, it would cost A&M $565,000, and that's not counting all the meals, tutors, buses, plane flights, other travel, hotels, equipment... We're talking about an exuberant amount of money. I thought they would delay the decision since it had a massive amount of money involved with the revenue of football still in question.

In the sense that talent is getting to return, that is great. My concern is the transfer bug, which is as contagious as COVID-19. We have the ninth-ranked class, and they didn't sign on to coming here with all these seniors coming back. That's not completely bad, but these freshmen are coming in. If the opportunity they thought they were going to have to come in and play is no longer there, they will have the option to transfer, which in softball you can do at the end of the fall semester in December and be playing in February. This is going to put us in a spot where we're probably going to have to make some really tough decisions when it comes to scholarships.
Never miss the latest news from TexAgs!
Join our free email list