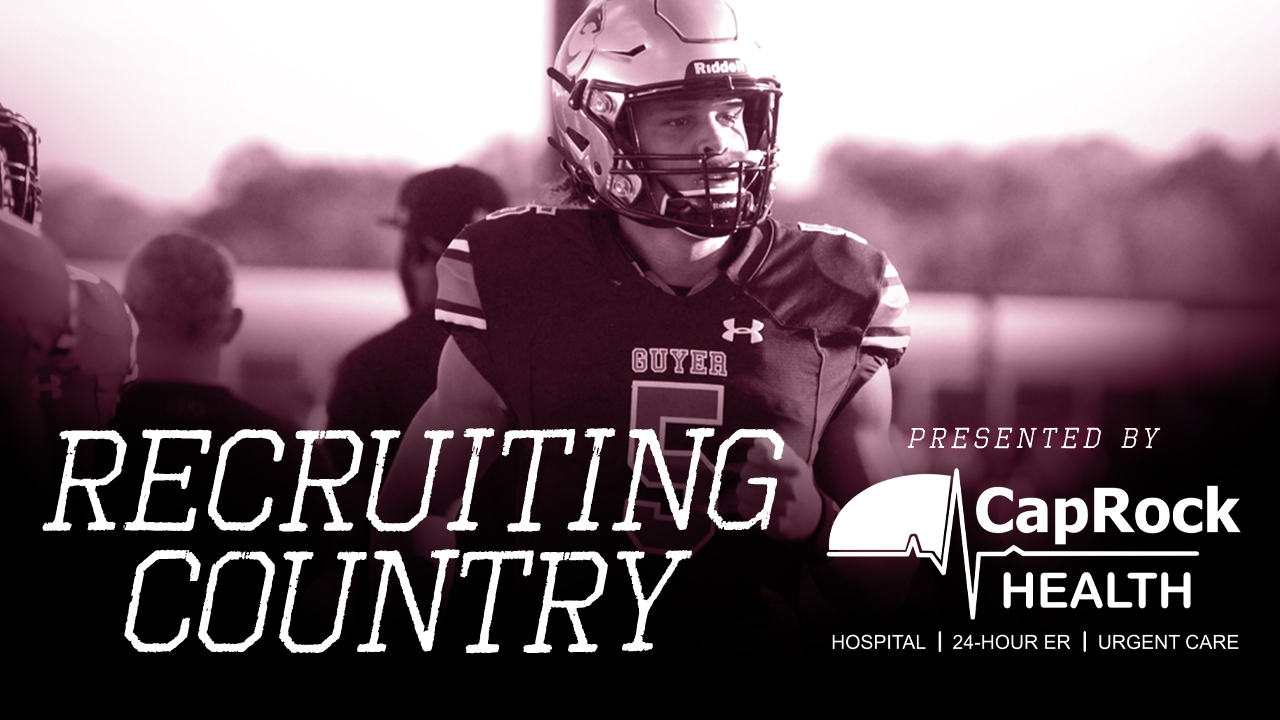 Texas A&M Football Recruiting
Recruiting Country: The latest recruiting news surrounding the Maroon & White
---
Key notes from Recruiting Country
I'm holding up. I'm like everyone else. Trying to figure it out each day. I'm trying to go out just like everyone else, but obviously, we can't. It doesn't take long to look at the TV or Twitter to see this is unprecedented times we're living in. I miss ball. I miss going on the road and doing recruiting stuff.

Typically, teams are putting the foundation for their class together in the spring. A&M did that last year. They obviously can't do that this year.

The recruiting calendar has to be altered. I'm with Jimbo, and I don't think they should do away with the early signing period. But the evaluation period needs to be adjusted. Whether it's OTA-type stuff where they can do spring-type practices without pads just to let these coaches get an evaluation, they need to do something.

I feel for the kids in spring sports in high school. Their season is done. Those seniors won't get another year back. You feel for them. Through Twelve and stuff like that, if we get back to normalcy sometime soon, we're thinking about adding some travel ball for those seniors just to play again. Even before they go to school, these kids want to see some benefits to their hard work.

I was talking to Bryce Foster‍, and he said he went out and threw the discus the other day just because he wants to stay sharp in it. Devon Achane is missing the track right now. He loves to run track. He wants to run in the Olympics one day.

They're going to have to do something with standardized testing that makes it to where they can take it online. Or the NCAA is going to have to give a waiver to this class that gets them through the clearinghouse, knowing they're part of the coronavirus outbreak. I think there's still time to figure it all out. There are still concessions to be made as everyone figures everything out.

Rodney Webb is one of the more exceptional offensive minds in Dallas/Fort Worth and the state of Texas. He had some pieces at Rockwall last year, and now he's moving over the Denton Guyer, which is one of the premier jobs in that area. Coach Walsh stepped down, but it's no surprise they went and hired a big name.

Eli Stowers‍ (pictured above) is getting healthy again. We're going to have an offensive and defensive player draft for the 2021 class. When we started looking at that, I noticed the quarterback talent in the state is incredibly talented. Whether it's Stowers or another name, there are tons of them. There are tons of guys that are big-time 2021 quarterbacks. That'll be fun when we sit down and do that. With the offensive line, the quarterbacks and the defensive line, it's a talented group. Eli Stowers' road to recovery isn't surprising. Everything he says and does; his intangibles are off the chart. I think A&M hit a home run there.

Sawyer Robertson‍ committed to Mississippi State the other day. Going from Lubbock to Starkville. In that system, he could light it up.

During a Topic Wheel today, I'm going to talk about a forgotten position in recruiting. I'm going to discuss why it's probably the most critical position, why it's forgotten, and why people don't want to play with it.

We're putting out a ton of those top five lists. I have one of those coming out this week. I've got Bryce Foster coming on with a video chat later this week. It's forced us to be more creative and given me more reasons to bother Dalton. He's been on me about getting a laptop so that I can do some of this on my own.

People on social media: Coronavirus isn't keeping you from getting your summer body. It's that you want to drink every night while under quarantine. Yeah, you're going to put on a few pounds.

I've been going to AthleneX on YouTube that had some fantastic home workouts for you. I was lucky enough to commandeer some free weights from Twelve Baseball Academy. I am also starting running again this week. My legs and knees have shown me I'm not 23 anymore.

I know a lot of rehabs and physical therapy offices that are still open. A lot are working with masks and gloves, or they're working virtually. I haven't heard of rehabbing being an issue yet, but it could be.

At safety, A&M is going after a lot of out-of-state names. Kendal Daniels‍. Kamren Kinchens‍. Kaine Williams‍. Donovan McMillon‍. There are probably five or six guys, and A&M will probably take two. Some in-state kids are getting looks, but none have received offers yet.

The most I've one-repped-maxed on the bench is 410 pounds. Not as much as Bryce Foster.

I know that Mike Elko is still hanging around in the Madden tournament. I'm not that surprised. He's got that nerdy, Ivy League thing about him, but he's also got that mad scientist thing about him. Matthew Wykoff‍ was still alive as well. I think they were taking a day or two off from playing.
A SPECIAL THANKS TO...
CapRock Health System, the only 100% locally owned and operated healthcare system in B/CS, has 4 convenient locations; CapRock Hospital with ER, CapRock 24-Hour Emergency Center, CapRock Urgent Care at Century Square, and CapRock Urgent Care at Jones Crossing. Visit CapRockHealthSystem.com
Never miss the latest news from TexAgs!
Join our free email list