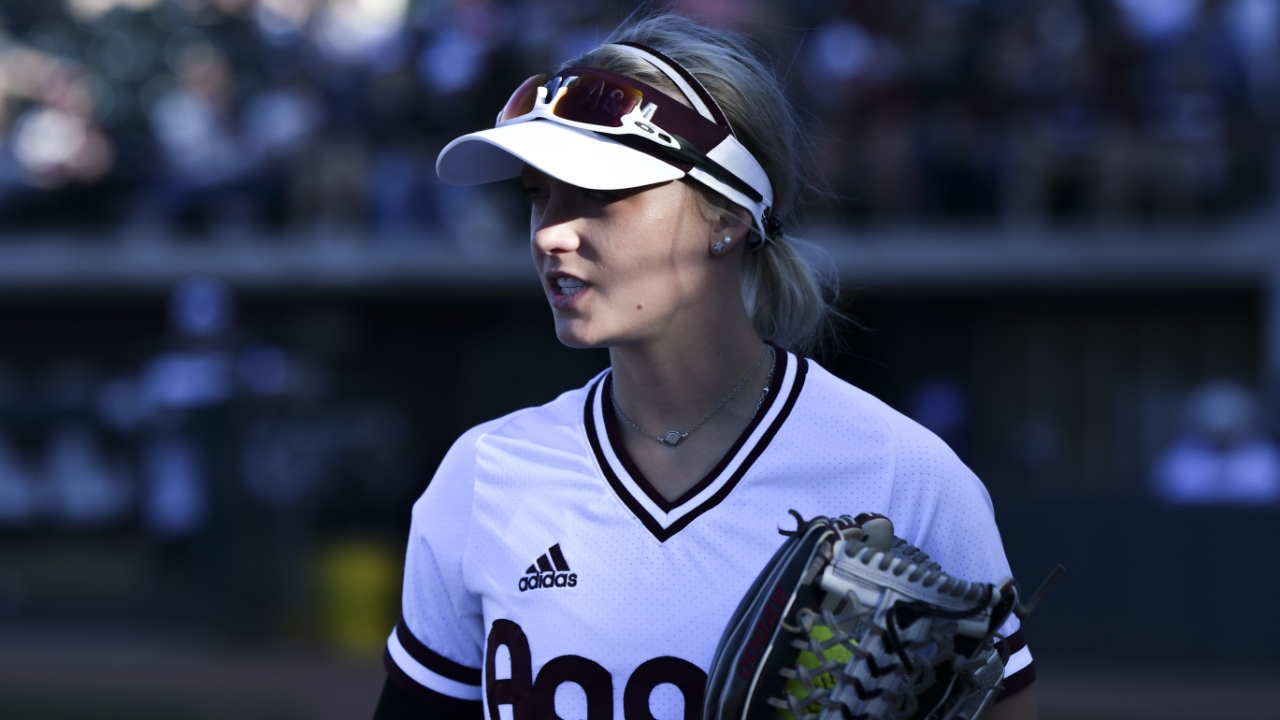 Photo by Jamie Maury, TexAgs
Texas A&M Softball
Senior Spotlight: Aggie Softball's Kelbi Fortenberry hoping for a second senior season
---
Key notes from Kelbi Fortenberry interview
After the Texas State game, Coach Evans came and told us that we wouldn't have any fans in the stands against Tennessee. That was a heartbreaker because we had heard Tennessee was a soldout weekend. There were a lot of fans on that Wednesday night for Texas State. I figured all of the fans that weekend would stand behind me in the outfield. The next day, Coach Evans called another meeting and told us everything was suspended until March 15th.

I think the worst part was finding out on Twitter that national championships were canceled. They didn't tell coaches. They didn't tell the SEC Commissioner. We were just kind of confused. How could they cancel the World Series in late-May or June when it's March? We just thought it was crazy at the time.

I don't have many words to describe how it felt to have my senior year canceled. I was confused, and I cried a lot. Knowing how the NCAA works in the past, we didn't think we'd get another year of eligibility. The freshmen actually took the seniors under their wings for a change and told us they were here for us.

The coaching staff didn't know what was going on, either. They didn't know what to say or what to do.

I got my bat bag and went home. I figured I could work at home because we didn't know what the deal was here. Our weight room was even closed. We didn't know what to do. Our trainer sent us a bodyweight workout. It was just a confusing time.

I talked to my parents, and they told me to keep my options open. I didn't have a solid job lined up. I didn't rehab after my surgery just to have my senior season end in March. They saw that coming back is what I wanted to do, and they've supported me 100 percent.

I didn't even think about being the first to say I'm coming back. I love Aggieland, and I love A&M. I'd love the chance to put my uniform on again.

My jersey is hanging inside Cooper's BBQ, right when you walk in the door. That's my uncle. Three of my cousins have come to Texas A&M as well, so we're a pretty big Aggie family.

Walking away from the game was never in my mind. The offseason is hard, but it'll be worth it to get up for early morning weights.

Coach Evans is being supportive during this time. She understands that it's been difficult.

We've been communicating a lot in our GroupMe. Every day, someone gets assigned to share something they've been doing "since the season's over" or "SSO." It's been fun to see what everyone is doing, and yesterday, we got to see Coach Snider's kids reenact a scene from The Office.

The Super Regional Game Three in 2018 vs. Florida: That is my worst loss. Whenever Jordan Matthews hit that ball, I remember it hitting the scoreboard. I thought Erica Russell had room. I had to pick her up off the ground.

Blake-Ann Fritsch, Peyton McBride, and I call ourselves "The OG Three" because we've been there for the longest time. We've seen a lot of changes during our times here. We wanted to make it a completely close-knit group this year. I think we did that. We had a disco ball in the room too. It was so much fun.

Craig Snider didn't really change my swing all that much, but he helped my mental side. Coming back from surgery, I knew my swing was going to be impacted, and he got me back to normal. He did a lot to help our team.
Never miss the latest news from TexAgs!
Join our free email list